Philadelphia Eagles to Replace Kevin Kolb with Speedy Vince Young
July 29, 2011
Grant Halverson/Getty Images
After getting cut just hours before by the Tennessee Titans, Vince Young probably knew he would be going somewhere else as somebody's backup.
He couldn't have landed anywhere better.
Late Thursday night, sources close to the former Texas Longhorns  standout and 2006 National Champion, Vince Young, pointed to a one-year deal, to back up Michael Vick with the Philadelphia Eagles.
The deal would bring Young into Philadelphia replacing former backup, Kevin Kolb, who was traded to the Arizona Cardinals earlier in the day.
Andy Reid and his staff are known for bringing out the best in a player, as we've witnessed with the arrival of Michael Vick to the Eagles after his two-year prison sentence for dog fighting.
After some time on the sidelines and a lot of practice, evident in his new dedication to the game, Vick stepped in after an injured Kevin Kolb took to the sideline.
He impressed the coach enough to become the starting quarterback and eventually went on to be named NFL Comeback Player of the Year.
Much credit was given to the Eagles organization for their ability to help Vick redevelop his technique which resulted in vast improvements in his passing game.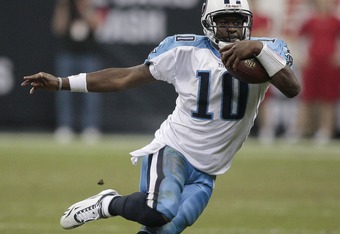 Bob Levey/Getty Images
Philadelphia Eagles fans hope the same will happen with Young when he begins workouts later this summer and starts work with the Eagles QB staff.
The Eagles now have another explosive option behind center.
The 6'5", 230-pound Young will be much more productive in short-yard, goal-line situations where only a few feet need to be gained, an issue the Eagles have had arise during close games the past couple seasons.
He will also have time to improve his mechanics while learning behind a veteran in Michael Vick. Young showed signs of improvement during parts of last season with the Titans, which leads me to believe he has the ability to be another great scrambling quarterback.
Young has been criticized by some for his "lack of work ethic" and "lack of dedication," these are two problems which will disappear when he arrives in Philadelphia and takes the practice field.
Vince Young is a former first-round pick from the University of Texas. He is a two-time Rose Bowl MVP and best known for his scrambling ability. His three rushing touchdown performance against USC during the 2006 National Championship game still ranks as one of the best.
It included a nine-yard touchdown scramble on fourth down to seal the win for the Longhorns.
Young went 30-18 during his five seasons with the Tennessee Titans. He battled injuries during that time including a broken thumb on his throwing hand which ended his 2010 season.