Chicago Blackhawks: Mapping out the 2011 Offseason and Return to the Cup
June 30, 2011
Jim McIsaac/Getty Images
Much has changed in the 386 days since Jonathan Toews and the Chicago Blackhawks hoisted the Stanley Cup.
For one, the obvious—the Hawks are no longer the defending champions. Twelve Cup-winning players have new addresses; three have been re-located in the past week. Troy Brouwer is now Obama's neighbor in Washington. Brian Campbell's bad contract and Marian Hossa's B.F.F Tomas Kopecky have been reunited with Dale Tallon in South Beach. 
Something else is different. For the first time in a long time, the team has money to spend.
Lets take a look at what the Blackhawks have to do this offseason to make sure they're playing again next June...
Spend Wisely
The salary cap is at $64.3 million for 2011-12, up nearly five million from last year, and the Blackhawks are currently about $14 million under the ceiling. 
For some fans, free agency is like fantasy sports mixed with that stuff Manny Ramirez was using: "Sign Stamkos to an offer sheet! Trade for Parise! Sign Richards! Bring Byfuglien and Ladd back!"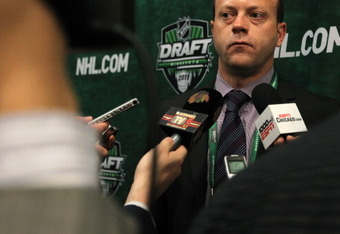 Bruce Bennett/Getty Images
You may notice sometimes, the more cash you have in your wallet, the more you're willing to throw around. Sometimes the best moves are the ones that don't necessarily make front-page headlines or empty the wallet, so to speak.  And I believe those are the moves that Stan Bowman will make.
Taking Care of Business
Much of the $14 million will go to guys currently on the roster. Chris Campoli, Michael Frolik, and Viktor Stalberg were all given qualifying offers and will all likely be back.
Many fans' lasting image of Campoli might be the turnover that led to Alex Burrows series-winning knuckle-puck in Game 7 of the first round. But Campoli's game fits nicely and so should his price tag.
Frolik, lukewarm and cold in the regular season, came on stronger in the playoffs, which probably helped to buy him a short, multi-year stay in Chicago.
Stalberg is perfect for this team…on the fourth line. He's like Luis Mendoza from the "Mighty Ducks" movies. Crazy fast, popular with the ladies, and that's about it. Mendoza may have had better hands.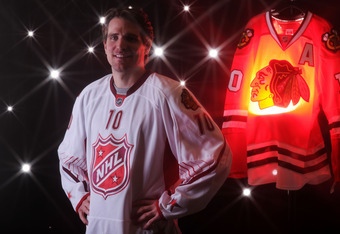 Harry How/Getty Images
And we can't forget Patrick Sharp, everyone's favorite beautiful Chicagoan, who is a free agent after next season. I, like every woman in Chicago, don't want to stress about losing that mugshot or that point-production to another city.
Rolling Deep
Nothing was more important to the Blackhawks' Stanley Cup run than depth. Getting contributions from all four lines was simply too much for a lot of teams to handle.
Last year, though, the lack of production in the bottom six forced the top-six to carry too much of the load. And no, it's not because they traded Ben Eager.
Vernon Fiddler is a name to watch for. He won 53.9 percent of faceoffs, recorded 85 hits, 60 blocked shots and logged a lot of ice time on the penalty kill for the Coyotes. (Update: Fiddler signed a three-year, $5.4 million deal with the Dallas Stars)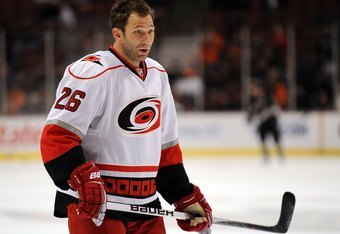 Harry How/Getty Images
True (Need For) Grit
Hits can be overrated - anybody who has ever looked at a Jack Skille stat-line knows what I'm talking about. But the Blackhawks just traded away their best hitter in Troy Brouwer (5th in the NHL with 262).
Stan Bowman says the team is committed to having John Scott play more. I guess I'll take his word for it, but Scott alone isn't enough.
Steve Montador, who was just signed to a four-year, $11 million deal with the Hawks, is a nice addition. Monty had 26 points, a +16 rating, 86 hits, and 138 Blocked shots last year for the Sabres. He'll bring stability and physicality to the back end. 
Free agent winger Erik Cole could fill a void in Chicago. The soon-to-be 33 year old had 52 points in 82 games for the Canes and was 13th in the NHL in hits with 225. Other forwards who fit the bill include Max Talbot or Mike Rupp. (Update: Erik Cole signed a lucrative, four-year, $18 million contract ... Max Talbot inked with Philly for five years ... Mike Rupp joined the New York Rangers on a three-year, $4.5 million deal)
Trust Issues
Fans need to trust Stan Bowman. The front office is not going to make sentimental moves. For example, a lot of fans fell in love with the idea of a Brent Sopel return. While it isn't out of the question, Steve Montador has more upside.
Also, trust in the scouts, the player development staff and the prospects. Kids will get a shot to play this year. The Blackhawks have done a great job in recent years of replenishing the farm with a lot of skill and depth. It is only a matter of time before those players bring their talents to the United Center. So keep that in mind while you play fantasy hockey in your head this weekend.
Blackhawks fans waited 49 years before the team won a title in 2010. That doesn't mean anyone is okay with another 49. The road back to the Cup starts this weekend. Get your popcorn ready.
Follow me on Twitter: @Stephen__Nelson
Authors Note: Since this article was written, the Blackhawks have made five free-agent signings: Jamal Mayers (via Sharks), Sean O'Donnell (via Flyers), Andrew Brunette (via Wild), Brett McLean (via Swiss League), and Dan Carcillo (via Flyers).