Meghan Klingenberg: Breaking out in WPS as No. 3 Pick in 2011 Draft
June 19, 2011
At the 2010 draft, there were seven Tar Heels drafted, four of whom were selected during the first round.  This season, there was just one North Carolina product selected—midfielder Meghan Klingenberg.
Klingenberg was selected third overall by magicJack after completing a trade with the Atlanta Beat on draft morning.  Meanwhile, Klingenberg was already traveling half a world away with the full national team heading to the Four Nations tournament in China.
She came off a stellar career at the University of North Carolina where she was a part of one National Championship squad (2009) and three ACC Championship teams (2007, 2008, 2009).  The Pennsylvania native missed her team's run to the 2008 NCAA championship while with the U-20 Women's National team at the U-20 World Championship in Chile.  Just hours after her teammates defeated an undefeated Notre Dame squad, she helped her US teammates defeat Korea DPR 2-1 to win the United States' first U-20 World Championship.
[Editor's note: The United States won a U-19 World Championship in 2002]
If Meghan Klingenberg had just one word to describe her life between North Carolina's 4-1 loss to Notre Dame in the NCAA tournament and the draft in January, it was simple.  Hectic.  Taking finals, finding time to train and finishing up Christmas shopping was squeezed around a U-23 National team camp that took place following the NCAA tournament. 
Just before going into the U-23 camp, Klingenberg also learned that she had earned a call-up from Pia Sundhage in January as the full national team prepared for the Four Nations tournament.  So after the holidays, Klingenberg headed to California for national team camp, with the hopes of impressing head coach Pia Sundhage enough to make the roster to head to China.
When the 23-player roster was named for the trip, Klingenberg's name was on it as one of two uncapped players on the roster.  Team USA departed for China around 4AM EST on draft day.  They were just six hours into their flight when the draft began.  She wouldn't discover that she had been drafted or by whom until they landed safely in China hours later.
"Yeah it was really different because we were actually on the plane to China when the draft was going on," Klingenberg said. " So nobody even knew what was happening until we landed.  Everyone had already been picked by the time we landed because we were on the flight for like, 15 hours." 
"So when we landed one of my friends on the team was like 'Oh Klingy you went third' and I knew that Atlanta had the third pick and I was like 'ok so I'm going to Atlanta.'  Thought I was going there, but I didn't even know that [magicJack] had traded up to get the third pick.  So it was pretty special.  I was really excited."
Despite the unconventional way of discovering where she had been drafted, one thing that she shared with 23 other players was that she was drafted in this group—one that only saw 24 players selected after seeing 65 players chosen in 2010.  Klingenberg reminds us that being drafted into this league at all is special in itself.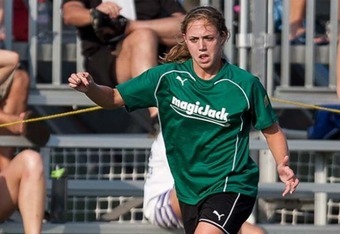 "I think any year it's super special being drafted into this league because there's already so many incredible players in it," she explained.  "So to be able to call yourself a part of the WPS is a really big accomplishment.  But I think it's incredible that I even got drafted this year.  I was so excited to hear of it.  I think that there was close to a thousand applicants, so those numbers are pretty small when you think about the draft and there's only 24 players picked so it's pretty special being a part of that group."
With being drafted also comes expectations—her own, her coaches and the media, to name a few.  Klingenberg sees it differently. 
"I don't necessarily look at it that way," she began.  "The people outside of my family and friends may look at it that way but I don't worry about other people's expectations.  I try to focus on the things that I can do well and what I want to do myself.  So I try and focus purely on what I think I can do."
As for her own expectations going into the season?  Well, it involves yet another championship for the 22-year-old midfielder.
"I think that our team always has high expectations going into every season," Klingeberg said.  We always want to win so I think that our team wants to be in the finals, playing for the WPS title at the end of the season and that's what we're going for this year.  I'm sure every other team's doing that too but that's what we really want to set our sights on."
Going into the season, she was also looking forward to just being a professional athlete and being able to do what she loved, while honing her skills against some of the top female soccer players in the world.
"Well I think there's a couple of different things," she started.  "Firstly, I was just so excited to be able to play the sport that I love and we don't make a lot of money but we do make money.  It's cool to say that you're a professional athlete.  I think that was probably the biggest thing." 
"And then also just the level of play in WPS is so high.  We have the best players from across the world really.  Being able to play with the caliber of players in the league can only help me to get better, to improve, and to learn as much from them as I possibly could."
Despite her status as the third overall pick at this year's draft, Klingenberg saw little game action for magicJack.  She was traded to the Boston Breakers on June 1 in a deal that saw her former North Carolina teammate Nikki Washington head to South Florida while Klingenberg, a second-round pick in the 2012 WPS draft as well as a player who has yet to be named.
Klingenberg's first match in a Breakers uniform was a match against her former team on June 5.  Not only did she play the full 90 minutes, but she set up Katie Schoepfer's opening goal in the seventh minute of the match.  She added a goal of her own—which would be the game winner—in the 19th minute, slipping between two defenders to volley a cross from Liz Bogus into the back of the net.
Klingenberg was named WPS Player of the Week following her performance against magicJack, becoming just the second Breakers player to win Player of the Week honors (Kelly Smith earned them in 2009 and 2010). 
Not a bad debut for her new team at all.
Lauren Green is a Correspondent for Bleacher Report covering Women's Professional Soccer and the US Women's National team.  She can be reached for comment or hire at lgreensoccer20@yahoo.com.
All quotes were obtained firsthand.