Fantasy Football 2011: Musts, Trusts, and Busts Version 1.0
June 1, 2011
Dilip Vishwanat/Getty Images
These rankings encompass a compilation of players you must have, a few players that you can trust, and some players you cant, more commonly known as busts.
Fantasy football is year round affair for me, I've already logged over twenty in-person mock drafts in preparation for the 2011 season. Fantasy Football success is a product of risk management through preparation.
I know it may be a little early to get excited about fantasy football especially considering the deplorable lockout.
Though MTB Version 1.0 is listed in top 5 format now; it will grow to encompass the top 15 of each skill position listed below.
This list will also highlight prominent sleepers and high quality, rookie impact players leading up to the beginning of the regular season.
Make the must, trust, and bust formula your secret to success. I have.
Early Bird Edition:
Quarterback—Musts:
1. Aaron Rodgers: In 2010 Rodgers suffered a concussion against Detroit and spent the 2nd half of the game in sweatpants. He was still the best option at quarterback, for either team.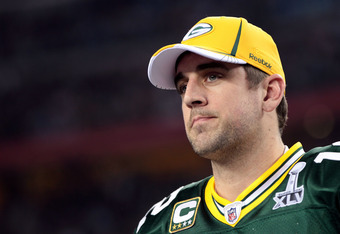 Jamie Squire/Getty Images
2. Drew Brees: Brees is a lock for, at the very least, 4500/35.
3. Peyton Manning: I'll leave it at this: enter Boston College product Anthony Costonzo and welcome back Dallas Clark. Don't waste your breath in mentioning two neck surgeries. If I were a Bears fan and this was Jay Cutler then I'd be concerned. Peyton Manning is the greatest quarterback ever to play the game, and he's still got three or four strong years left in that cannon.
4. Philip Rivers: How does a full season with V-Jax and a healthy Antonio Gates sound? Did I mention that I have Steve Smith (Panthers) projected to San Diego once the lockout is lifted?
5. Tom Brady/Mike Vick: If Vick remains vigilant in playing "smart" football, as he did in the beginning of the 2010 season, he is the number one QB on the board. When he doesn't, and get's taken out by Patrick Willis in Week 4 and misses five games next year, you'll be happy you took Brady.
Trusts: Tony Romo, Matt Ryan, Big Ben, Matt Schaub, Matthew Stafford.
Busts: Matt Cassell, Cam Newton, Any Cincinnati QB.
Running Back—Musts:
1. Adrian Peterson: It's almost as if Peterson has become a choice of habit for Fantasy Football managers. It's just assumed AP will go number one. Since '07 Peterson has never rushed for less than 1,298 yards and at least 10 touchdowns. In '08 he nearly recorded 2,000 yards on the ground. Peterson has been selected to the Pro Bowl in each of his four years in the league. He's about as safe as they come.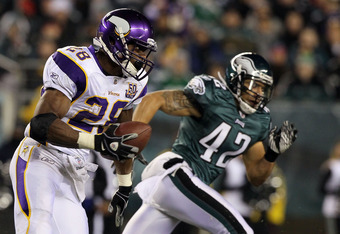 Jim McIsaac/Getty Images
2. Maurice Jones Drew: With 1,641 yards from scrimmage in 14 games in 2010 on one knee, MJD is a must. In the last three years he has scored nearly 40 touchdowns on the ground and through the air. The 2010 knee cartilage issue has been rectified, and savior Blaine Gabbert is in town. Rookie QB's always rely heavily on their running backs. Gabbert understands that the NFL game is a lot faster, can you say check down?
3. Chris Johnson: In 2010 CJ2K was boom or bust. When he was boom, it was A-Bomb status. Johnson is a legit game breaker. Unfortunately 2010 was a year of ups and downs for the entire Titans organization, and there were occasions where Johnson was virtually nonexistent. Apparently the answer is Jake Locker. If Locker can step in and contribute immediately Johnson will flourish.
4. Rashard Mendenhall: In the last two seasons Mendenhall has played in EVERY game. Fantasy Football managers investing in first round talent look for durability. Is this guy going to be there week in and week out? In 2011, with Big Ben serving a four game suspension Mendenhall stepped up. He ended the season with 1200+ rushing yards and 13 touchdowns. That's solid contribution from a third year guy. The only thing keeping him out of the top three is the lack of involvement in the passing game.
5. Michael Turner: If Thomas Jones weren't in Kansas City this spot would be reserved for 2010 breakout star Jamaal Charles. Atlanta was fully aware that they were running their work horse into the ground. In the 2011 NFL Draft the Falcons traded all the way up to the 6th position to get Alabama star wide receiver Julio Jones to lessen the work load. This could easily be Arian Foster also. 
Trusts: Arian Foster, Jamaal Charles, LeSean Mccoy, Ray Rice, Jahvid Best.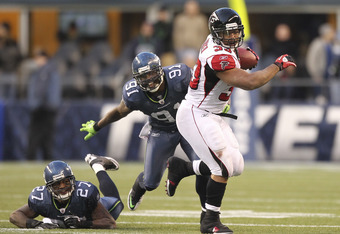 Otto Greule Jr/Getty Images
Busts: Donald Brown, Cedric Benson, Toby Gerhardt.
Wide Receivers—Musts:
1. Calvin Johnson: In 2010 Calvin Johnson was selected to his first Pro Bowl, while constantly adjusting his routes to suit three different quarterbacks. He was a starter for the Lions but missed some playing time in Weeks 9 and 14, while sitting out Week 17 entirely. Through all of this "Megatron" managed nearly 1,200 receiving, while tying his career mark of 12 touchdowns in a season. Whether or not starting quarterback Matthew Stafford can stay healthy remains to be seen. At nearly 6'6" tall and accompanied by a 44 ½ inch vertical, "Megatron" is the most dominant red zone target in the entire league. Regardless of who is under center in Detroit, Calvin will put up big numbers.
2. Andre Johnson: In any given game Hurricane Andre can out-score your running backs in terms of fantasy scoring. He was a consensus top six pick in last years' fantasy football drafts. If you pass on him in the first round of your draft I can assure you that he won't be there in the second. He is a virtual lock for at least 1,300 yards receiving, and 10 touchdowns.
3. Roddy White: It may have taken Roddy two years to step in as the number one option in Atlanta, but I guarantee it will be a lot longer before it's relinquished. Since the 2007 NFL season, White has been nearly automatic. The arrival of Matt Ryan in '08, and Julio Jones in this years NFL Draft has only helped solidify White's recognition of top 3 talent.
4. Greg Jennings: With the ascension of Aaron Rodgers so climbs his number one receiving option, Greg Jennings. No other receiver in the NFL's entirety relies more heavily on their quarterback remaining healthy. Jennings' incredible athleticism and uncanny ability to make plays in traffic, coupled with the quarterback play of Aaron Rodgers, has elevated him into my top five.
5. Hakeem Nicks: Eli Manning has no issues with just throwing the ball downfield hoping that Nicks will go up and make a play. This former UNC standout wouldn't have it any other way. Despite playing in just 12 games in 2010, Nicks amassed an impressive 1,052 yards receiving and 11 touchdowns. Unfortunately Nicks has gained the reputation of being injury prone. If Nicks can buck that moniker, look for him to move up in my 2012 wide receiver rankings.
Trusts: Mike Wallace, Larry Fitzgerald, DeSean Jackson, Miles Austin.
Busts: Reggie Wayne, Brandon Lloyd, Santana Moss.