Atlanta Braves: Craig Kimbrel and Jonny Venters Best Bullpen Duo in Majors?
May 9, 2011
Kevin C. Cox/Getty Images
The Atlanta Braves come into Monday third in the NL East. Atlanta is one-and-a-half games behind the Florida Marlins and three-and-a-half behind the Philadelphia Phillies after starting the season 13-15 in the month of April.
The Braves have turned their fortunes around, going 7-1 in May due in large part  to the success of the bullpen led by closer Craig Kimbrel and left-handed set-up man Jonny Venters. The Braves bullpen ranks fourth in ERA, first in xFIP, first in WAR, second in K/9 and fourth in WHIP among all major league clubs.
Both Kimbrel and Venters have been two of the most valuable relievers in baseball this season. Among relievers who have thrown 10 innings or more (a very small sample size), Venters is tied for first with a 0.7 WAR and second with a xFIP of 1.85. Kimbrel has recorded eight saves in 10 opportunities with a xFIP of 2.34 (sixth in baseball) and a WAR of 0.6 (tied for third).
Kimbrel, who averages 95.2 mph on his fastball and throws a good slider, ranks fourth among relievers in K/9 by averaging 12.64. Most importantly, he has improved his walk rate from 6.91 to 4.02 BB/9 this season. He has allowed only nine hits in 15.2 innings pitched, and his pitch outcome numbers are in the top 20 among relievers. He has a 70 percent contact rate, and he has improved his ground ball rate from 25 percent to 46.9. 
Venters' numbers are even more impressive than Kimbrel's. His sinking fastball average 94 mph, and it allows him to record 85.7 percent of his balls put in play to be ground outs. That is 10 percent higher than Sam Demel, who ranks second among relievers. Additionally, only 2.4 percent of his balls put in play have been line drives.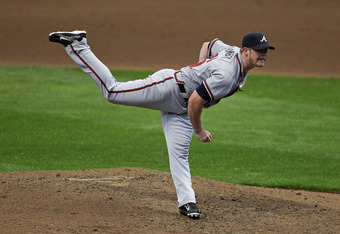 Jonathan Daniel/Getty Images
His strikeout rate (9.16 K/9) is not as impressive as Kimbrel's, but opposing hitters make the least amount of contact among relievers and any other pitcher who has thrown more than 10 innings. Venters control has also improved. His BB/9 rate has dropped from 4.23 to 1.93.
What makes Kimbrel and Venters so tough to beat in close games is their ability to keep the ball in the ball park. Kimbrel has only allowed five home runs in 187.1 innings during his professional career. He has yet to allow one in the majors in his 36.1 big league innings. Venters has allowed one home run in his 101.2 major league innings with the Braves.
It will be interesting to see how well Venters responds to the workload later in the season, as he struggled in the second half of last season. Additionally, Kimbrel's control has been known to disappear at times. However, these young relievers have compiled some amazing numbers in their limited time in the majors. If the Braves keep getting above average length from their starting pitchers, it should be an interesting race for the NL East crown.