Phillies: Roy Halladay and the Top 7 Phillies of the Month, Who's No. 1?
May 1, 2011
Rob Carr/Getty Images
Before revealing my first Top Phillie of the Month Award—can you bear the suspense?—let's take a look at how the month of April played out for the Philadelphia Phillies.
To put it another way, one has to wonder if other teams will copy the Phillies' recipe for success, which included these ingredients:
No contribution, due to injuries, from their best all-around player (Chase Utley), their No. 1 closer (Brad Lidge) and their top prospect (Domonic Brown).
Early season trips to the Disabled List for starting pitcher Joe Blanton, and relievers Jose Contreras and J. C. Romero.
A lusty .161 batting average from their starting left fielder, Raul Ibanez, a player who hit .275 with 83 RBI last season.
Five, count 'em, five RBI from their new No. 3 hitter, Jimmy Rollins.
A 14-game stretch in which the Phillies scored a total of 39 runs, never exceeding four in any contest.
If you think that this sounds more like a prescription for disaster than a recipe for success, you would be correct. But the recipe must be a tasty one, as the Phillies (18-8) hold the best record in the National League and are tied with the most surprising Cleveland Indians for the best mark in the bigs.
Skipper Charlie Manuel must be doing something right.
April ended the same way it started, at Citizens Bank Park with Ace of Aces Roy Halladay on the hill pitching terrific ball. The 2-1 win over the Mets, among other things, featured another key hit from John Mayberry, Jr, who started the month with a walk-off hit.
Enough for the team recap. Let's get to my inaugural Top Phillie of the Month Award, a most prestigious honor that is accompanied with no promise of cash or prizes to be donated by a wealthy benefactor. It's all about the honor, anyway, as these seven Phillies—in ascending order of merit—would likely agree.
Please Note: I did not wish to rank more than seven Phillies players, but I did cagily sneak in an extra couple. I still apologize to Shane Victorino (.290, four homers, 12 RBI, 19 runs and three SB) for just missing out. The Flyin' Hawaiian may find solace in winning the second-ever Top Phillie of the Week two weeks ago.
7) Cliff Lee
 The Ace of Hearts only sports a 2-2 record with a 4.18 ERA, but he has pitched better than those middling numbers would indicate. In 32.1 innings, Cliff has fanned 39 batters against only four walks, contributing to his excellent WHIP (walks plus hits per innings pitched) of 1.05.
Lee has pitched quite well in three of his five starts (Phils are 3-2) and threw the best game of the season: a 4-0 (complete game) three-hit shutout at Washington. Amazingly, he struck out 12 batters and only walked one, while only throwing 99 pitches.
6) Roy Oswalt
 The Ace of Clubs (3-1, 3.33) was putting up remarkable numbers (3-0, 1.88) prior to his April 25 start against Arizona. It would be understandable if he came to the round preoccupied with the horrible tornadoes that have devastated areas surrounding his Mississippi home. Sometimes life intervenes, and all of Phillies Nation wishes Roy, his family and community the best.
Back to the mound. In 27 innings, Little Roy has yielded only 21 hits and seven walks (a 1.04 WHIP) while striking out 21. The Phillies are 3-2 in games he has started.
5) Antonio Bastardo, Jose Contreras and Ryan Madson
 Despite all the well-placed preseason concern, the back-end of the bullpen has really gotten it done in April, earning eight saves in as many opportunities with a very low collective ERA.
Bastardo may be the most impressive, striking out 16 batters and walking four in 10.1 quality innings. He is 1-0 with an 0.87 ERA and a microscopic 0.77 WHIP. Oh yes, he earned one save in as many pitches.
Contreras made good on all five of his save chances, before hitting the DL after his April 21 appearance. In eight innings, he has yielded four hits and four walks (a 1.00 WHIP) while fanning nine. His ERA sits, with him, at 0.00.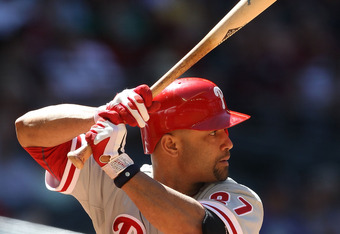 Christian Petersen/Getty Images
Madson leaves April with a 2-0 record, an 0.90 ERA and two saves in as many chances. The lanky, 6'6" righty has given up seven hits and three walks (a 1.00 WHIP) while striking out 12. And he usually pitches even better late in the season.
4) Cole Hamels
 The Ace of Diamonds has sparkled brilliantly after a highly flawed season debut at home versus the Mets.
Even with that one bad outing, Hamels is 3-1 with a 3.15 ERA and a WHIP of 1.11. Cole has fanned 34, walked nine and yielded 26 hits in 31.2 innings. The team is 4-1 on his starts.
3) Ryan Howard
 The Big Piece enters May leading the NL with 27 RBI in 26 games and a very strong .290/.361/.560 slash, with six home runs.
Will you bet against him topping 40 homers and 125 RBI against this year? I should add that he has played very strong defense thus far, including Saturday's wonderful game-ending dive-and-backhand flip to…
2) Roy Halladay
 The Ace of Spades threw another complete game yesterday, his second of the month, raising his record to 4-1 with a 2.14 ERA.
Doc has dominated in five of his six starts (the Phillies won his only no-decision) and has let up only 39 hits and seven walks (good for a 1.02 WHIP) in 46.1 innings of yeoman work. Forty-seven would-be hitters have walked back dejectedly to the dugout after swinging or looking at strike three versus Halladay.
The defending, unanimous Cy Young Award winner should have cruised to the Top Phillie of the Month Award, but for…
1) Placido Polanco
 Does it seem like a couple years ago when there was lots of concern over Polly's (hyper-extended) elbow?
The deluxe No. 2 hitter is batting a white-hot .398 (third in the NL) with two homers, 19 RBI and 18 runs. Polanco has even stolen three bases in as many attempts.
Polly leaves April with an amazing 41 hits, and he has had very few poor at-bats this young season. He had the game-winning RBI yesterday on a sacrifice fly to right.
One has to have had an amazing month to beat out Roy Halladay for the TPM award, and Placido Polanco made it almost impossible for me to pick against him.
Gold Notes
One runs out of superlatives to praise Roy Halladay, so we'll just let this stat speak for itself.
Doc opened the game with 18 straight strikes (the first pitcher to do so in 20 years, per STATS, LLC); on the day, 80 of his 107 pitches were strikes.
Although he was already hovering around the 100-pitch plateau, did anybody expect Manuel to pull him when he started the top of the ninth with a walk to David Wright and two balls to Carlos Beltran?
For more information on Matt Goldberg's new books, as well as writing, speaking and interview requests, please e-mail: matt@tipofthegoldberg.com or contact him via his Bleacher Report homepage.