Turkish Grand Prix Preview: What to Expect at Istanbul Park
May 1, 2011
Mark Thompson/Getty Images
The Formula One season is now in its transition phase between Asia and Europe as we head to Istanbul for the Turkish Grand Prix from May 6-8.
From political controversies to potentially team-shattering incidents, the event has seen it all in its short history.
And when I say "event" I mean the teams and the organizers. The people of Turkey (barring the elite and tourists) have not been witness to the drama, citing exorbitant prices.
Bernie Ecclestone isn't helping the cause by demanding an increased price (double the current amount) to stage the Grand Prix starting next year.
The Turkish government has obviously refused the hike and unless the two parties find a middle ground, the Turkish Grand Prix will be off the Formula One calendar next year.
It's a real shame, as drivers enjoy racing here; it is quite an exciting track and has a charm of its own.
So what kind of Turkish delights are we in for this year?
Track and Conditions
 The Istanbul Park Circuit, or the Otodrom as it is popularly known, lies in the Asian part of the transcontinental state and is unusual in the way it runs in the counter-clockwise direction—one of only five Formula One circuits to do so (the others being Singapore, Korea, Interlagos and Yas Marina).
The circuit measures 5.338 kms and is pretty undulating in the sense that it follows the natural contours of land and, thus, provides some dramatic gradient changes. The track's elevation varies by almost 46 metres over the course of a lap. The drivers have to manoeuvre 58 such laps.
One of the other distinctive features of the circuit is the famous (or rather, infamous) Turn 8. It is a quadruple-apex left-hander that seems to go on and on. It is taken at around 260 kmph and generates one of the highest G-Forces (5G) of the season. The turn is extremely hard on the tyres and thus poses a major challenge on drivers and engineers, not to mention the folks at Pirelli. It comes as no surprise, thus, that this turn has been nicknamed "Diabolica"!
Another noteworthy corner is Turn 1 which succeeds the front straight and is a sharp downhill left-hander. This turn has played host to a number of racing incidents in the past because it is one of the best overtaking spots on the track.
The circuit has two long straights (one of which will be the DRS zone) that generate speeds up to 320 kmph. It also consists of a mixture of fast and slow corners, providing plenty of overtaking opportunities.
With track temperatures reaching 55 degrees celsius, the Otodrom is quite a challenging circuit and is bound to provide much excitement to spectators, if any.
The Otodrom will host just its seventh Grand Prix this year.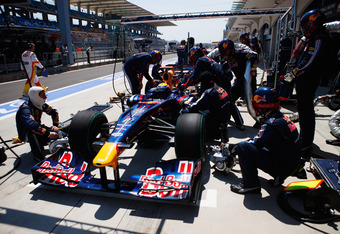 Mark Thompson/Getty Images
Previous Strategies
 Last year's race saw a one-stop strategy being adopted by all frontrunners after starting on the softer option tyre. However, the race was overshadowed by a battle of teammates as Red Bull's Sebastian Vettel and Mark Webber took each other out after cruising towards a potential 1-2, thereby gifting the race to the McLarens of Lewis Hamilton and Jenson Button. The two Brits also had a tussle for the win towards the end, but more on that later.
In the 2009 edition, Sebastian Vettel handed the race lead to Jenson Button after running wide early in the race. Doing so, Vettel switched to a three-stop strategy (others were on a two-stopper) hoping to outrun Button on lesser fuel load. However, Vettel could not pass Button before his second pit-stop and eventually finished third behind Button and Webber.
In 2008, Lewis Hamilton qualified third behind Felipe Massa and Heiki Kovalainen. Hamilton also ran on a three-stop strategy and finished second behind Massa but, more importantly, ahead of championship leader Kimi Räikkönen.
This Year's Strategy
Tyre wear is alarmingly high at Istanbul Park—with Turn 1 grinding the front-left and Turn 8 making the front-right tyre work.
Pirelli had planned to introduce their extra-hard compound for the race but after testing out the said compound during Free Practice in Malaysia, which is similar to Turkey, the Italian manufacturer concluded that new rubber will not be needed.
It is to be noted that drivers complained of marbles (pieces of discarded rubber) hitting them due to severe degradation during the Malaysian Grand Prix.
With the high tyre loading forces generated by the aforementioned turns, it is to be seen whether the decision taken by Pirelli will turn out to be a wise one or not.
This after Pirelli's Director for Motorsport, Paul Hembrey himself, claimed that the Otodrom's abrasive surface is probably the worst of the lot. A bit of ambivalence there from the tyre manufacturers?
The pit lane can, thus, expect to see some traffic come race day.
Turkey is a race where straight line speed counts for a lot. Thus, KERS and DRS are expected to play a major role both—during qualifying and the race. The Otodrom is a very wide track which provides a lot of opportunities for overtaking. Red Bull would thus be advised to sort out their KERS issues.
Notable Incidents 
The 2010 Turkish Grand Prix was the race that sparked the unrest between Sebastian Vettel and Mark Webber.
With Red Bull on track to claim a 1-2 finish, Vettel and Webber collided on Lap 41 with the German appearing to turn in on his teammate as the pair fought for the lead. Vettel attempted to pass his teammate for the lead on the run down to the final series of corners on Lap 41, but the pair made contact, putting Vettel out of the race and forcing Webber to pit for a new nose which dropped him to third behind the McLarens of Lewis Hamilton and Jenson Button.
Webber said he'd been instructed to turn his engine down to save fuel; the team's argument is that Vettel didn't have to because he'd saved fuel earlier, and thus had better grunt out of Turn 8. But that didn't explain why the German appeared to turn into his teammate. 
Red Bull team Principal Christian Horner was obviously disappointed as his team handed 43 points to McLaren on a silver platter, but insisted that the incident hadn't caused a rift between the two drivers.
The 2006 Turkish Grand Prix is well known for the political controversy that transpired during the podium display. Race-winner Felipe Massa received the trophy from Mehmet Ali Talat, who was referred to as the "President of the Turkish Republic of Northern Cyprus"—a state recognized only by Turkey. This political faux pas earned the organizers a fine of $5 million from the FiA.
Previous Winners
Felipe Massa has enjoyed a good run at Turkey having won here thrice in its six-year history.
| | | |
| --- | --- | --- |
| YEAR | DRIVER | CONSTRUCTOR |
| 2010 | Lewis Hamilton | McLaren-Mercedes |
| 2009 | Jenson Button | Brawn GP |
| 2008 | Felipe Massa | Ferrari |
| 2007 | Felipe Massa | Ferrari |
| 2006 | Felipe Massa | Ferrari |
| 2005 | Kimi Räikkönen | McLaren Mercedes |
Predictions 
 This year, it's hard to see past the Red Bull dominance. Aerodynamic efficiency is key at Istanbul, with its varying gradients, and you can bet your sweet bippy that Adrian Newey, who is a connoisseur when it comes to aerodynamics, will have a trick or two up his sleeves.
McLaren will also argue that their car suits the low downforce requirements of the track. If tyre wear becomes a factor, which it will, Button is tipped to outrun his teammate as Hamilton is known to be hard on his tyres. Button also enjoys an upperhand when it comes to strategy.
My money is, however, on Hamilton. Although would I love to see Felipe Massa race his scarlet Ferrari past the chequered flag first!