Freedom Newbies: "Soccer Nerd" Lene Mykjåland
June 4, 2010
The Freedom Newbies series aims to allow fans to learn more about the new players of the Washington Freedom. In the first of the series, the spotlight is on Freedom's Norwegian international Lene Mykjåland.
Freedom midfielder Sonia Bompastor hurriedly walks by and Lene Mykjåland, who is sitting with her right leg propped up on another chair, calls out, "Good luck Sonia!"
Bompastor stops and turns around. "You're not traveling with us?"
As she answers "No" and Bompastor sheepishly apologizes for not knowing, Mykjåland laughs. "See you next week! Score some goals please!"
The good-natured Norwegian forward injured her knee at one of the team's practices and has already missed out on the home game against the Philadelphia Independence. This has also prohibited her from traveling with the team to compete against league leader FC Gold Pride in the Bay Area on Saturday.
The injury came after scoring goals in three recent games and after the WPS newbie has started feeling comfortable on the field. 
Momentum killer? You might say that.
But even though throughout the interview her teammates kept walking past, saying goodbye to her as they leave for California, Mykjåland was in good spirits, wishing everybody good luck. She is still, after all, living the dream.
;
A member of the Norwegian national team who has played at the 2007 Women's World Cup and the 2008 Beijing Olympics, Mykjåland had always dreamed of playing in the United States. Not only did she love visiting the country several times when she was younger (New York is a favorite city), but she finds the women's soccer program in the US as a big opportunity for her growth as an athlete. 
Mykjåland has been playing soccer ever since she could walk and run with a ball. But because there were no girls' teams when she was a kid, she always played with the boys.
"I was a soccer nerd when I was little. Really big soccer nerd. It was like, 24/7, all the things that was in my head was soccer. I was so mad when the guys didn't want to play anymore. I didn't get it because it was so fun! But I was lucky with my teammates because they were all good guys."
Mykjåland eventually played with women in Norwegian clubs like Randesund IL and Amazon Grimstad. She joined Røa IL, a club in Norway's top women's soccer league Toppserien, in 2005. She was the team's top scorer in 2007, helping them win the championship that year and the year after. 
In 2008, to promote the league and women's soccer in Norway, a TV drama series was created that ran for a few minutes every week at the end of a Toppserien show. Mykjåland was the star of the series. Filming was done before and after a Røa practice.
"It was so weird. At first, I had to wear a wig because I always had wet hair. And we didn't have time to blow-dry it," Mykjåland recounts. "And I remember I got to a scrimmage with all of my make-up, with dark eyes and a lot of blush. So it was weird for a little bit. But it was very fun."
It was also in Røa that she started playing with Freedom teammates Sarah Huffman and Becky Sauerbrunn. And having two friends already in the area, the move from Norway to Maryland—where the Freedom train and play their matches—was not that difficult.
Huffman helped Mykjåland find an apartment and even lent her a GPS to assist in getting around the area. ("A lifesaver! There aren't any signs [along the road]. Seriously, you have to have a GPS.")
When she does find her way around the Maryland-DC area, Mykjåland's favorite places to visit are Georgetown and Bethesda. Going out with her teammates, spending time with them on and off the field, have been key to her adjustment in her new life playing professionally in the US.
"I was so nervous when I got here, so stressed out. It's different how the practices go. I wasn't sure what they were expecting [of me] or what they have seen, and I didn't really know that much. Getting here, I didn't have expectations either 'cause I had no idea what I was going to do. But I'm really happy 'cause all of the girls have been so welcoming and made me feel at home here. So I really like it [here]."
Two notable teammates are Abby Wambach and Cat Whitehill from the US national team. The Americans and the Norwegians are known to be longtime rivals in women's soccer. Under current head coach Pia Sundhage, the US has only lost one game—against Norway at the 2008 Olympics. 
Mykjåland was in that game.
But when asked if it was weird to have been playing against a rival and now playing on their home turf, the always positive Mykjåland is excited more than anything. "It's fun, getting to know players I never would have gotten to know if I wasn't here. I learn a lot from them."
Mykjåland met future teammates Wambach and Whitehill at the Algarve Cup in Portugal earlier this year, when the US defeated Norway and eventually won the tournament soon after.
At the time Mykjåland had agreed to terms with the Freedom, but unlike her American teammates, could not come to the country to train with the team during WPS preseason. She arrived in Maryland the day before the last preseason game against the UNC Tar Heels. Mykjåland came in at the second half and scored her first goal in the US.
But even after scoring a goal shortly after she entered the game, Mykjåland shared in the postgame interview that she was not happy with her performance. As the WPS season started and she got to play more minutes and score goals, including a nice set up in Atlanta where she flicked the ball to Wambach, who in return gave a back heel pass that assisted in the goal, Mykjåland was still not comfortable with her performance.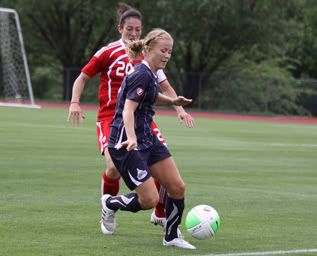 It was only in the first half of the friendly against the Canadian national team two weeks ago that she felt her usual self on the field. Part of her adjustments was learning how to play with fellow striker Wambach.
"She is a star. So it's fun to just be able to play up top with Abby. It's kind of big for me, and I'm learning a lot from her," Mykjåland says. "We're getting to know each other more and more [on the field]."
"I asked her one time, 'Should we say something if we have to say something short if we want it in this space or on foot?' Because I can't think that fast in English. Like, I want to say something, but it comes out in Norwegian. So it's stuff like that that you just have to figure out. And I think we've gotten to know each other better."
As the interview wrapped and thank yous were exchanged, Mykjåland takes the bag of ice on top of her right knee, stands up, and walks off with a slight limp. She heads towards the locker room, already empty as her teammates have left to go to the airport. 
But like a good team player, Mykjåland plans to cheer on her teammates from home while they play against FC Gold Pride. And after that, the work to get better continues as she looks ahead to the home game against the Chicago Red Stars on June 12, when she hopes to resume playing with the team, score more goals, and help win more games.
Because after all, you can never keep a good soccer nerd down.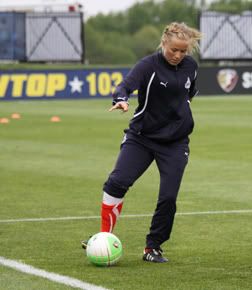 Photos by Charlotte Mace