NFL Power Rankings Week 4: Review and Reaction to 2016 League Standings
September 27, 2016
Justin Edmonds/Getty Images
Three full weeks of 2016 NFL action are officially in the books. The Atlanta Falcons capped off Week 3 with an exciting 45-32 victory over the rival New Orleans Saints on Monday night.
Believe it or not, we're close to wrapping up the first month of the season. The Cincinnati Bengals and Miami Dolphins kick off Week 4 on Thursday. Before we fully turn the page on Week 3, though, let's take a look at the big picture.
We've managed to learn quite a bit about each team so far. Some of last year's dominant squads—like the New England Patriots, Denver Broncos and Minnesota Vikings—are looking like contenders once again. Some potential new challengers, like the Philadelphia Eagles, are also making their presence felt.
Perhaps the most surprising result of the early season is that some teams who we thought would be contenders have struggled. The Bengals and the Carolina Panthers sit at 1-2, both coming off decisive losses at home.
Injuries, of course, continue to affect the NFL landscape. Big-name players like Adrian Peterson, Teddy Bridgewater, Ameer Abdullah, Danny Woodhead and DeAngelo Hall have already landed on injured reserve. Other notable players like Jay Cutler, Jimmy Garoppolo and Corey Coleman are also dealing with the injury bug.
How do these factors affect our view of each team?  Find out in our latest power rankings, and continue reading for the most notable changes in the league hierarchy.
NFL Power Rankings Following Week 3
Rank
Team
Record
1
Denver Broncos
3-0
2
New England Patriots
3-0
3
Minnesota Vikings
3-0
4
Philadelphia Eagles
3-0
5
Pittsburgh Steelers
2-1
6
Green Bay Packers
2-1
7
Dallas Cowboys
2-1
8
Kansas City Chiefs
2-1
9
Baltimore Ravens
3-0
10
New York Giants
2-1
11
Houston Texans
2-1
12
Atlanta Falcons
2-1
13
Oakland Raiders
2-1
14
Los Angeles Rams
2-1
15
Seattle Seahawks
2-1
16
Cincinnati Bengals
1-2
17
Carolina Panthers
1-2
18
Arizona Cardinals
1-2
19
New York Jets
1-2
20
Detroit Lions
1-2
21
Indianapolis Colts
1-2
22
Washington Redskins
1-2
23
San Diego Chargers
1-2
24
Buffalo Bills
1-2
25
Tampa Bay Buccaneers
1-2
26
San Francisco 49ers
1-2
27
Tennessee Titans
1-2
28
Miami Dolphins
1-2
29
New Orleans Saints
0-3
30
Jacksonville Jaguars
0-3
31
Cleveland Browns
0-3
32
Chicago Bears
0-3
Notable Rankings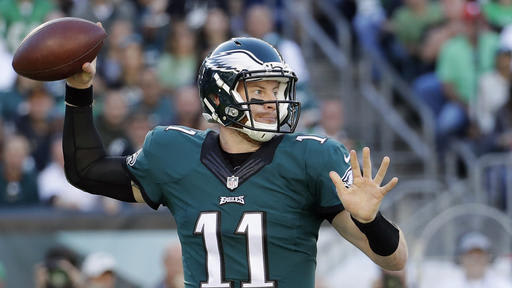 OBJ's Trade to Cleveland Has the Browns Hyped

Le'Veon's Power Move Pays Off After Signing Massive Deal with Jets

Friends to Foes, Ex-UGA Teammates Meet in Super Bowl

Cooks Gave a Super Gift to This Rams Employee

Mahomes Loves Ketchup as Much as Torching Defenses

Bears Hoping to Ride Club Dub to the Super Bowl

The Worst Fantasy Football Punishments for Last Place

NFL Players Bring Soccer Traditions to the NFL

JuJu Is a Man of the People

Bills Superfan 'Pancho Billa' Continues to Inspire

Happy 26th Birthday to OBJ 🎉

Mahomes Is 'Showtime' Off the Field Too

Thielen's Ride from Underdog to Record-Breaking WR

Shanahan and His Son Carter Are Hyped for Carter V

Browns Winning Off the Field with Community Service

Conner's Journey from Beating Cancer to Starting RB

Does Donovan McNabb Deserve Your 2019 Pro Football Hall of Fame Vote?

B/R Fantasy Expert Matt Camp Gives His Picks for Keep or Release After Week 2

Does Hines Ward Deserve Your 2019 Pro Football Hall of Fame Vote?

Shaquem Griffin Starting for Seahawks in Week 1
2. New England Patriots
What the New England Patriots have managed to do this season is remarkable. They've won win three straight games without star quarterback Tom Brady, and all three victories were impressive.
The Patriots took quarterback Jimmy Garoppolo into Arizona to face a tough Cardinals team in his first pro start.
They won.
Garoppolo and Co. then dominated the rival Miami Dolphins in Week 2. And when Garoppolo went down with a shoulder injury, the team used rookie Jacoby Brissett to run the offense while battering the Houston Texans in a 27-0 Week 3 beatdown.
Oh yeah, and the Patriots have done all this without tight end Rob Gronkowski for the vast majority of the three contests. He played just 14 snaps in Week 3, according to Pro Football Focus, after sitting out the first two weeks.
Head coach Bill Belichick obviously has this team on track for success in 2016, and we won't blame anyone who has New England atop their power rankings. Since the Denver Broncos are defending Super Bowl champions and also remain undefeated, though, we have New England at No. 2.
The next challenge for New England is the Buffalo Bills. The Patriots will have had 10 full days to prepare for Buffalo when they meet, though the team is currently dealing with injuries for both Garoppolo and Brissett. According to NFL Media's Ian Rapoport, however, the team is hoping to have one of the quarterbacks available for Week 4:
We'll see just how long Belichick can find creative ways to continue winning this season.
9. Baltimore Ravens
Unlike most of last season, the Baltimore Ravens are healthy and playing winning football. In fact, they're one of five teams to remain undefeated after three weeks. However, we only have the Ravens ninth in our rankings and behind a handful of one-loss teams.
This is because of the relatively weak competition the Ravens have faced thus far. Baltimore has beaten the Bills, the Cleveland Browns and the Jacksonville Jaguars. Those three opponents currently have a combined record of 1-8, and Baltimore won each game by less than a touchdown.
The Ravens are off to a strong start in terms of wins and losses, and we believe they can be a playoff team because of it. As Ravens linebacker Terrell Suggs recently explained, every win counts in the NFL:
Still, we're not sure this Ravens team is on par with other playoff contenders or if they have a legitimate shot at winning the AFC North. They don't have divisional contests against the Bengals or the Pittsburgh Steelers until Week 9, so we're likely to learn a lot more about this team in the second half of the season.
Until then—or at least until the Ravens start racking up convincing wins over quality opponents—we're going to consider Baltimore a playoff contender, but not a top-tier team.
16. Cincinnati Bengals 
Joe Robbins/Getty Images
It's been a rough start to 2016 for the Bengals. The team has been playing without standout tight end Tyler Eifert and has had some notable struggles on defense—Pro Football Focus rates Cincinnati just 25th in pass coverage through Week 3.
As a result, the Bengals find themselves sitting at 1-2.
We have the Bengals rated as our top one-win team, just ahead of the Carolina Panthers, because of the quality of Cincinnati's opponents thus far. The Bengals opened with tough road games against the New York Jets and the Steelers, before facing the Broncos in their home opener.
Carolina opened in Denver but was facing Broncos quarterback Trevor Siemian in his first career start. The Panthers then played their next two at home.
It's certainly too early for the Bengals to start panicking about their record, and the team can get back on track this week against the Dolphins.
"Why would we hit the panic button? Vontaze [Burfict] is coming back. Our team is a good team," Bengals cornerback Adam Jones said, per Katherine Terrell of ESPN.com. "We let two of them slip away."
However, the fact that both the Ravens and Steelers are sitting above Cincinnati in the AFC North standings is concerning, as is the way the Bengals lost at home in Week 3.
The Bengals allowed Siemian to throw for 312 yards and four touchdowns, while Cincinnati quarterback Andy Dalton failed to score, threw an interception and was sacked four times. The Bengals were able to hang with top-tier teams in 2015 because of a dominate defense (allowing just 17.4 points per game), but that might not be the case in 2016.