NFL Draft 2016: Latest Mock Draft and Biggest Stock Winners from Recent Pro Days
April 4, 2016
Michael Conroy/Associated Press
As the slate of NFL pro days continues to wind down, the events keep spitting out strong performances by many prospects and rearranging the 2016 NFL draft outlook.
It's a rather quiet time compared to the rest of the sporting world, but an important one nonetheless as the draft process gets ready to step back into the spotlight with March Madness ending.
While folks will rarely hear about a bad pro-day performance, some certainly classify as more important than others. It's sifting through the waves of headlines and figuring out which ones are worth the time that is tricky.
Here's a look at an updated mock with an emphasis on recent important pro days.
2016 NFL Mock Draft
Pick
Team
Player
Position
School
1
Tennessee Titans
Laremy Tunsil
OT
Ole Miss
2
Cleveland Browns
Jared Goff
QB
California
3
San Diego Chargers
Jalen Ramsey
CB/S
Florida State
4
Dallas Cowboys
Myles Jack
LB
UCLA
5
Jacksonville Jaguars
Vernon Hargreaves III
CB
Florida
6
Baltimore Ravens
Ronnie Stanley
OT
Notre Dame
7
San Francisco 49ers
Joey Bosa
DL
Ohio State
8
Philadelphia Eagles
Jack Conklin
OT
Michigan State
9
Tampa Bay Buccaneers
Darron Lee
LB
Ohio State
10
New York Giants
Reggie Ragland
LB
Alabama
11
Chicago Bears
DeForest Buckner
DE
Oregon
12
New Orleans Saints
Noah Spence
DE/LB
Eastern Kentucky
13
Miami Dolphins
Ezekiel Elliott
RB
Ohio State
14
Oakland Raiders
Mackensie Alexander
CB
Clemson
15
Los Angeles Rams
Carson Wentz
QB
North Dakota State
16
Detroit Lions
Taylor Decker
OT
Ohio State
17
Atlanta Falcons
Shaq Lawson
LB
Clemson
18
Indianapolis Colts
A'Shawn Robinson
DT
Alabama
19
Buffalo Bills
Paxton Lynch
QB
Memphis
20
New York Jets
Jonathan Bullard
DE
Florida
21
Washington
Corey Coleman
WR
Baylor
22
Houston Texans
Robert Nkemdiche
DL
Ole Miss
23
Minnesota Vikings
Josh Doctson
WR
TCU
24
Cincinnati Bengals
Laquon Treadwell
WR
Ole Miss
25
Pittsburgh Steelers
Eli Apple
CB
Ohio State
26
Seattle Seahawks
Leonard Floyd
LB
Georgia
27
Green Bay Packers
Sheldon Rankins
DT
Louisville
28
Kansas City Chiefs
Michael Thomas
WR
Ohio State
29
Arizona Cardinals
Nile Lawrence-Stample
DT
Florida State
30
Carolina Panthers
Kevin Dodd
DE
Clemson
31
Denver Broncos
Jason Spriggs
OT
Indiana
Author's projections
Stock Winners from Recent Pro Days
6. Baltimore Ravens: Ronnie Stanley, OT, Notre Dame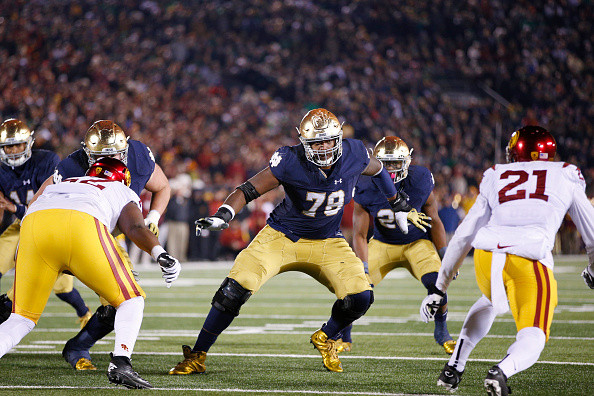 OBJ's Trade to Cleveland Has the Browns Hyped

Le'Veon's Power Move Pays Off After Signing Massive Deal with Jets

WR Metcalf Looks Ready to Destroy NFL Combine or Take Down Thanos

Friends to Foes, Ex-UGA Teammates Meet in Super Bowl

Cooks Gave a Super Gift to This Rams Employee

Mahomes Loves Ketchup as Much as Torching Defenses

Bears Hoping to Ride Club Dub to the Super Bowl

The Worst Fantasy Football Punishments for Last Place

NFL Players Bring Soccer Traditions to the NFL

JuJu Is a Man of the People

Bills Superfan 'Pancho Billa' Continues to Inspire

Happy 26th Birthday to OBJ 🎉

Mahomes Is 'Showtime' Off the Field Too

Thielen's Ride from Underdog to Record-Breaking WR

Shanahan and His Son Carter Are Hyped for Carter V

Browns Winning Off the Field with Community Service

Conner's Journey from Beating Cancer to Starting RB

Does Donovan McNabb Deserve Your 2019 Pro Football Hall of Fame Vote?

B/R Fantasy Expert Matt Camp Gives His Picks for Keep or Release After Week 2

Does Hines Ward Deserve Your 2019 Pro Football Hall of Fame Vote?
Notre Dame's Ronnie Stanley won't receive the same level of hype as Laremy Tunsil, but a strong showing at the program's pro day has the NFL talking.
Stanley had a few questions marks left about his stock going into the event, namely whether he could man the left side of a line on his lonesome.
Consider the question answered, as NFL.com's Gil Brandt summed up an elite athletic performance by Stanley:
Did the short shuttle in 4.68 seconds and the three-cone in 7.96 seconds. He also had 24 reps of 225 pounds on the bench press. Stanley had a lights-out workout, showing that he can definitely play left tackle. The offensive line coaches in attendance worked Stanley and Martin very hard, and the two hung in there until the very end of the drills.
There were questions around Stanley's stock because, honestly, this isn't the best class for the offensive trenches and it certainly doesn't help that it continues to get harder and harder to draft the area.
As NFL.com's Chris Trapasso pointed out, the pro day meshes well with film:
Call it perfect news for a team like the Baltimore Ravens, as it keeps Stanley in the top-10 conversation.
Baltimore stands in an odd spot when it comes to need, but Stanley provides much-needed depth and options in the offensive trenches as the team continues to rebuild the offense around Joe Flacco.
23. Minnesota Vikings: Josh Doctson, WR, TCU
Darron Cummings/Associated Press
Most of the buzz at wideout as of late has centered on Corey Coleman, but TCU's Josh Doctson helped change the conversation a bit with a strong pro day.
Once considered too small for college ball, Doctson comes in at 6'2" and 202 pounds off a season in which he posted wild numbers, making it two strong years in row:
YEAR
REC
YDS
TD
2015
79
1327
14
2014
65
1018
11
ESPN.com
Doctson is much more than numbers, though.
A strong route-runner, Doctson is one of the best in class when it comes to going up and getting the ball at its highest point. While more strength to best press coverage would be nice, putting on size at the NFL level shouldn't pose much of a challenge.
Minnesota is one of the most obvious teams in the running for a wideout this year, so the Vikings making Doctson don a different shade of purple makes sense. With Cordarrelle Patterson a bust, Mike Wallace gone and only Stefon Diggs to speak of, Doctson has a role right out of the gates. 
Based on his ability to go up and get the ball, a trait he reinforced at TCU's pro day, he'll be pretty successful right away, too.
29. Arizona Cardinals: Nile Lawrence-Stample, DT, Florida State
Mark Wallheiser/Associated Press
Many names clutter the interior defensive line when it comes to the 2016 class, so it isn't much in the way of a shock to find out a lesser-known name used a pro day to jump his peers. 
Nile Lawrence-Stample out of Florida State is the topic here, a 6'1", 320-pound force who came on late with the Seminoles but has put on repeated strong performances on the path to the draft.
The latest was Florida State's pro day, where he put up strong agility numbers to prove he is much more than simply a run-stuffing presence.
As NFL.com's Lance Zierlein had previously mentioned in a writeup detailing Lawrence-Stample's strengths, quickness is a surprisingly big part of his game:
"Stubby, but stout lower body. Decent lateral movement and is a willing chaser down the line. Has quickness off the snap to attack a gap and stress the edge. Better as aggressive upfield player than read-and-­react two­-gapper. Very good vision into backfield and keeps running back locked in."
As a team with little in the way of immediate needs, the Arizona Cardinals should have an interest in Lawrence-Stample. The addition of Chandler Jones helps the line, but remember that Corey Peters is still on his way back from a torn Achilles.
Near the end of the round, an insurance policy with the chance to start for years to come makes Lawrence-Stample a smart pick for the Cardinals, should his stock remain at this height.
Stats courtesy of NFL.com and are accurate as of Thursday. All advanced metrics courtesy of Pro Football Focus.