Cameron Wake Contract: Latest News and Rumors on Negotiations with Dolphins
Winslow Townson/Associated Press
Cameron Wake has been among the top pass-rushers in the NFL for the past several seasons, and the Miami Dolphins may take steps toward ensuring he remains one of their franchise cornerstones for the foreseeable future.  
Continue for updates.
---
Williams Deal Not Expected to Impact Wake
Tuesday, March 8
Despite signing another pass-rusher in Mario Williams on Tuesday, per ESPN's Adam Schefter, Ian Rapoport of the NFL Network reported Wake "isn't going anywhere." However, Rapoport also noted there are details on his contract that need to be worked out.
---
Wake, Dolphins Reportedly Far Apart on New Deal
Tuesday, March 1
Armando Salguero of the Miami Herald, citing a source, reported talks between Wake and the Dolphins "have not gone well":
The Dolphins, apparently were trying to significantly cut Wake's scheduled cap number of $9.8 million for 2016. Wake expected that, but also expected some sort of in-kind gesture that would not result in an actual cut in salary and indeed would include an increase in money he is guaranteed, thus insuring his future with the Dolphins.

The difference between those two positions became a divide that has not been bridged as of this morning.

And, per the source, the differences in how to get the deal done is significant. 
On Feb. 18, per Rapoport, the Dolphins were in talks to sign Wake to a contract extension.
---
Wake Has Emerged as Top Pass-Rusher with Dolphins
The 34-year-old veteran has one year remaining on his deal.
In seven seasons with Miami, Wake has registered 70 sacks, which has garnered him four Pro Bowl selections and one first-team All-Pro nod.
He was on pace for perhaps the best season of his career in 2015 with seven sacks through seven contests, but he tore his Achilles in October and was lost for the remainder of the campaign.
When asked about returning to the Dolphins in 2016 at the conclusion of the 2015 season, Wake said he expected to be "100 percent" by next season and that he would consider a restructured contract if he felt it was the best move for him, per Andrew Abramson of the Palm Beach Post. 
"Whatever is the best thing obviously I'll take it in to consideration," he said, per Abramson. "There's a lot of things that are question marks on the team next year. So the scenarios are probably endless. It's hard to speculate. I've always loved being here and that's not going to change."
Since the Dolphins rank 28th in salary-cap space, according to Spotrac.com, some assumed that keeping both Wake and Olivier Vernon was out of the question.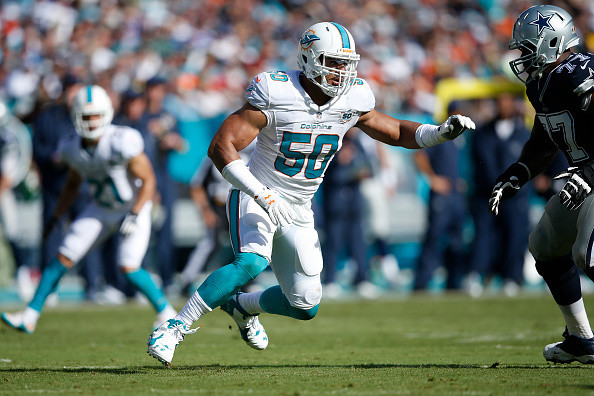 OBJ's Trade to Cleveland Has the Browns Hyped

Le'Veon's Power Move Pays Off After Signing Massive Deal with Jets

Friends to Foes, Ex-UGA Teammates Meet in Super Bowl

Cooks Gave a Super Gift to This Rams Employee

Mahomes Loves Ketchup as Much as Torching Defenses

Bears Hoping to Ride Club Dub to the Super Bowl

The Worst Fantasy Football Punishments for Last Place

NFL Players Bring Soccer Traditions to the NFL

JuJu Is a Man of the People

Bills Superfan 'Pancho Billa' Continues to Inspire

Happy 26th Birthday to OBJ 🎉

Mahomes Is 'Showtime' Off the Field Too

Thielen's Ride from Underdog to Record-Breaking WR

Shanahan and His Son Carter Are Hyped for Carter V

Browns Winning Off the Field with Community Service

Conner's Journey from Beating Cancer to Starting RB

Does Donovan McNabb Deserve Your 2019 Pro Football Hall of Fame Vote?

B/R Fantasy Expert Matt Camp Gives His Picks for Keep or Release After Week 2

Does Hines Ward Deserve Your 2019 Pro Football Hall of Fame Vote?

Shaquem Griffin Starting for Seahawks in Week 1
If Miami can somehow manage to restructure Wake's deal in a way that makes it more cap-friendly, however, then it may have a chance to keep one of the league's best pass-rushing duos together.
Committing a significant amount of years or money to an older player coming off such a significant injury is a major risk, but when Wake is healthy and on his game, he is the type of difference-maker the Dolphins need in order to be competitive in the strong AFC East.
Follow @MikeChiari on Twitter.