50MC's 2009-2010 Fearless Fantasy Forecast: Mikko Koivu
September 12, 2009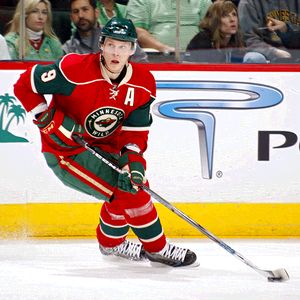 Do you ever look at your fantasy pool's champion and wonder: How is his team better than mine? You look up and down his team and compare him to yours. You look down his team and come to Mikko Koivu and wonder how he has room on his championship team for a guy like Mikko Koivu? Then you look at his numbers and then you realize why he won the league.
Mikko Koivu is the type of guy that will not lead your team to a victory, but will win you a championship. He is the guy at the bottom of your depth chart that continues to produce. Only the guys that own him realize the worth that Koivu brings. He is the unsung hero. He is under rated because he is simply known as Saku's lil bro and doesn't play on a strong offensive team.
Both of those things will change this year.
This offseason, the long time Head Coach of the Minnesota Wild, Jacques Lemaire resigned to take on the vacancy in New Jersey. As a replacement, General Manager, Craig Leipold hired Todd Richards. Before this gig, Richards led the Scranton Wilkes-Barre Penguins to a 51 win season in the AHL in 2006 and signed on as an assistant coach for the San Jose Sharks last year.
There is an excellent article that profiles the new Wild coach by Michael Russo of the Minnesota Star Tribune. It highlights the winning attitude that Richards has, his past, and most importantly, for fantasy buffs, the type of system he will implement:
While all teams trap and the new-edition Wild still will, too, the system's philosophy will be dramatically altered under Richards. He vows an up-tempo, attacking style, something that Wild fans—especially the No. 1 fan—are excited to see.
This is music to current and potential Koivu, Pierre-Marc Bouchard, Martin Havlat, heck, even James Sheppard owners everywhere.
Under Lemaire, the Wild were a trapping, defense-first team. They would traditionally win low scoring games and were content with scoring and holding the lead, instead of building on it. They have had talented and skilled play makers in the past, but never really got to explore the potential of their speed because of the system.
With the new coach and the new system, the game should open up for the Wild. Players with speed, such as Koivu and Bouchard will get their opportunities and should score more points. Richards knows that with Marian Gaborik gone, he needs to rely on Koivu to be the leader on the ice and knows that he has the assets to do so.
Richards goes as far to say that Koivu is "probably in the top three among two-way centermen in the game" in Dave Campbell's article in USA Today.
That may be a stretch, but it says a lot of what Koivu brings to the table—solid defense with untapped offensive potential.
Last season, Koivu finished with a career high 67 points in 79 games. What is interesting about Koivu's career is that he has increased his points per game every year since he has been in the league.
2005-2006: 21 points/64 games = 0.33 ppg
2006-2007: 34 points/82 games = 0.66 ppg
2007-2008: 42 points/57 games = 0.74 ppg
2008-2009: 67 points/79 games = 0.85 ppg
This is a very impressive stat and encouraging for Koivu going into this season. He has increased his point per game totals by roughly 0.10 in the past three years. Whether or not he does that again this season is yet to be seen, but he with the increased responsibility, new system and opportunity to be more creative, he is surely to increase his numbers. This will put him among the top 25 point getters in the league. 50MC fantastically forecasts 0.91 ppg in 82 games: 25 goals, 49 assists, 74 points (THN predicts —20/45/65)
If you can draft Koivu in the middle to late rounds—which you probably can—and get top 25 production out of him, that would be considered a bonafide fleecing.
It is widely known that you can't win your fantasy pool in the early rounds in the draft, but you can lose it. Well, I believe in being able to win fantasy pools in the late rounds. You can do this by taking Koivu.
50MC's Fearless Fantasy Forecasts: