Matt McGloin Is Defying the Odds with the Oakland Raiders
November 20, 2013

Kirby Lee-USA TODAY Sports
A young man from West Scranton, Pennsylvania walked on at Penn State and not only won the starting job at quarterback but broke school records for most passing yards, touchdowns and completions in a season. When his college career was over, quarterback Matt McGloin was Penn State's career leader in touchdown passes.
That wasn't enough to get McGloin a combine invite or drafted, however, as the Oakland Raiders signed him as an undrafted free agent this offseason to be a "camp arm." At the time, McGloin had three players ahead of him on the depth chart, and the team had little motivation to give him an opportunity to do much.
McGloin is somewhat of an expert in defying the odds, because he did it in college and is doing it again with the Raiders. Although it might be hard to explain how he does it, there is certainly something to McGloin's knack for vastly exceeding expectations.
About a week into training camp, McGloin passed rookie fourth-round draft pick Tyler Wilson on the depth chart. Wilson was called one of the best quarterbacks in the class by some draft analysts, prompting some people to wonder if he would start at some point this season.

Joe Nicholson-USA TODAY Sports
McGloin blew past Wilson and made the Raiders final 53-man roster—forcing the Raiders to cut one of their precious draft picks prior to the season. At the time, though, the focus was on the immediate failure of Wilson and not the man who beat him out for a job.
After Terrelle Pryor won the starting job and Matt Flynn tanked in his Week 4 start in place of the injured Pryor, the Raiders promoted McGloin for the second time in two months. Once again, the focus was on how terrible Flynn had been and not on McGloin. Without a solid No. 2 quarterback, though, there was no way the Raiders could have made the decision to release Flynn without signing someone else. 

Cary Edmondson-USA TODAY Sports
Essentially, McGloin beat out the two quarterbacks that the organization had brought in this offseason to be on the roster, and he did it in about two months. And after a good performance on the road in a win over the Houston Texans on Sunday, McGloin is probably going to get another start or two to prove that his first start wasn't an aberration.
With Pryor still nursing a sore knee, it also makes sense to give McGloin another shot. Even Pryor's biggest fans know that he is very limited if he can't move around. Since the Raiders also play on Thanksgiving, it's conceivable that McGloin would get three starts before the team reevaluates the quarterback position.  
McGloin's performance was really impressive, but it's important to realize that it was only one game. It was a game that the vast majority of rookie quarterbacks don't win, so McGloin deserves a ton of credit, but he hasn't earned anything more than another opportunity at this point.
One of the things McGloin did well was protect himself against Houston's pass rush. According to Pro Football Focus (subscription required), McGloin held the ball for just 2.44 seconds on average.
McGloin was able to get rid of the ball quickly because he was able to make quick reads and anticipate receivers getting open. Two of McGloin's three touchdowns were well-designed, deep pass plays that required him to make a quick read.
On the touchdown to wide receiver Rod Streater, the Raiders ran a post on the outside and a dig in the slot against Houston's Cover 4 defense. The key to the play was actually rookie tight end Mychal Rivera beating the linebacker on the dig route.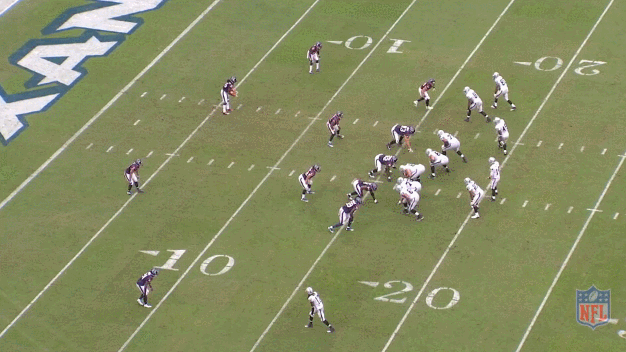 Game Rewind
Rivera's route forced the deep safety to step up in coverage, leaving Streater one-on-one with a cornerback. McGloin recognized it very quickly and threw a strike to Streater.
On Rivera's touchdown catch in the third quarter, the Raiders took advantage of Houston's Cover 2. This time, Rivera ran a post, and the outside receiver ran a go route. The safety had deep cover help and had to scramble to get back and protect over the top of the receiver.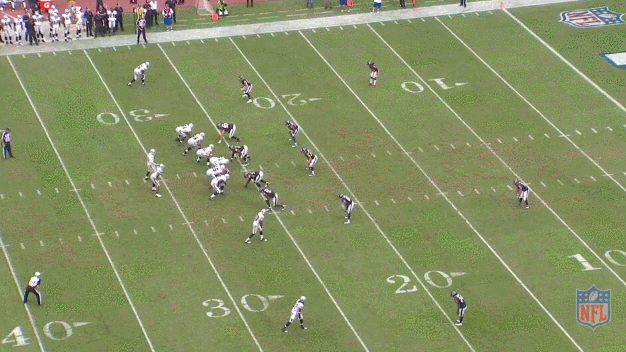 Game Rewind
McGloin anticipated that the safety was either going to fall off over the top of the receiver outside or be too late to get a hand on the throw to Rivera. Either way, he anticipated the route opening up, and it did. The key to both plays was Rivera getting open quickly against Houston's linebackers. 
If McGloin keeps performing this well, it's hard to imagine a scenario where Pryor gets his starting job back when healthy. In that scenario, the Raiders could default to the preseason plan of giving a special package of plays to Pryor on Sundays once he is fully healthy.
The fact that McGloin is even being discussed as a full-time starter is remarkable, because it would be his third promotion in about four months. This is an undrafted rookie and not some hyper-talented guy that just had to screw his head on straight. Did anyone really see this coming? 
During training camp, McGloin looked rather pedestrian. You might even say McGloin looked eerily similar to Flynn with a slightly better arm.  
It was a great win for McGloin and the Raiders, but they are going to face different defenses with different coverages and schemes going forward. It's rare to see a rookie win their first road start against a solid defense, and teams will get tape on McGloin and throw a lot of different coverages at him to see if they can get him to make mistakes. 
If you recall, Flynn had two great performances early in his career, including a close win over the New England Patriots on the road. Flynn parlayed those two games into getting millions of dollars from the Seattle Seahawks and the Raiders with virtually no success, so it's a little early to be making definitive statements about McGloin.
One thing is certain, though: McGloin is going to keep overcoming long odds. Maybe he will never turn into a good starting quarterback, but that's not going to stop him from trying.