Huge Panthers Win over Patriots Overshadowed by Yet Another Controversial Call
November 19, 2013

Jeremy Brevard-USA TODAY Sports
Despite a near-surgical performance from Tom Brady and a potentially season-defining game from Cam Newton, Week 11's Monday Night Football showdown between the Patriots and Panthers is going to be remembered for the call that wasn't made.
Cam Newton's 83-yard go-ahead drive left Tom Brady with 59 seconds remaining and a four-point hole. In typical Brady fashion, he led the Patriots down to the Panthers' 18-yard line and gave them yet another shot for a last-second victory.
But Brady's final throw wound up in the hands of Carolina Panthers safety Robert Lester, not the intended receiver Rob Gronkowski.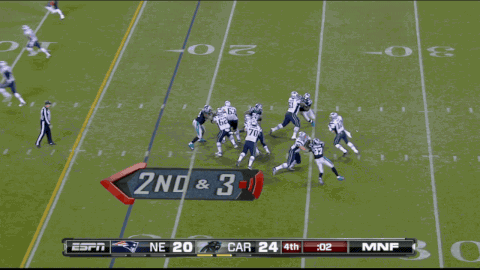 GIF courtesy of Bleacher Report
Gronk wasn't open. In fact, he was blanketed so well by Panthers linebacker Luke Kuechly that a flag was thrown in the area of pass interference.
The flag was then picked up, and Bill Belichick told the Associated Press after the game (via ESPN), "There was no explanation given to me. Officials ran off the field. I didn't see anything. It was the last play of the game. There was a flag thrown and then the game was over."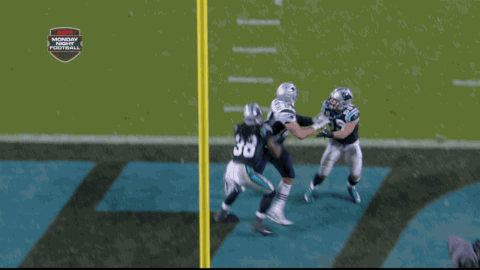 GIF courtesy of Bleacher Report
What could have been a great ending to an excellent game now joins a frustratingly long list of NFL contests marred by controversial calls, or in this case, a no-call. Brady was seen chasing officials off the field as the game concluded, trying to figure out what the heck actually happened.
Newton, meanwhile, was still on the field celebrating.
His team is now 7-3 and just earned arguably its biggest win since he landed in Carolina. He had every right to be both proud and happy with the way things turned out.
Monday night's performance was exactly the type of play fans and experts alike have been waiting for from the former No. 1 overall pick. He completed 19 of 28 passes for 209 yards, three touchdowns and zero interceptions. He also led the Panthers in rushing with 62 yards on the ground.
Great numbers aside, though, this was an opportunity for Newton to stand toe-to-toe with one of the game's best signal-callers on national television. Not only did he and Brady deliver, but they treated us to one of the better Monday Night Football performances of the season. 
In case you haven't been paying attention, good Monday night games are hard to come by these days.
It's been weeks since we've seen both well-played and meaningful football on a Monday night. Rather than going into work on Tuesday talking about how important this win is for Carolina, or how this is a much bigger blow to the Patriots than we realize as they get ready to play Peyton Manning next week, we'll be discussing the flag that was picked up.
Thank you, Tom Brady, Cam Newton, Patriots and Panthers players for finally giving us a game to care about on ESPN. But here's to hoping the next potential Monday Night Football classic doesn't take so long to come around, and more importantly, that the ending comes about without a shred of controversy.