This GIF of Andy Reid as the Kool-Aid Guy Is Entrancing
October 22, 2013

The Kansas City Chiefs are 7-0. 
Reread that, drizzle the information slowly over your prefrontal cortex and let it sit three to four hours.
It's a lot to digest, I know. There's a quality of the unreal and ridiculous to the Chiefs' success so far this year, but while you're waiting for all this to gel, you might as well watch this GIF of Andy Reid busting into the Kansas City locker room like the Kool-Aid guy.
The mesmerizing loop was created by @LSUFreek (h/t Andy Moore of Bro Bible), who crafted a wonderful GIF of the Chiefs head coach celebrating his team's victory over the Houston Texas like some kind of human punchbowl/victory walrus.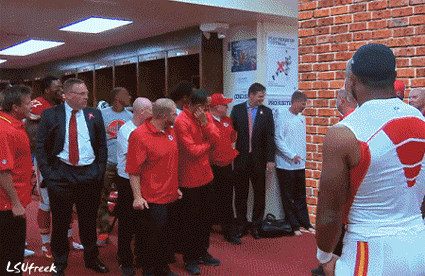 As you can see, Reid was overcome with big-boy joy over the Chiefs' narrow, one-point victory against the Texans on Sunday. A win is a win to this man, and he took it in stride—full stride, it would appear. 
The entire locker room was on hand, waiting with bated breath for the reaction of their master and commander. Reid did not disappoint, and his victorious truffle shuffle has now become the Internet's victory, too.
If you're unfamiliar with the Kool-Aid gag, here's a video of the original advertisement.
With a kick of the leg and the wag of a finger, Reid is the coach of the only undefeated team remaining in the 2013-14 season. Lest we forget, this is the same man who was fired by the Philadelphia Eagles less than a year ago.
It was only last December when the coach gathered his mustache and left the city of Philadelphia to a smattering of good riddances. Fast forward 10 months, and Reid and a resurgent Chiefs franchise now sit atop the league. 
Oh yeah, Reid must be thinking. Oh yeaaah.
Join me on Twitter for more sports-ish news and GIF goodness.