Breaking Down Roberto Soldado's Contribution to Spurs' Team Play
October 9, 2013

Jamie McDonald/Getty Images
Roberto Soldado could not have hoped for a much better beginning to his Tottenham Hotspur career.
A goalscoring introduction to the White Hart Lane faithful in the 1-0 friendly win over Espanyol was followed by another penalty goal on his debut in the season opener versus Crystal Palace. He struck a brace in the 5-0 away demolition of the decidedly inferior Dinamo Tbilisi before then scoring another penalty against Swansea City, sealing consecutive league wins for Spurs.

While Tottenham have since maintained a decent run of results, the £26 million summer signing from Valencia has had to contend with an individual loss of scoring form.
Soldado has not been entirely useless by any means—notably he had a role in two of Gylfi Sigurdsson's goals versus Norwich City and Chelsea. Yet for a player whose job is to put the ball in the back of the net, the absence of that familiar sight will have been disheartening.
There was always a chance the process of getting to know a new league and clicking with new teammates would take time. Soldado said as much in the latest edition of the One Hotspur members Newsletter (subscription required):
The difference between the game in England and Spain is it's a lot more physical here, more challenges and the play is broken up more, it's not so fluid, so I will have to adapt to play like that, which I'm trying to do for my teammates.

I'm trying to score more goals from open play, of course, I scored two in the Europa League and in the Premier League I've scored two penalties.
Soldado's attempts to settle have been complicated by Spurs still searching for a clearer idea of the attacking identity they intend to proceed with this season—at least in terms of chief personnel. New signings Nacer Chadli, Christian Eriksen and Erik Lamela are also adjusting to their new environment.
Unlike that trio, prior to Sunday's 3-0 defeat to West Ham United, Soldado had started each of Spurs' six Premier League games. Among them, there have been examples of the movement and finishing ability that are the Spain international's calling cards.
At Selhurst Park on the opening weekend, Soldado was obviously feeling his way into things, but did so promisingly. He got off a few shots, finding space in doing so that at least partially demonstrated his knack for sussing the intentions of his teammates.
Aaron Lennon was the primary architect on this occasion. Taking on Tbilisi four days later, it was Chadli and Andros Townsend who sought to find Soldado.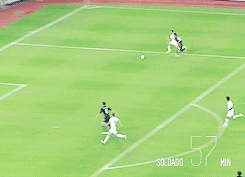 Each did so with a finely weighted cross assist from his respective wide position that hinted at the joy Spurs could have teeing up their new striker from the flanks. Soldado's first was especially good, sneaking behind the defender to pop up at the near post and guide the ball home.
Only in the 1-0 win over Cardiff City has Soldado since looked as threatening beyond the odd opportunity. Against the Bluebirds he got into some great positions, only to be denied by a brilliant performance from David Marshall.
Looking into Soldado's quieter games, there have been varying issues. Up until the West Ham game, the 1-0 defeat against Arsenal had been the apex of Spurs' creative struggles (at that point they had not scored in open play in the league).
Soldado himself still managed a couple of shots on target. Mostly though, he found little room for maneuver around an Arsenal back line that also blocked the routes through which his teammates had previously had some success finding him.
Rather than persist in attempts to cross or work an opening centrally, 10 of Spurs' attacks resulted in their shooting from outside the box (source: Squawka.com).
The introduction of creative midfielder Eriksen restored some better judgement heading into the final third versus Norwich.
On this occasion it did not benefit Soldado individually, but he did a job occupying the Canaries' central defenders who should not be underestimated. Their midfielders' failing to close Eriksen down left Sebastien Bassong and Michael Turner torn between two inclinations they could not satisfactorily oblige.
Clive Rose/Getty Images
Arguably Soldado's worst game was the 1-1 draw with Chelsea. Bar his assist for Sigurdsson, his passing was poor, while he did not manage a single shot.
It was a display that goes back to his own acknowledgement of the Premier League's greater physicality compared to La Liga. Up against David Luiz, and particularly John Terry, he was rarely allowed a look in and was hassled, outfought and out-jumped at almost every turn.
Spurs were better going forward this time than versus Arsenal. But in the shadow of a top-class centre-back, the risk of isolation that comes with playing as a lone striker again came to the fore for Soldado.
Given the number of midfielders in manager Andre Villas-Boas' squad, he might feel he can not afford to give Soldado a partner upfront. Providing the forward a foil (be it Lamela, or even one of Emmanuel Adebayor or Harry Kane) to work off is something the head coach might come to consider, though.
Not only to stop the Spaniard getting swamped like he was against Arsenal and Chelsea. But also to give his midfielders a different kind of option, one that might aid them in an earlier phase of build-up play in a way the goal-hound Soldado is not so predisposed to do.
That would necessitate an alteration to the 4-2-3-1/4-3-3 setup he has primarily used this season. If he is reluctant to change that, Villas-Boas's next move in bringing the best out of his new(ish) striker might see him tinkering with his starting lineup.
The manager described Lennon's return to full training to TottenhamHotspur.com as "a major plus," while Lewis Holtby is still waiting on his chance to translate his cup form into a league run.
Whether Villas-Boas sticks or twists, Spurs are not in bad shape by any means. More than anyone at the North London club right now, Soldado embodies the need for continued hard work, but also patience.
Spurs cannot wait too long for things to come together, but all concerned deserve the chance to keep trying for the time being.