Minnesota and Boston: A One-Sided Swap Meet
May 1, 2009

Before I get started, hat tip to Todd Civin for giving me the idea for this one. I was suffering a particularly bad case of writer's block. Now I feel like I'm on a springboard back to spewing out four or five articles a week, nothing out of my ordinary.
This is something I have pondered on my own but not until now decided to write about. How much does Boston owe to (the great) state of Minnesota? I mean, seriously.
How many recent Boston stars have roots beginning in the beautiful Twin Cities? A lot, is the best answer. Many players instrumental in great playoff runs. Let's have a look.
David Ortiz-- Designated Hitter, Boston Red Sox
Where on Earth would the Red Sox be without Red Sox living legend David Ortiz? Ortiz started his career with the Minnesota Twins, but never developed to his full potential.
After three full seasons and two injury shortened ones, Ortiz wasn't looking like the hitter he was supposed to be. In 1998, Ortiz hit .277 with 9 HR and 46 RBI. In 2000, Ortiz hit .282 with 10 HR and 63 RBI. Finally, in 2002, Ortiz hit .272 with 20 HR and 75 RBI.
Ortiz missed the majority 1999 and 2001 seasons, playing in a combined 99 games between the two seasons (only ten games in '99!).
Upon his arrival to the Red Sox in 2003, Ortiz burst onto the scene, hitting .288 with 31 homers and 101 RBI. This was the first time in his career that he reached the 30-100 plateau.
Big Papi just kept getting better from there, and his statistics kept getting better until 2006. Ortiz, along with Manny Ramirez, was a cornerstone of the offense in the 2004 championship, hitting .413 with 5 home runs and 19 RBI in October 2004.
With the Red Sox, Ortiz is a career .295/.395/.591 hitter, with 231 long balls and 743 RBI, including a career 12 homers and 43 RBI in the playoffs as a member of the Red Sox.
Injuries have decimated Ortiz's career since then, but much more so in 2008. Ortiz played in 149 games in 2007, posting great offensive numbers. His .332 batting average led the team, as did his 35 home runs. His 117 RBI were good for second on the team to Mike Lowell.
He is not only a monster hitter in the clutch, but a notorious Yankee killer. From 2003-2007, Ortiz and Ramirez were regarded as the best three-four hitters among any MLB lineup.
Ortiz, who only played in 130 games in a season once with the Twins and at first wasn't missed, is now a fan favorite among more than just Red Sox fans.
Randy Moss-- Wide Receiver, New England Patriots
Randy Moss was a superstar wideout for the Minnesota Vikings since his remarkable rookie season in 1998 to his last one in 2004. Although the Patriots didn't acquire him directly from the Vikings, he is still one of several Minnesota greats to leave for Boston.
The Marshall alum, selected 21st overall in the '98 draft by Minnesota, burst onto the scene that year, catching 69 passes for 1,313 yards and 17 touchdowns.
In 2003, Moss had a career best (at the time) season, catching 111 balls for 1,632 yards while tying his career-best (at the time) with 17 touchdowns. But, with a terrible knee injury to superstar quarterback Daunte Culpepper, Moss had a down year in the 2004 season.
Following a 49 catch, 767 yard, 13 touchdown season in 2004, Moss was traded to the Oakland Raiders, where he completely fell off the map.
Fast-forward to the 2007 NFL Draft. The Patriots announced a trade on day two with the Raiders, in which Oakland would send WR Randy Moss to the Patriots for a fourth-round draft choice. It would end up becoming the heist of the century.
Moss had a bounce back season for the ages in 2007, becoming Tom Brady's favorite offensive toy. He caught 98 passes for 1,493 yards, as well as an NFL-record 23 receiving touchdowns.
As it stands, the six-time Pro Bowler and four-time first team All-Pro is trying to recover from a down year in 2008, which Tom Brady missed all of due to a torn ACL.
Moss caught 69 passes for 1,008 yards and 11 touchdowns, numbers that surely will improve this year with Tom Terrific back under center.
Kevin Garnett-- Power Forward, Boston Celtics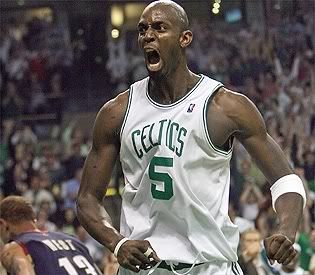 Kevin Garnett was the heart and soul of the Minnesota Timberwolves since their inception to the NBA in 1995. Drafted fifth overall, Garnett more than lived up to his expectations as a player.
In the 2003-2004 season, Garnett's hard work payed off, as he logged not only his sixth (now nine) season with over 1,500 points, but led the NBA with 1,987 points scored.
Garnett also led the NBA in total rebounds in back-to-back seasons, 2003-2004 and 2004-2005, with 1,139 and 1,108, respectively.
From 2002-03 to 2006-07, five seasons, Garnett led the NBA in defensive rebounds, even collecting 894 in the 03-04 season, in which the Big Ticket led the NBA in defensive rebounds, total rebounds, total points, and field goals.
When the Wolves started their downhill slide, which they are so desperate to recover revenue from they are even advertising seats for as little as five dollars, trade rumors surrounding the Big Ticket were inevitable.
At first, KG did not want any part of being traded to the Boston Celtics, where former teammate Wally Sczerbiak was traded and lost any sort of relevance he possessed. However, looking back now, it was the best career change Garnett could have made.
KG is the emotional and defensive anchor for the Boston Celtics, who in 2007 and in most of 2008 were the best defensive team in the NBA while putting up some outrageous offensive numbers with KG on the floor.
The current outlook for the Celtics show just how impacting of a player he is. After Garnett went down injured and hasn't since returned, the Celtics have allowed over 10 points per game more than they did with Garnett.
No offense intended towards Big Baby Davis, but the only part of KG's game that he has come close to filling so far are the offensive numbers.
Garnett has been one of the premiere players of the NBA, but being surrounded by mediocre talent in Minnesota always held him back from taking the next step. In his first year in Boston, with Paul Pierce and Ray Allen, the Celtics won their first NBA Championship since 1986.
Kevin McHale-- Power Forward, Boston Celtics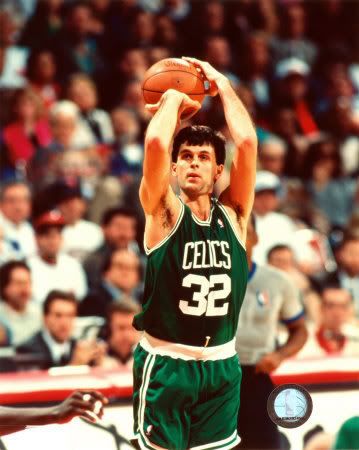 Kevin McHale, born and raised in the small town of Hibbing, Minnesota, became a basketball legend not only in Minnesota but also in Boston.
The only difference between the Minnesota-Boston transation of McHale and Garnett is that McHale played NCAA in Minnesota and was drafted by the Celtics.
McHale played all four years of his college career (something completely unheard of these days) for the University of Minnesota Gophers, averaging 15.2 points and 8.5 rebounds per game.
In his junior and senior seasons, McHale was named All-Big Ten player and ranks second in U of M history with 1,704 points and 950 rebounds. In 1995, McHale was named as the best player in the history of University of Minnesota men's basketball.
McHale was selected third overall by the Celtics in the 1980 draft, and he played with the C's for all 13 seasons of his career. McHale, along with Robert Parish and Larry Bird, made up the original "Big Three."
The Big Three led the Celtics to five trips to the NBA Finals as well as three championships in 1981, 1984, and 1986. Ironically, this '86 title would be the last until 2008, when the Celtics witnessed a second coming of the Big Three.
Primarily a bench player early on in his career, McHale was named Sixth Man of the Year in 1984 and 1985. McHale also made seven consecutive all-star appearances, from 1984 to 1991.
McHale earned six All-NBA Defensive First or Second Team honors, as well as making the 1986-87 All-NBA First Team.
McHale's number 32 is now one of 21 retired numbers for the Celtics, the NBA team with the richest history.