Highlighting the Upcoming Best Battle at Chicago Bears Training Camp
July 3, 2012

Jonathan Daniel/Getty Images
We're heading through the division this week, gazing into the old NFC North crystal ball to see what the biggest battles of training camp will be.
Yesterday, we looked at the Packers secondary. Today, we look at the Chicago Bears with what is a very vital—and fairly obvious—battle.
It's unfortunate that, given the expectations of the team for this season, the battle we most need to track is at one of the most vital positions on the team-left tackle.
It is at that position that J'Marcus Webb and Chris Williams—or the winner—could hold the key to the whole season.
Protecting Jay Cutler will be a little easier without the seven-step drops and multiple blocking schemes, but that doesn't mean that left tackle is less critical. One slip-up at the wrong time can have huge repercussions.
With that, let's take a look at the contenders for left tackle this July at training camps.
J'Marcus Webb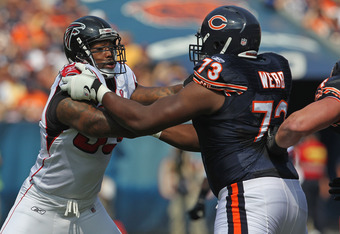 Jonathan Daniel/Getty Images
Webb was thrust into the left tackle spot last season, a lot to ask of a seventh-round pick still shaving off the rough edges. While he did well enough at times, he had 15 penalties called against him and 12 sacks allowed. Pro Football Focus says he was one of the worst tackles in the league and part of the worst offensive lines in the NFL.
Webb did get better at times and may have more success in a simpler scheme. Mike Tice is mellowing it out and simplifying everything in an effort to keep Cutler safe.
Webb has some talent, but it remains to be seen if he really has more than back-up talent.
Chris Williams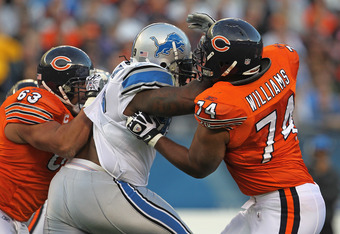 Jonathan Daniel/Getty Images
Once upon a time, Williams was a first-round pick tagged to being the future at left tackle. However, he was moved out of the position in 2010 and struggled at times at guard.
It's not often that a guy who was moved from tackle to guard is moved back to tackle successfully. It's hard to feel very confident in Williams—unlike Webb, we've had a longer time to see what he's able to do as well as what he can't do.
If he has anything left to show us, now is the time.
My Take
Webb has the most room to grow, but while Williams has been moved before, he was moved too early for us to really get a pure sense of his ability. He has the most to lose, and gain, in this fight.
He will emerge victorious and, with the simpler scheme, should do all right. Long term, the Bears need a better answer. That could be someone from an upcoming draft, it could be Gabe Carimi once he's healthy and had some time to develop or it could be someone on the roster we don't realize is the answer yet.
If neither of these guys can step up to the plate, there will be bigger problems than one summer can fix. The season might hinge on whether they can or if the answer lies elsewhere.
Check out the B/R NFC North Facebook page—like us and keep up with everything NFC North on Bleacher Report!