Highlighting the Upcoming Best Battle at Green Bay Packers Training Camp
July 2, 2012

Al Bello/Getty Images
When the Green Bay Packers kick off training camp on July 26th, there will be tons to watch that will be both critical and fascinating.
There will be plenty of training-camp battles to watch—Alex Green vs. Brandon Saine, Derrek Sherrod vs. Marshall Newhouse, James Jones vs. Randall Cobb—but none may prove to be more critical than the battle at safety between Charlie Peprah, Jerron McMillian and MD Jennings.
As much as the secondary was not all to blame for the ills of the 2011 Packers defense, it still had issues—which were exacerbated by the departure of Pro Bowl safety Nick Collins.
The Packers use a lot of multiple cornerback and safety sets, so in some ways, they can mask any deficiencies that might crop up. That said, the better any of these three plays, the more versatility and stability there is.
Let's take a look at the trio that will be trying to fill his shoes and how they stack up.
Charlie Peprah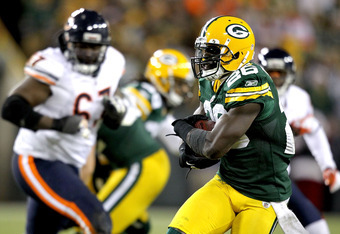 Matthew Stockman/Getty Images
Peprah is the incumbent veteran—as far as there is one coming into camp.
His 2011 season was up and down—on the upside, he had a career-high five interceptions. On the downside, he more than once was left gasping for air as a receiver blew past him.
In 2010, Peprah was a beast at the line of scrimmage and tackling in general, but even though his numbers went up, he wasn't as effective.
If he loses the job, that will be a big factor.
While Peprah is a playmaker, he struggled enough in coverage to be a potential liability. Some of that is the lack of a pass rush, leaving him and other defensive backs hung out to dry for too long.
Some of it could be the limits of his talent, though.
If the front seven starts putting pressure on the quarterback as everyone hopes, he should be able to hold a receiver long enough for the line to get at the quarterback or be in position to defend a pass.
Peprah certainly has some ability, as well as years in the defensive scheme, but he isn't going to walk away with the position.
Jerron McMillian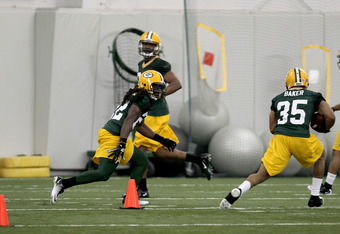 Mike McGinnis/Getty Images
I liked this pick from the start, and the former Maine safety has talent. He's going to have to ramp up quickly to start the season at starting safety, and it's going to be a struggle.
He's quick to learn, it's just a lot to expect from a small-school fourth-rounder who is a tad short at 5'11".
More than likely, he will start the season as depth and a special teams player, though he will emerge as an important player in the secondary by season's end. I do believe him to be that talented—I just also believe it will take time.
MD Jennings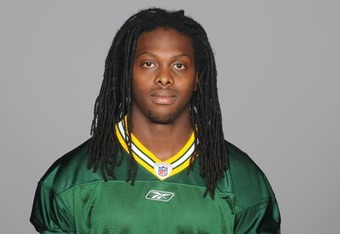 Handout/Getty Images
Jennings has had a lot of buzz this spring, impressing observers with some solid practices and his work ethic.
The biggest question is whether that work ethic will overcome a lack of polish and experience. He has been in the system one more year than McMillian (Jennings was signed in 2011), but he didn't see much action.
He's undersized at 6'0", but he is taller than McMillian and plays with heart even though he doesn't always have the strength of some of the other safeties.
Still, he has shown flashes of ability and was the guy getting the first-string reps while Peprah was recovering from knee surgery.
Jennings has shown dedication and tenacity both on the field this spring and in the film room—next he'll have to show it on the field in full pads.
My Take
While Jennings is a great story, in the end the lack of power and size will hurt him too much. McMillian may be smaller, but he outweighs Jennings by almost 20 pounds and hits harder.
As I said earlier, it is a lot to expect McMillian to win the job outright over Peprah, especially a complex defense like the Packers run. Also, while Peprah wasn't as effective tackling as he was the year previously, I expect him to bounce back this year.
So I expect Peprah to win the summer. Ultimately, though, I expect McMillian to be up to speed and a huge factor in the secondary—likely as a starter—by Week 10 at the latest.
Check out the B/R NFC North Facebook page—like us and keep up with everything NFC North on Bleacher Report!