Miami Heat: Is LeBron James to Michael Jordan a Fair Comparison?
June 30, 2012

Mike Ehrmann/Getty Images
Maybe this article is coming a little bit late, but it's something that has been on my mind since last week, when the Miami Heat closed out the Oklahoma City Thunder, in Game 5, for the 2012 NBA Championship.
It's a topic that has been mentioned many times since LeBron James first arrived in Cleveland and possibly even before that: is LeBron the next Michael Jordan?
We, as fans and as people, crave the thought of having the "next big thing" which, in the case of basketball, is to have someone who measures up with the all-time greats in the sport. With the changes occurring according to the way the sport is played, it's less and less likely that we will see another Wilt Chamberlain or another Kareem Abdul-Jabbar.
People know that. But another Jordan? Why not?
Kobe Bryant, for all his rings, all his points and all his swagger, still doesn't seem to measure up to Michael in almost anybody's mind. While we would definitely still consider him a top-10 all time, we don't say that he was the next Jordan, nor do we start looking at the new players and ask who the next Kobe will be.
No, we want someone who will truly be, in our minds, just as unstoppable as Jordan was. 
This is where LeBron comes in.
During these past playoffs, he showed us something we had seen in flashes before but never quite so sustained or quite so overpowering. He wanted to win so badly, and he did. Nothing that anyone else could do was capable of slowing him down.
People saw that, and now, there has been a resurgence of questions about whether LeBron can keep that up for a few more years, with the hope that in so doing, he will be "the next Jordan."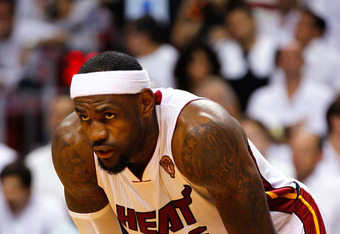 Mike Ehrmann/Getty Images
I'm not buying it though.
Now, before everyone comes and starts hating on me for bashing LeBron here on the Heat page, just hold on.  
I have nothing against LeBron. In fact, he's one of my favorite players. I rooted for him to win a title throughout the playoffs, especially since my team wasn't in it to begin with. I love his unselfishness and the way he can control a game in all aspects.
I just don't think it's fair to make that LeBron-Jordan comparison anymore, because LeBron is so different from Jordan. His game is different. His personality is different. His goals are different.
He might be just as talented, and possibly more so, than Jordan was. But people need to stop asking if LeBron will be the next Jordan, because the answer is no. He's not. He's something different.
Could LeBron ever be considered the best player in history?  At this point, it could go either way. But I don't think championships should be the deciding characteristic. If they are, then Bill Russell and his 11 rings should never be touched.
I'm happy LeBron won a championship. Next step will hopefully be to show everyone that he doesn't need the Jordan comparisons—just being LeBron James is good enough.