NBA Draft Winners and Losers: Brooklyn Nets and 2 Other Teams That Also Whiffed
June 29, 2012
Chris Chambers/Getty Images
When the then New Jersey Nets traded their No. 6 overall pick of the 2012 NBA Draft to the Portland Trailblazers in a deal that brought Gerald Wallace to the New Jersey, you had to know it wasn't going to be a successful draft for the Nets.
But this was a disaster.
Luckily for Brooklyn, the Nets weren't the only franchise that swung and missed in Thursday night's draft.
What follows are my ramblings on why the Nets, Indiana Pacers and Miami Heat whiffed on draft night.
Indiana Pacers
Round 1: Miles Plumlee (No. 26)
Round 2: Orlando Johnson (No. 36 from Kings)
As a Duke fan, I've watched Miles Plumlee grow over the past four seasons—if you can even call it growth.
Plumlee's senior campaign saw him average just 6.6 points and 7.1 rebounds. These numbers are undoubtedly not worth a No. 26 pick.
Don't get me wrong; Miles Plumlee can rebound the basketball, but with names like Arnett Moultrie, Draymond Green and Jeff Taylor still on the board, I think Indiana really blew it with Plumlee.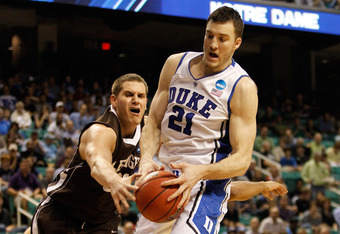 Streeter Lecka/Getty Images
As far as Orlando Johnson, it's a solid pick—he averaged 19.7 PPG and shot 42-percent from three-point range last season—but he's probably not going to make an immediate impact on the team.  
Round 1: None
Round 2: Justin Hamilton (No. 45 from 76ers)
For a team that boasts LeBron James, Dwyane Wade and Chris Bosh, it's understandable to not have a first round pick.
But you've got to question taking Justin Hamilton at No. 45 when Arnett Moultrie, who led the SEC in rebounding last season, was still on the board.
Hamilton averaged 12.9 PPG and 7.2 RPG as opposed to Moultrie's 15.8 PPG and 10.6 RPG in 2011.
Given Miami's rebounding struggles at times, I think it would have made more sense to take Moultrie rather than Hamilton. Moultrie also posted better shooting percentages.
Round 1: Tyshawn Taylor (No. 41 from Mavericks)
Round 2: Tornike Shengelia (No. 54 from 76ers) & Ilkan Karaman (No. 57)
What irks me is not so much the Tyshawn Taylor pick at No. 41, as it is the two international players selected by the Brooklyn Nets.
For a new franchise that's trying to market itself in a new location, drafting two international players, who probably won't factor into the rotation much, just doesn't make sense to me.
And what if Deron Williams decides to remain a Net?
Jason Kidd has already publicly stated (via ESPN) that he's open to backing up D-Will in Brooklyn, which would leave Taylor as the low man on the totem pole.
If Williams and Gerald Wallace both opt for other destinations, the Nets did not help themselves fill the void with this draft.
Like what you see? Hit me up on Twitter @Pete_Schauer