5 Creative Ideas for the Nationals to Extend Stephen Strasburg's Innings
June 29, 2012

It's the dark cloud looming over the Washington Nationals' 2012 season. Or maybe it's more of a pink elephant dancing in the background. Stephen Strasburg has an innings limit this year. 
Pitching his first full season since coming back from Tommy John surgery, the Nationals want to be extremely cautious with their young ace, making sure he doesn't tax his revamped right elbow beyond its limits.
Nationals general manager Mike Rizzo fully acknowledges that Strasburg will not pitch 200 innings this season, as a No. 1 starter typically does. But he's more coy when it comes to putting an exact number on the amount of innings Strasburg will pitch. The general assumption is that Strasburg's season will be capped at 160 innings, though Rizzo denies that publicly.
Rizzo also says that he doesn't want manager Davey Johnson to manipulate Strasburg's schedule in any way, preferring that he be kept on a regular rotation.
But the Nationals are in first place and will likely be fighting for playoff contention for the rest of the season. Strasburg has to be a part of that, and the only way to make sure he is will be to come up with ways to extend his season while sticking to the innings limit Rizzo has in mind. 
Here are five ways the Nationals can help Strasburg pitch into September and October without risking a heavier workload.
Roll a six
This is the most realistic idea for giving Strasburg a break. And it will provide the Nationals' other starting pitchers some rest as well. (Though 200-inning workhorses like Edwin Jackson and Gio Gonzalez probably don't need the break.)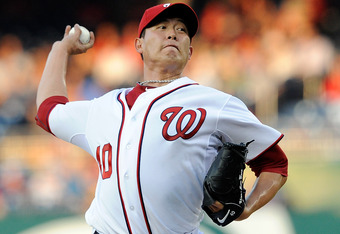 Patrick McDermott/Getty Images
There may not be a team better equipped to do this. The Nats already moved Ross Detwiler to the bullpen once this season so Chien-Ming Wang could get in the starting rotation. When Wang didn't pitch well, Detwiler became a starter again. So no more switcheroo. Put them both in and you have a six-man starting staff. 
Also available is Tom Gorzelanny. He hasn't started any games this year for the Nationals, but has pitched most of his career as a starter. Of his 170 career appearances, Gorzelanny has been a starting pitcher in 140 of them. 
The Jim Tracy scheme
Maybe the Colorado Rockies manager had a good idea in limiting his starters to 75 pitches (albeit in a four-man rotation), but he just employed it with the wrong team. 
The Nationals are already protecting Strasburg this season by making sure he doesn't exceed 120 pitches or throw more than seven innings. Actually, Strasburg has averaged six innings and 95 pitches per start in 15 appearances this season. So slice 20 pitches and/or two innings off that workload.
As mentioned above, the Nats have long relievers in Wang and Gorzelanny who can take over for Strasburg and pitch two to three innings if needed. But there are plenty of other arms who can bridge the gap between Strasburg and Tyler Clippard in the ninth inning. The Nats will even be getting one more once Drew Storen returns. 
Go back to school 
In college baseball, the ace starter pitches on Friday night. Strasburg is familiar with that routine, having been the No. 1 guy at San Diego State. Pitch him on Friday and save him a couple of starts per month.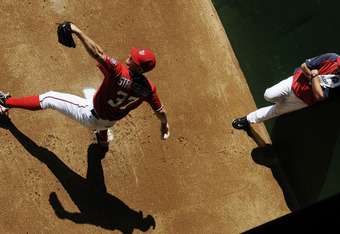 Jonathan Ernst/Getty Images
Of course, major league teams don't play four games a week like they do in college. So Johnson and pitching coach Steve McCatty would have to do some juggling with the current staff.
Wang and Gorzelanny might have to make spot starts to cover what would be Strasburg's mid-week turn in the rotation. Then, depending on how the rotation turns from there, the Nats' other starters could be pushed back or moved up in a given week. 
Keep it to the NL East
Obviously, games against inter-division opponents count just as much as those versus intra-division rivals. But with MLB's unbalanced schedule, the Nationals will play far more games against NL East teams through the remainder of the season. 
So why not restrict Strasburg to pitching against only NL East opponents? Yes, the Nationals would miss their best pitcher against other top NL teams like the Dodgers and Cardinals. But Strasburg might not pitch in those series anyway, depending on how the rotation worked out.
Looking at the rest of the Nats' 2012 schedule, Strasburg would pitch face NL Central or NL West teams in eight games if he pitched every four days and went through the end of the season. The Nats would save eight games and nearly 50 innings for Strasburg right there, which could be applied to end of the season and/or the postseason. 
Forget the innings limit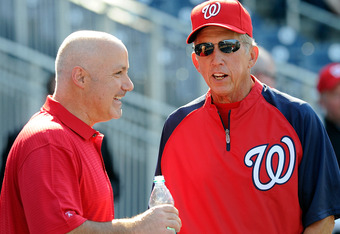 Greg Fiume/Getty Images
How about Rizzo and Johnson just call the whole thing off?
Strasburg is on pace to pitch approximately 180 innings this season. Yes, that's 20 more innings than Jordan Zimmermann pitched last year in his first season after Tommy John surgery. That's where the 160-inning limit came from to begin with. 
So that amounts to about three starts for Strasburg. That's not insignificant if Strasburg seems worn down and his arm is fatigued.  But if he still looks relatively strong, limit his pitch count or number of innings for a particular start. 
But it gives the Nationals a number to work with. Maybe they skip three of Strasburg's starts down the stretch. Take one off in July, August and September. Fill that turn in with a spot starter and the ace gets some rest. 
Follow @iancass on Twitter