Is Jacoby Ellsbury's Speed the Missing Link to Red Sox's Second-Half Charge?
June 29, 2012

Jim Rogash/Getty Images
As Professor Farnsworth might say to a group of Boston Red Sox fans right now, "Good news, everyone!"
On Friday, star center fielder Jacoby Ellsbury played his first rehab game in the rookie-level Gulf Coast League. According to the Boston Herald, Ellsbury served as a designated hitter in a lineup that also featured Carl Crawford, marking the first time the two of them have been in the same starting nine since last September.
Ellsbury went 1-for-4 with a walk and an RBI double, striking out twice.
The Red Sox haven't featured Ellsbury in center field or at the top of their lineup since April 13, when he suffered a partially dislocated right shoulder when he tried to break up a double play in a game against the Tampa Bay Rays.
Barring any setbacks, Ellsbury should be able to return to Boston's lineup shortly after the All-Star break. Same goes for Crawford, who has yet to play this season due to wrist and elbow problems.
So before long, the Red Sox's starting nine will be back at full strength. And there will be much rejoicing.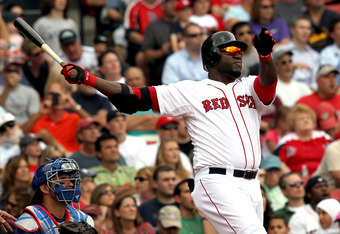 Jim Rogash/Getty Images
Not that offense has been a problem for the Red Sox, of course. They rank second in baseball in runs scored, fourth in team batting average, sixth in on-base percentage and fourth in slugging percentage. Injuries have forced Bobby Valentine to use numerous different lineups this season, but the runs have kept coming.
But with Ellsbury out, the Red Sox have had to tough things out without a true leadoff hitter. And it shows. Per ESPN.com, Sox leadoff hitters have scored just 42 runs and have posted an on-base percentage of .315 this season. Both of those numbers rank towards the bottom of the league.
With Ellsbury batting leadoff for the majority of the 2011 season, the Red Sox got 126 runs out of their leadoff spot, second-most in baseball. Thanks in large part to him, the leadoff spot in Boston's lineup carried an AL-best .366 on-base percentage last season.
But the Red Sox aren't just missing Ellsbury's hitting savvy. They're missing his speed too.
Ellsbury stole 39 bases last season, third-most in the American League. So far this season, the Red Sox have swiped 31 bases, second-fewest in baseball. Of those 31 steals, only 12 have come from the leadoff spot.
Because the Red Sox have so many guys who can swing the bat, the lack of speed at the top of the lineup hasn't been a major problem. They're a team that doesn't have to manufacture runs.
And unlike a certain New York team, the Red Sox have had little trouble hitting with runners in scoring position this season. Their .293 batting average with runners in scoring position ranks second in the majors behind the Texas Rangers.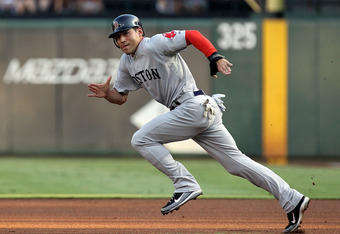 Ronald Martinez/Getty Images
However, the Red Sox are currently on pace to score about 845 runs this season, which would be 30 runs fewer than they scored in 2011 when they had Ellsbury at the top of their lineup all season. There were obviously plenty of other contributing factors, but their lineup was plenty more explosive when it featured him and his speed at the top.
Besides, there are times when you need more than power to win a ballgame. This was very much the case in Boston's 1-0 loss to the Seattle Mariners on Thursday night.
They couldn't do anything against Felix Hernandez, but you can imagine how drastically the narrative of the game would have changed if the Red Sox had a player like Ellsbury who could use his speed to create offense. He could have given the Red Sox a chance to score a crucial run.
Goodness knows Valentine wouldn't have been afraid to put Ellsbury's speed to use in a game such as Thursday night's contest. He's already called for far more sacrifice bunts than people are used to seeing in Boston, and he hasn't been afraid to put players like Mike Aviles, Nick Punto and Daniel Nava in motion.
Bobby V has done what he can with what he's got, and he hasn't had an elite base-stealing threat for the better part of the 2012 season (Scott Podsednik comes to mind as being the lone exception). Ellsbury is exactly the kind of player Bobby V has been missing.
Everyone knows the Red Sox are going to have an ever scarier lineup when Ellsbury (and to a lesser extent, Crawford) returns to the lineup, and you can rest assured that the rest of the American League is worried about his return.
Ellsbury's bat will be a big addition, and his speed will be an equally big addition. Once he returns, the Red Sox are going to be much less of a station-to-station team than they are now.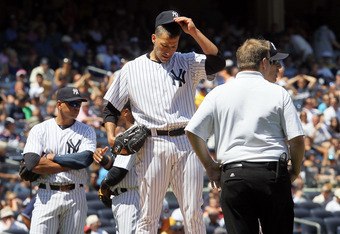 Jim McIsaac/Getty Images
The Red Sox happen to be looking at a pretty good window of opportunity at the moment. The Toronto Blue Jays are running out of healthy pitchers, the Tampa Bay Rays are banged up and struggling, the Baltimore Orioles have hit the skids again and the New York Yankees had to place both CC Sabathia and Andy Pettitte on the disabled list on Wednesday.
This window should still be open when Ellsbury returns to the lineup, and the odds of them making a run will get an automatic boost. One of the team's key missing links will be accounted for.
...But only one of them. Making a run at a postseason berth won't be so simple, and it certainly won't be easy.
The Red Sox are going to score plenty of runs when Ellsbury and Crawford return to the lineup, but all the runs won't do them any good if their mercurial starting pitching staff doesn't get itself straightened out. 
The Red Sox will need Jon Lester to stop making crucial mistakes in key situations. Josh Beckett and Clay Buchholz need to get healthy and stay healthy. Felix Doubront needs to settle back into the kind of groove he was in throughout May and early June.
Daisuke Matsuzaka needs to produce more starts like the one he produced in his most recent outing against the Toronto Blue Jays. And Franklin Morales needs to continue to pitch like Sandy Koufax.
Pitching is what doomed the Red Sox in 2011. They didn't miss out on the postseason because of their offense, even if the bats did go somewhat quiet at the end of it all.
If the Red Sox miss out on the postseason in 2012, it will be the same old story. Ellsbury's return will help, but he's not all-powerful.
Not at last check, anyway.
If you want to talk baseball, hit me up on Twitter.