Michael Kidd-Gilchrist: MJ Shows Incompetency Again by Failing to Complement MKG
June 29, 2012

Elsa/Getty Images
Michael Jordan loved Michael Kidd-Gilchrist so much that he selected him twice on Thursday night.
The Charlotte Bobcats entered the 2012 NBA draft with needs at every position except point guard. With two picks, one would imagine that they'd be able to fill two holes.
Errrrr. Wrong.
With the second overall pick, believe it or not, Jordan made the right choice by selecting Kidd-Gilchrist. You can't say the same for who the Bobcats chose at No. 31.
Charlotte took Jeff Taylor, an athletic, defensive-minded 3—the exact same type of player MKG is. So basically, they now have a poor man's Michael Kidd-Gilchrist backing up Michael Kidd-Gilchrist. Downright brilliant.
No one scored less points per game than the Bobcats did last season. But apparently Ben Gordon is a world beater, and they have all the scoring they need because after all, they selected a pair of players that can't create their own shot. Downright brilliant.
So, who's going to put the ball in the basket next season for Charlotte?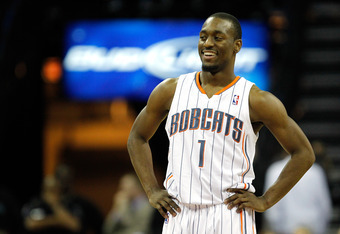 Streeter Lecka/Getty Images
Is it Kemba Walker and his 36.6 percent shooting? How about D.J. Augustin who recorded a superior 37.6 percent last season? I mean, if worse comes to worst, Gerald "Bobby Lee Swagger" Henderson is capable of killing a defense from downtown with his film-inspiring 23.4 percent shooting percentage.
Now, I could rave for days about the Hakeem Olajuwon clones that are Byron Mullens, Bismack Biyombo and Tyrus Thomas, but I'll spare you.
Charlotte selected a player won't average eight points a game next season, with plenty of players still on the board that would've significantly upgraded their back and frontcourt.
They'll only have one player next season, Ben Gordon, who shot over 35 percent from three-point land last year. Despite that fact, the Bobcats passed on Doron Lamb, Orlando Johnson, Kim English, Kevin Murphy and Darius Miller—all lights-out three-point shooters.
They also didn't have a single big man average 10 points a game in 2012. Draymond Green, Kyle O'Quinn and Mike Scott were all players who would've changed that instantly.
While the Bobcats added a player that will help them win basketball games in Kidd-Gilchrist, Jordan's inability to build a winning franchise has never been more obvious.
David Daniels is a featured columnist at Bleacher Report and a syndicated writer.