St. Louis Rams: Friday's Rams News and Notes at Noon
June 29, 2012
Welcome to Friday's St. Louis Rams "News and Notes at Noon", the one stop destination for all major Rams headlines and other information of interest with brief commentary and analysis for Rams Nation. 
Tight End Lance Kendricks Looks For Breakout Sophomore Season
Stlouisrams.com senior writer Nick Wagoner recently profiled second year tight end Lance Kendricks in this piece. After a stellar preseason, the second rounder struggled at times during his rookie campaign.  
Kendricks, however, looked back on what went wrong last year and has worked extensively on making a myriad of changes that will help him optimize his performance in 2012, including an increased emphasis on conditioning and the intake of additional protein to build more muscle.  
In addition, Kendricks also pointed to the advantage of having a full offseason with the team and coaching staff, as Wagoner's article states: 
I think being able to go through the playbook with the coaches and run through some plays before training camp starts helps us get a jumpstart on everything. Just having this offseason and being able to workout with the team, I was able to focus on getting my body right and getting healthy and taking my protein and doing the things they feel is right which will help me out in the long run.
Interestingly, the Rams likely starting tight end noted the differences he has seen between the former coaching staff and the current one, led by head coach Jeff Fisher, again stated in Wagoner's article: 
From watching the film, we watched a lot of things from last year to see where we could improve and it's almost like night and day. We love the coaches, they are awesome. I think that makes all the difference. Nothing against the (old coaches) but just being taught the right way and being in better shape and having a better mindset, I hope to be able to go out there and perform.
For much more on the specifics of Kendricks' offseason and his likely role in offensive coordinator Brian Schottenheimer's offense, please click the link above to read Wagoner's in-depth piece. 
Rams Reveal 2012 Training Camp Schedule 
The St. Louis Rams have revealed their 2012 training camp schedule, according to various reports, including this one by Kathleen Nelson of the St. Louis Post-Dispatch. 
According to the aforementioned piece, rookies will report on July 24 and will take part in one practice per day from July 25-27.  The veterans will report on July 28 with the first full-squad publicly viewable practice set to occur a day later, July 29.  
Most interestingly, the Rams will hold an open scrimmage at the Edward Jones Dome on August 4.  In past years, the Rams have held an open scrimmage on the much smaller grounds of Lindenwood University. 
Please check the above-linked report for the entire slate of training camp practices that will be open to the public.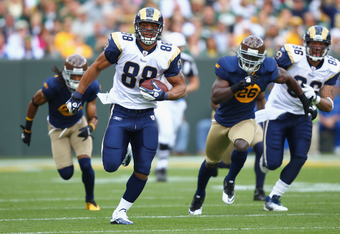 Dilip Vishwanat/Getty Images
What to Expect From This Season's Rams Offense
Ryan Van Bibber of Turf Show TImes shared a very nice piece analyzing what one may expect to see from the Rams offense this Fall as directed by new offensive coordinator Brian Schottenheimer.  
St. Louis quarterback Sam Bradford has stated that he sees similarities between this offense and the one he led on Sunday's under then OC Pat Shurmur in 2010, as Bibber's article states:
It's definitely not the same, but this offense does have some West Coast roots, so I think at the base level, some of the things that this offense does, they are similar to what we did two years ago with Pat's offense.
According to this report from usatoday.com, Rams running back Steven Jackson also sees similarities to this offense and the offense that the Rams ran under Shurmur, as stated in another Bibber article:
This offense is very similar, not identical, but very similar to what we ran two years ago with Pat Shurmur and his offense. The learning curve has not been too harsh on myself. Sam is looking good, our receivers; we have a deep group that is very competitive that's going to not only help us, but is also going to bring the best out of each individual guy. All in all, as an offense we're looking good. And especially (offensive line) coach (Paul) Boudreau up front, what he's doing with the offensive line is very impressive as well.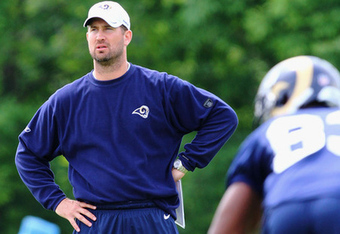 Van Bibber suggests, rightfully so, that Jeff Fisher, who likes to run the ball, will almost certainly put his stamp on the offense.  In the same vein, Van Bibber expects the play-action pass to be a staple of this offense, an aspect that could greatly aid the passing game if the ground game performs as well as many expect. 
A great play-action game can make good receivers look great and help to create separation for wide receivers, something that was evident with the Kansas City Chiefs during much of Trent Green's time there.  
Furthermore, a strong play-action aspect to an offense can really keep defenses honest with respect to the run threat and substantially aid in giving quarterbacks more time to throw, keeping defensive coordinators and pass rushers more honest and a little off balance. 
I would suggest reading the full Van Bibber submissions via the links above for much more on the expectations for the Rams 2012 offense and some terrific background information and statistical data. 
Rams Announce Inaugural 7K Run to Kick Off Season 
The St. Louis Rams and Competitor Group, Inc. (CGI) are partnering to initiate a new 7K running event to launch the new season on Sunday, September 9, according to this article from stlouisrams.com. The event will also have a NFL Play 60 half mile run for kids.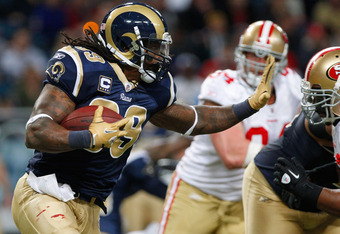 Whitney Curtis/Getty Images
A portion of the proceeds from the run will assist the American Cancer Society's Hope Lodge.
Brian Killingsworth, the Rams Vice President of Marketing and Brand Strategy shared these words in regard to the upcoming charitable and commemorative event, as stated in the aforementioned article: 
We're excited to introduce this inaugural event as we celebrate the kickoff of the 2012 NFL regular season. The Back to Football 7K will allow us to engage our fans, promote health and wellness and benefit a tremendous charity.  We're looking forward to a successful event for the St. Louis community.
According to the aforementioned piece at the Rams official website, participants will receive a free ticket to one of three games (of the runner's choice), a Nike Rams 7K shirt and the chance to purchase game tickets at a discounted, exclusive rate. 
Scott Dickey, Chief Executive Officer of CGI, feels this event will be a terrific one that will help unite runners with St. Louis football fans, as stated in the same article: 
This partnership with the St. Louis Rams will unite both runners and football fans, and we look forward to welcoming participants of all abilities. This new 7K will help further root fans with their favorite football team and get them involved in an active way to celebrate the official start of the 2012 NFL season in September.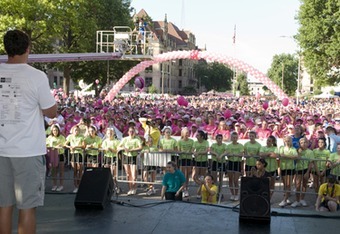 Interview with Rams Chief Operating Officer/Vice President of Football Operations Kevin Demoff 
Kevin Demoff, the St. Louis Rams Chief Operating Officer and Vice President of Football Operations, recently appeared on Bernie Miklasz' radio show on 101sports.com, which you can listen to here. 
For a terrific recap of the aforementioned interview, please check this out from ramsfans.com. 
Among other things, Demoff and Miklasz discussed the ongoing lease negotiations in depth, possible roster changes, an update on center Scott Wells and his recent injury, the optimism around the Rams, the health of Sam Bradford and wide receiver Steve Smith, the plans for 2013 and much more. 
St. Louis Banking on Offensive Line Coach Paul Boudreau's Experience and Expertise 
According to an article from Dan Arkush of Pro Football Weekly, the Rams are banking on new offensive line coach Paul Boudreau, a man with a terrific reputation around the league, to help improve the St. Louis offensive line and develop someone at left guard. The article quotes a team insider as saying the following along those lines: 
He's known for developing people, and that's what they're hoping he'll do here, particularly at left guard.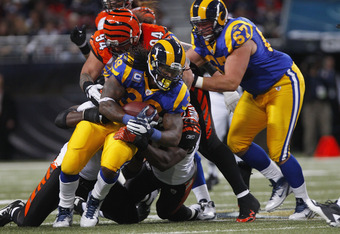 Whitney Curtis/Getty Images
According to the report, Bryan Mattison may currently be the leading contender to land the starting spot at left guard.  Mattison, 6'3' and 310 pounds, is 28. The veteran guard started four games last season for St. Louis after playing two seasons with no starts with the Baltimore Ravens. 
Healthy Bradford Key to St. Louis
Steve Porter of thetelegraph.com asserts that a healthy Sam Bradford is the key for the Rams upcoming campaign. 
In this piece, Porter suggests that the Rams will spin their wheels if Bradford is unproductive. On the other hand, Porter posts that a resurgent season from the young QB would be the critical element for a rebound for the Rams in 2012.
For much more on Bradford from Danny Kells of fieldgulls.com and his analysis, please read this. 
Kells, who covers the Seattle Seahawks, believes Bradford can become one of the better quarterbacks in the league. Of note, he is impressed with Bradford's arm strength. 
How Much Does Each Position Group Need to Improve for St. Louis to Win?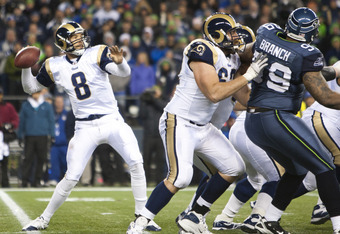 Jay Drowns/Getty Images
My friend and colleague David Heeb, a fellow featured columnist here at Bleacher Report, shared a wonderful piece looking at how much each position group needs to improve for St. Louis to win in 2012. 
As you can read here, Heeb does a nice job of breaking down the team, position by position, and what needs to occur for St. Louis to be successful this Fall. 
NFL Changes Starting Times for Late Kickoffs Impacting Multiple Rams Games 
The NFL has decided to move the late game kickoffs back 10 minutes, from 3:15 central time to 3:25 central time. 
As Mike Sando of ESPN reported here, three of the St. Louis games will be impacted: Week 10 at the San Francisco 49ers, Week 12 at the Arizona Cardinals and Week 17 at the Seattle Seahawks. 
Have a great day as always, STL Rams Nation. 
Shane Gray covers the St. Louis Rams daily as a Featured Columnist for Bleacher Report. You are encouraged to check out the rest of his work here. Gray also owns and operates stlramscentral.com.