NBA Free Agents 2012: Ranking Steve Nash Among Top Available PGs
June 30, 2012

Christian Petersen/Getty Images
Steve Nash's ridiculous career accomplishments have him as a sure-fire top free agent this offseason, along with several other stud PGs.
The Phoenix Suns veteran has orchestrated one of the more dynamic offenses in the game the last eight seasons, and in turn is one of the three most attractive assets at the position. The 2012 free-agent market is clearly filled with PG talent, as it will be interesting to see where the Phoenix star lands.
Will Nash make it big in the market, or are the Suns destined to keep him in Arizona?
These are the top three point guards available in this year's market in order of their appeal.
No. 3: Andre Miller, Denver Nuggets (Unrestricted)
Arguably the most underrated point guard in the free-agent market, Andre Miller has a plethora to offer any team needing a PG.
The 36-year-old has 12 years of experience in the league and is known as a winner. Miller was a major part of the success the Portland Trail Blazers and Denver Nuggets have had over the last few seasons with both his offense and defense. He can score with the jump shot or drive to the hoop, and bangs bodies with some of the bigger guards in basketball defensively.
Yet where Miller shines is in his efficiency. Even as a backup with the Nuggets, Miller was especially productive in his scarce minutes. In just 27.7 minutes per game, Miller averaged 9.7 points, 6.7 assists, 3.3 rebounds and just 2.7 turnovers. Not to mention he shot the ball 43.8 percent from the floor and 81.1 percent from the free-throw line.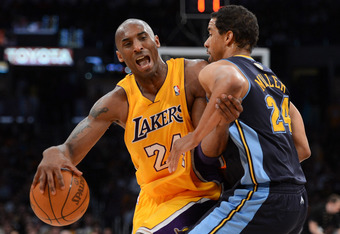 Harry How/Getty Images
A cost-effective, outright efficient PG, Miller is a guy teams have to take a decent look at this offseason.
No. 2: Steve Nash, Phoenix Suns (Unrestricted)
For years Nash has proven himself as the top passing PG in the game, and the best part is the 38-year-old hasn't even slipped in his production.
Last season, Nash posted a jaw-dropping 10.7 assists per game, marking his third consecutive season averaging at least 10 assist per game. He also did this while averaging 12.7 points and shooting a career-best 53.2 percent from the field.
Talk about some impressive figures for not only a guy pushing 40 years of age, but any PG in the league today.
Nash's 10.7 assists were second to Rajon Rondo for the most assist per game in the league. Time and time again this willing passer makes teams better with his vision, as any postseason contending team could certainly use this to their advantage. Not to mention, at age 38, he won't be the most expensive asset either.
No. 1: Deron Williams, Brooklyn Nets (Unrestricted)
Arguably the best PG in the game, Deron Williams is clearly the top target at the PG position.
In spite of the chance Williams will be headed back to Brooklyn next season, he is still undoubtedly the top threat until the signing process goes through. Last season, Williams was especially solid, averaging 21 points, 8.7 assists and 3.3 rebounds per game on as poor a team as the Nets (22-44) were.
He won't be cheap, nor will he be easy to sway, yet there is no questioning just how special this talent is. Regardless of which team he joins, there is still no doubting that Williams, along with Derrick Rose, is a top point guard in the game today.