Madison Bumgarner Prods Matt Cain After 1-Hit Gem for San Francisco Giants
June 29, 2012
Jason O. Watson/Getty Images
On a night when the Los Angeles Dodgers fell at home to the New York Mets, Madison Bumgarner (10-4) tossed a beauty to propel the San Francisco Giants into sole possession of first place. Throwing the first one-hit shutout of his career, Bumgarner won his 10th game as the Giants downed the Cincinnati Reds, 5-0.
The shutout marked the fourth straight game the Giants have not allowed their opponent to score a run, a San Francisco franchise record. After blanking the Dodgers for three straight games—the first time in the long, storied history of their rivalry—the Giants opened up their four-game set against Cincinnati with another scoreless dandy.
While Bumgarner got stronger as the game progressed, the scoreless streak was in jeopardy early in the game.
Drew Stubbs walked with one out in the first inning and advanced to second on a ground out by Joey Votto. Stubbs ended up stealing third with Scott Rolen at the plate, but the inning ended when Bumgarner got Rolen to ground out to third.
Bumgarner struck out eight, walked two and only threw 107 pitches to record his fifth straight winning decision. He became the first Giant pitcher to win 10 games this season and the first to win five games in a calendar month since Tim Lincecum (3-8) did so in September of 2010.
The only hit Bumgarner allowed was to Ryan Hanigan on the first pitch of the sixth inning. Bumgarner started him off with a slider, and Hanigan bounced the ball up the middle with enough pace to clear the infield. After a sacrifice bunt from pitcher Johnny Cueto (9-4), Bumgarner retired the next two hitters to end the inning.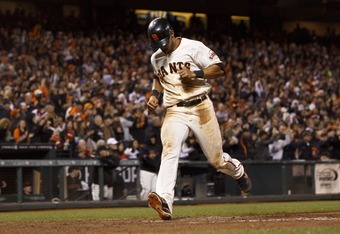 Jason O. Watson/Getty Images
The Giants offense continued to thrive, giving Bumgarner two early runs with some clutch hitting from Angel Pagan in the bottom of the first. With two outs in the inning, Melky Cabrera walked, and Buster Posey followed with a single to right field.
After falling behind 0-2, Pagan pulled a 2-2 changeup to right field, scoring Cabrera. Posey was also able to score on Jay Bruce's errant throw from right field.
The Giants added another run in the sixth when Pablo Sandoval doubled over the head of Todd Frazier in left field. Frazier, who initially started in, clearly misplayed the ball and never got a glove on it. Pagan, running from the crack of the bat, was able to score from first on the play.
The Giants rallied again in the seventh, as they plated two more runs on three hits.
The first of the two runs came when Gregor Blanco tripled in Bumgarner, who was on first after smacking a one-out single into left field. Rounding second base, the speedy Blanco looked at one point like he was quickly catching Bumgarner.
Asked after the game if he was worried Blanco would catch him, Bumgarner just laughed it off, saying, "It was nice to get to run a little bit. You know our colder weather, sometimes it's hard to stay loose. It was nice to run around a bit and get some blood flowing."
Bumgarner was also asked if he felt this was the best game he's thrown: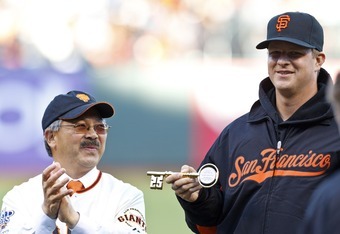 Jason O. Watson/Getty Images
"I felt pretty good out there. Obviously, by the numbers, it's the best game I've thrown, but the funny thing about baseball, there's been games where I've felt better but gone out and got the crap beat out of me. It's all about making pitches and locating, that's all I try to do," he said.
When asked about being part of four consecutive shutouts, Bumgarner simply said, "It's a pretty awesome moment." Remarking about Matt Cain's chances on Friday to extend the streak, Bumgarner joked, "I told Cain, it's no pressure, all you got to do is come in and throw a shutout."
Over the last four games, the Giants have set a San Francisco franchise record of 36 consecutive scoreless innings, breaking the previous record of 35 set in May of 1960.
Manager Bruce Bochy said after the game, "It's amazing, it really is. I've never seen it. It's been done against some good teams, and it shows you how good these guys can be when they're locked in, they're tough.
"It amazes me. I've seen a lot things in this game, but the last four games, it's been a lot of fun to watch these guys deal."
While all four games have been played against teams in first place, it's fair to say that neither team is at full strength. The Dodgers lineup was missing Matt Kemp the entire series, and Andre Ethier didn't play in the last game.
While the Reds' bats have been hot in June, they were without their All-Star second baseman Brandon Phillips on Thursday. Phillips was hit in the head by a ball in Wednesday's game in Milwaukee and was pulled from Thursday's starting lineup with lingering effects from the incident.
The Giants will take the field on Friday in sole possession of first place for the first time in 2012. They send their ace Matt Cain (9-2) to the mound with the chance to make history again. Every scoreless inning Cain throws will count toward a new record.
If he pulls off the unbelievable feat of throwing another shutout, it will continue a remarkable run by the best pitching staff in the major leagues.
Mark Probst is a Contributor for Bleacher Report. Unless otherwise noted, all quotes were obtained first-hand.