San Francisco 49ers: 8 Niners Headed to the Practice Squad in 2012
June 29, 2012

Thearon W. Henderson/Getty Images
Per official NFL rules, the San Francisco 49ers are allowed eight players on its practice squad.
In 2012, which members of the Niners squad will comprise that practice contingent?
Following a near head explosion after digesting the NFL practice squad rules and eligibility, I discovered that there are certain 49ers who are destined for the practice squad, but may or not be qualified.
(Thank you David Fucillo, DJ Gelner and ESPN for helping synthesize that obnoxious legal jargon.)
Saving ourselves from the overly technical stuff involved in this situation, let's identify the players with the greatest chance for a move to the practice squad based on the existing roster and player performance/future potential.
It is a fairly difficult, if not premature projection since training camp is still nearly a month away. Those offseason evaluations and preseason games will ultimately decide who gets a ticket to the eight-man group.
I will begin by listing my projected 53-man roster. Then I'll highlight the eight players who I believe will land on the practice squad, deriving each list from the overall roster as it currently stands.
Offense: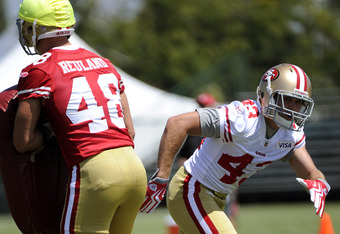 Thearon W. Henderson/Getty Images
QB: Alex Smith, Colin Kaepernick, Josh Johnson (Scott Tolzien will be sent packing because of Johnson's arrival)
WR: Michael Crabtree, Randy Moss, Mario Manningham, Kyle Williams, A.J. Jenkins, Ted Ginn, Jr. (Williams and Jenkins could certainly be reversed; Ginn is retained as a return man)
RB: Frank Gore, Kendall Hunter, Brandon Jacobs, LaMichael James, Rock Cartwright (Cartwright's role resides in special teams)
FB: Bruce Miller (no need to carry more than one; Cartwright, Demarcus Dobbs, Will Tukuafu and even Delanie Walker as an H-back can all fill in when necessary)
TE: Vernon Davis, Delanie Walker, Nate Byham (coaching staff likes Byham's blocking skills too much to drop him in favor of the more multi-dimensional Konrad Reuland)
OT: Joe Staley, Anthony Davis, Mike Person (Person has experience over other potentials)
OG: Mike Iupati, Alex Boone, Joe Looney (predicting that Looney recovers from his injury and really impresses in training camp)
C: Jonathan Goodwin, Daniel Kilgore, Jason Slowey (Kilgore groomed for both G/C; Slowey makes it in over Chase Beeler)
Defense: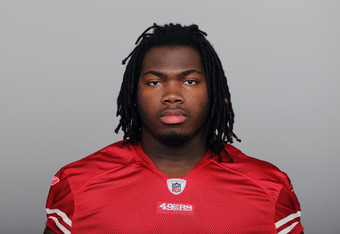 Handout/Getty Images
DE/DT: Justin Smith, Ray McDonald, Will Tukuafu, Demarcus Dobbs (Harbaugh and Co. are really excited about the latter two players)
NT: Isaac Sopoaga, Ricky Jean-Francois (Ian Williams misses out here)
OLB: Ahmad Brooks, Aldon Smith, Parys Haralson, Kourtnei Brown (bold prediction: the UDFA Brown beats out seventh-rounder Cam Johnson)
ILB: Patrick Willis, NaVorro Bowman, Larry Grant, Tavares Gooden (easy position to predict; Grant is a capable starter and Gooden excels on special teams)
CB: Carlos Rogers, Tarell Brown, Chris Culliver, Tramaine Brock, Perrish Cox (it'll be a close battle between Brock and Cox for the fourth slot)
FS: Dashon Goldson, Trenton Robinson (the rookie might fill in at both safety positions due to the lack of depth)
SS: Donte Whitner, C.J. Spillman (Spillman's value lies more in special teams but he's emerging as a quality backup in Goldson's absence)
Special Teams:
K: David Akers (you didn't think Giorgio Tavecchio had a chance, did you?)
P: Andy Lee (best in the business)
LS: Brian Jennings (definitely the man after the team cut Ryan Pontbriand)
Practice Squad:
Again, it is a bit of an educated-guessing game as to who will actually land on the P-squad when the season begins. But as it stands, here is a preliminary list of the requisite eight players. 
S Michael Thomas
LB Cam Johnson
DE Tony Jerrod-Eddie
DT Ian Williams
TE Konrad Reuland
C Chase Beeler
OL Derek Hall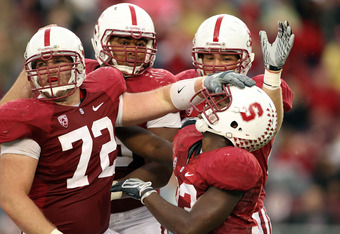 Ezra Shaw/Getty Images
WR Nathan Palmer
Reuland, Beeler and Hall were all on the practice squad in 2011 and all were former Stanford players.
Jim Harbaugh loves his boys from Stanford. He especially appreciates those who fulfill the needs of his tight-end intensive, run-first offensive scheme that relies so much on the offensive line.
Thomas is another former Cardinal who will provide much needed depth at the safety position. Williams and Jerrod-Eddie are defensive linemen who could start for many teams and will be valuable call-ups if the need arises.
The final player on this list was the most difficult to distinguish. Wideouts Chris Owusu and Nathan Palmer have both stood out in offseason camps and are totally worthy of a spot on the 53-man roster. The problem, however, is that the 49ers actually have a surplus at the position—pretty inconceivable considering what the WR corps looked like last season.
Even speedy running back Jewel Hampton would be a legitimate asset to an NFL squad but won't make the 49ers active roster.
Most difficult to ascertain is if these players will actually clear waivers (i.e. not being signed by another team) before the Niners can ink them to the practice squad. All are supremely talented.
My guess, though, is that another team picks up Owusu and the 49ers place Palmer on the squad.
San Francisco hasn't been in such a position of luxury in quite some time.
Letting go of these players without a desperate hope of retaining them merely serves to corroborate this newfound phenomenon.