Why Anthony Davis and Austin Rivers Will Be NBA's Next Great Big-Little Tandem
June 29, 2012

Elsa/Getty Images
Bill Russell and Bob Cousy. Jerry West and Wilt Chamberlain. Kareem Abdul-Jabbar and Oscar Robertson. Shaquille O'Neal and Kobe Bryant. Shaq and Dwyane Wade. Tim Duncan and Tony Parker.
Anthony Davis and Austin Rivers?
OK, so it's not exactly fair to expect the New Orleans Hornets rookies to stack up with some of the most successful inside-out combinations in NBA history, especially before they've so much as set foot on the hardwood together.
That being said, Davis, the No. 1 pick in the 2012 draft, and Rivers, the No. 10 pick, have the potential to be a rather dynamic duo in their own right.
Davis will be expected to serve as no worse than a defensive enforcer from day one in the Big Easy, and for good reason. The 6'11, 220-pounder was a shot-swatting stud during his brief-but-successful stint at Kentucky, when he led the nation in blocks and lifted the Wildcats to the NCAA tournament title. With his 7'6" wingspan, his awe-inspiring athleticism and his impeccable timing on the defensive end, he should be plenty able to transcribe those skills to the NBA level with considerable success.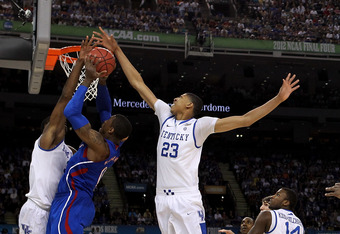 Ronald Martinez/Getty Images
And while The Mighty Unibrow (try copyrighting that!) is still somewhat raw offensively, he's not exactly helpless or hopeless when it comes to putting the ball in the basket. He has fantastic hands, which, combined with his elite leaping ability, render him a threat to oop just about any alley that comes his way. Furthermore, Davis' keen understanding of spacing, which helps to account for his shot-blocking acumen, makes it that much easier for him to get open on the offensive end, as Grantland's Sebastian Pruiti points out.
Let's not forget, either, that this kid was a 6'3" shooting guard not too long ago and didn't have much of an opportunity to showcase the skills of his former self while in Lexington. He's not a great ball-handler, but he can control the rock better than most men his size. Nor is he a spectacular perimeter shooter, though he can hit mid-range shots and (more importantly) won't be asked to float far away from the rim.
Davis, too, might well be excused for his back-to-the-basket game being a work-in-progress, seeing as how he's so new to his own size and currently lacks the strength, particularly in his lower torso, to contend with bulkier big men. With time, hard work and proper coaching, he'll develop into a serviceable post scorer, at the very least.
And he'll have every opportunity to do just that in a Hornets front court that currently consists of him, Gustavo Ayon and Jason Smith.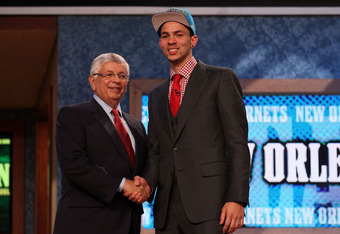 Elsa/Getty Images
All of which is to say nothing of Austin Rivers, Davis' presumed partner in crime for the foreseeable future. Rivers drew plenty of scrutiny in the days and weeks leading up to the draft for being a ballhog, a ill-advised shot-taker and a bit of a cocky hothead.
Which, on the other hand, suggests that he's a strong ball-handler capable of getting his own shot, with a dose of confidence becoming of a leader and potential All-Star on the perimeter.
Chances are, Rivers' "real" projection lies somewhere between those two worlds. He's not the biggest or most athletic two-guard, but you can't teach swagger. Nor can you easily graft a smooth shooting stroke, a fearless streak when attacking the basket or a wily sense of offensive creativity onto a young player.
If anything, Rivers looks like just the sort of player whose game is much better suited to the NBA than to the collegiate level. Doc Rivers' son spent his one and only year in school at Duke, under the auspices of Mike Krzyzewski (who isn't exactly known for letting his kids have free reign on the court), on a team largely devoid of talent.
The Blue Devils' loss to Lehigh in the first round of the NCAA tournament stands as proof of as much.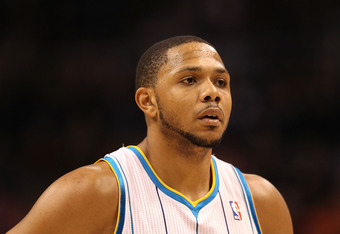 Christian Petersen/Getty Images
The bigger concern for Rivers has less to do with anything he does and more with how the rest of the Hornets' roster shakes out. While Anthony Davis is practically walking into an empty front court, Rivers won't have nearly the same luxury at the off-guard spot, assuming New Orleans sacrifices a chunk of its cap space to keep Eric Gordon in a Hornets uniform.
Problem is, both guys are better suited to the off-guard spot, and unless head coach Monty Williams wants his team to get creamed defensively with a three-guard lineup, he may well have to choose between Gordon and Rivers. That doesn't bode well for the rookie, seeing as how he can't quite match EJ's speed, strength and athleticism.
Then again, perhaps Rivers proves to be a better fit on the ball while Gordon settles in as an outside shooter who occasionally slashes to the cup.
Whatever the case may be, Monty Williams should be able to put his new players in position to win. Williams has known Austin for most of the kid's life, dating back to before Monty's days as a player under Doc Rivers with the Orlando Magic. He knows the young Rivers well and should be able to command the cocksure kid's respect.
And if Williams can carve out an effective role for Rivers, in the backcourt next to Gordon, and Anthony Davis grows into the beast on both ends of the floor that many believe he can and will be, then the Hornets may be well on their way to reaching historic heights.
Well, at least with regard to the franchise itself, if not for pro basketball in the Crescent City as a whole. After all, it'd be unfair to crown these Hornets as future champions so soon, don't you think?