Detroit Tigers: Carlos Quentin Needs to Come to Detroit
June 29, 2012
Donald Miralle/Getty Images
This 2012 Detroit Tigers team was expected to mash its way to a division championship and perhaps a World Series victory.  However, members of last year's playoff team are struggling mightily during 2012, and there is no doubt that something must be done.
This team is quickly reaching the point where saying "it is still early" will no longer apply; therefore, it is time that the Tigers' brass went out and got a proven hitter—and his name is Carlos Quentin. 
There may be no better time than now to go out and grab Quentin, as he is the middle of a career-year.  As of Thursday morning, he is currently hitting .325, with a .443 OBP in 24 games. 
It's obvious that Quentin would provide an incredible upgrade offensively—whether he is playing in the outfield or penciled in at designated hitter.  Not only would his presence assist this Tigers team in scoring runs, but he would also bring a great locker room attitude and hope to a disgruntled fan base.
This may pose a problem when Victor Martinez returns—which is now slated for mid-to-late September after his recent MRI.  However, it is easy to see that the best possible outfield combination for Detroit's success will be Andy Dirks, Austin Jackson and Carlos Quentin with Quintin Berry and Brennan Boesch as bench players.  This also allows Leyland the opportunity to pinch-run with Berry in late-game situations when the Tigers need speed on the base paths.
Also, while Delmon Young is slowly improving at the plate, there is no guarantee that this will continue.  The Tigers simply cannot afford to take the chance if they wish to make it back to the playoffs in 2012.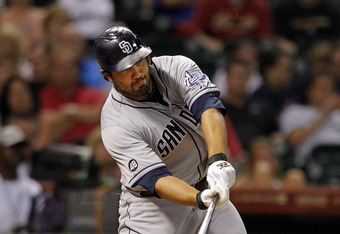 Bob Levey/Getty Images
The Tigers really have two options with Young if Quentin does arrive in Detroit.  First, Young is simply relegated to platoon duty and sees very little time (if any) in the OF or at DH.  Second, Young is traded on or before the non-waiver trade deadline on July 31st.  The most logical option would be to trade Young and get whatever pieces they can in return, as the outfield would be very populated if he stayed around.
Even though many view this move as a positive for Detroit, there are others who feel the Tigers do not need Quentin.  Some believe they should focus their efforts on a starting second baseman and a starting pitcher.
However—when it comes to a second baseman—the Tigers have been rumored to be interested in the services of Houston Astros' shortstop Jed Lowrie.  This move would be of great benefit to Detroit, and most feel that the Tigers will make a move of some kind in order to shore up the second base situation. But this is not their most dire need, believe it or not. 
Also, Detroit does not necessarily need a starting pitcher.  The Tigers have a fantastic young group of hurlers with Verlander, Scherzer, Porcello, Fister and Smyly.  While these five are capable of eating six+ innings each time they take the mound, an improved offense would benefit them greatly because all starting pitchers crave run support.  An improved offense would allow the starters to possibly go deeper into games, which would allow the bullpen to get more rest and pitch more efficiently when brought into games. 
Therefore, it is hard to argue with the fact that Quentin would provide an immediate spark to a Tigers team that is desperately looking for some consistency in order to take back the lead in the AL Central. 
This is a critical move for Detroit's success, and in order for the Tigers to make some noise during the regular season and into the playoffs, Carlos Quentin must be brought to Motown. 
UPDATE: On Thursday night against Houston, Quentin went 1-for-3, with a walk and a HBP.  This keeps his batting average the same but raised his OBP to .451. 
***Note: Delmon Young's OBP is .296, and Brennan Boesch's OBP is .269.