Counting Down the Top 25 Players in the NFC South: No. 22, Charles Johnson
June 28, 2012

Scott Boehm/Getty Images
Welcome back to "Counting Down the Top 25 Players in the NFC South." To see the entire list as it unfolds, scroll down to the bottom of this page. To see the rules and ranking criteria, click here.
22. Charles Johnson, DE, Carolina Panthers
Charles Johnson led the Carolina Panthers with nine sacks last season and finished in second place in the NFC South. According to Pro Football Focus, he also has six quarterback hits and 32 hurries as well.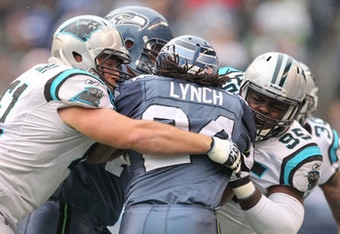 In addition to his prowess at attacking quarterbacks, Johnson was the second-ranked player in the league last year with 11 run stuffs—a total that placed him first in the NFC South.
Accolades aside, Johnson does have some question marks heading into the 2012 season.
Seven of Johnson's nine sacks came in the half of the season, leaving him just two over the course of his final seven games (he did not play in Week 17). Not only is that second-half split worrisome, but so is his fall from 12 sacks to nine from 2010 to 2011.
Also, Johnson had surgery on his right knee in early May and missed OTAs and minicamp. He is expected to be ready for training camp in late July after this "minor clean-out" on the knee, but until he takes the field, his health will be a concern.
If healthy—that means the knee is fine and last season's back issues are a thing of the past—Johnson could easily jump back up to double digits in sacks. The defense around him should be better, giving opposing offenses more to think about, and Johnson, having missed just one game in the past two seasons, has showed he's rather resilient.
The 2012 Bleacher Report Top 25 Players in the NFC South List
22. Charles Johnson, DE, Carolina Panthers
23. Adrian Clayborn, DE, Tampa Bay Buccaneers
24. Curtis Lofton, LB, New Orleans Saints
25. Josh Freeman, QB, Tampa Bay Buccaneers
Top 25 List (by team)
Atlanta Falcons:  N/A
Carolina Panthers: 1
Top 25 List (by position)
QB: 1
LB: 1
DE: 2