Counting Down the Top 25 Players in the NFC South: No. 23, Adrian Clayborn
June 27, 2012

J. Meric/Getty Images
Welcome back to "Counting Down the Top 25 Players in the NFC South." To see the entire list as it unfolds, scroll down to the bottom of this page. To see the rules and ranking criteria, click here.
23. Adrian Clayborn, DE, Tampa Bay Buccaneers
All while learning a professional playbook as a rookie with no offseason workouts and in the midst of an injury-plagued season to the Buccaneers front seven, Adrian Clayborn shined with 42 tackles and 7.5 sacks. He also popped out three fumbles and succeeded during the doom and gloom of Tampa Bay's 10-game losing streak when few could.
The best thing about Clayborn—he's going to get better.
Bucs fellow defensive lineman Gerald McCoy recently said that Clayborn looked uncomfortable in  some moments last year and was caught doing too much thinking at times.
"Early in the season, Clayborn was doing a lot of thinking,'' McCoy said of the 2011 first-round pick out of Iowa. "After I got hurt, I told him, 'I'm not there to cover you now. The focus is going to go to you, so you've got to attack and go.'

"He did it and this year, he's comfortable. He's got a smooth walk to practice. Last year, he was kind of uptight. Now, he's got that smooth walk.''
Clayborn's 7.5 sacks were good for third in the NFC South last year, and he scored a 50 on Pro Football Focus' Total Pressure statistic—a combination of sacks, hits and hurries—which was good for second in the NFL among rookies.
He has a nonstop motor, an incredible work ethic and superb attitude—all of which will lead to a huge step up in 2012 when Clayborn gets to go through a complete offseason program with the Buccaneers.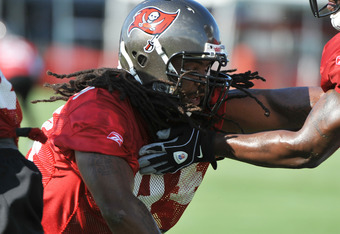 Al Messerschmidt/Getty Images
The 2012 Bleacher Report Top 25 Players in the NFC South List
23. Adrian Clayborn, DE, Tampa Bay Buccaneers
24. Curtis Lofton, LB, New Orleans Saints
25. Josh Freeman, QB, Tampa Bay Buccaneers
Top 25 List (by team)
Atlanta Falcons:  N/A
Carolina Panthers: N/A
Tampa Bay Buccaneers: 2
Top 25 List (by position)
QB: 1
LB: 1
DE: 1