Dallas Cowboys: Is Tony Romo an Underrated NFL QB?
June 28, 2012

Rich Schultz/Getty Images
Whether he intended to or not, former NFL quarterback Brett Favre brought up a debate many have waged over the last several years when he sat down to speak with Deion Sanders for an NFL Network Interview this week. 
When asked about Dallas Cowboys quarterback Tony Romo, Favre said that Romo was the player most like him in the NFL today.
He also added this, via NFL.com:
"It's Dallas. And much is expected," Favre told Sanders. "But he's carried those guys, man. I mean, I'm watching last year, and I like Tony. And I like the way he plays. I think at times he's underrated."
Therein lies the debate: Is Tony Romo really underrated?
Some will say he is, others have called him overrated, but no one seems to agree that the public's overall perception of Romo is correct. 
I would lean towards him being slightly underrated, but that word standing alone means very little to me. 
However, the numbers since Romo was inserted the Cowboys' starting lineup seems to suggest he may be underrated. 
According to an NFL.com video, Romo is in elite company stats-wise since taking over the Cowboys' gig on October 29, 2006.
Romo is seventh among quarterbacks in wins (47), fifth in passing yards (20,572), third in 25-yard completions (173) and fourth in touchdowns (146) and passer rating (97.1).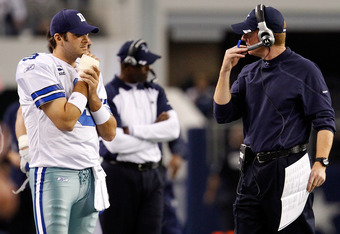 Tom Pennington/Getty Images
Last season, Romo threw for 4,184 yards (seventh), 31 touchdowns (fifth), 10 interceptions, completed 66.3 percent of his passes (third) and complied a 102.5 passer rating (fourth).  
Yet the NFL Network's Top 100 list ranked Romo a distant 91st, behind the likes of Joe Flacco and Michael Vick among quarterbacks. 
There wasn't much public outcry calling Romo "underrated" afterwards, either. Romo's numbers at the quarterback position seem to scream otherwise. 
Critics of Romo will point to the Cowboys' one playoff win during Romo's time under center, and his numerous mess-ups in big spots of big games. Like Favre, Romo has thrown some terrible interceptions that have cost the Cowboys games. 
But does the argument in its entirety make Romo underrated or overrated? And what does underrated even mean?
Underrated is a lazy term alone, as it stands to reason that a player who doesn't get enough credit should, for whatever reason, get more of it. It's all in the eye of the beholder—there's no set definition or criteria to which we can base a scientific answer upon. 
Underrated to one person is overrated to another. And vice versa. It's one of those frustrating words tied to everything in sports that makes you want to pull your hair out. 
No position in sports gets labeled more than quarterbacks, and this is just one example. Underrated. Elite. Choker. Clutch. The list goes on and on and on. 
Statistically speaking, Romo is very under appreciated for what he's accomplished as the starting quarterback of the Dallas Cowboys. Considering the numbers he's amassed, Romo should be in the conversation for being one of the game's top 6-7 quarterbacks. 
The wins in the postseason haven't come in bunches, and the Cowboys really haven't even smelt the aroma of a Super Bowl appearance since Romo took over. But no quarterback wins a Super Bowl without help. 
The Dallas defense has been in shambles for a large stretch of Romo's starting tenure, and even the immortal Aaron Rodgers showed in 2011 that you can't bring home the Lombardi Trophy without help from the other 11 men playing on the opposite side. Rodgers' Packers went 15-1 but collapsed in the postseason because Green Bay couldn't stop anybody. 
To that point, Dan Graziano over at ESPN made possibly the most important point in the debate. Romo is good enough to win a Super Bowl for the Cowboys. His talent is there. He can get his end done. Graziano has no doubts that Romo has ability to win a championship, and I agree with him. 
In the end, that opinion leads me to believe Romo is underrated. He's obviously underrated in the eyes of his peers, as evidenced by his 91st overall rank in the Top 100. 
The stats show that he's plenty capable of being a Super Bowl winner. His skill set is very comparable to Favre's, who eventually won a title with the Packers in 1997. 
The playoff wins and potential titles will come for Romo when a complete team is put around the game's most important position.
Romo has his end covered. The rest is mostly out of his control.