Pau Gasol Trade Rumors: Latest Word on Hawks, Grizzlies, Rockets and More
June 28, 2012

Doug Pensinger/Getty Images
The Los Angeles Lakers only hold the last-overall pick in this year's draft at this point, and word on the street is that GM Mitch Kupchak wants to acquire a first-round pick.  Sure enough, according to Chad Ford and Marc Stein of ESPN, Kupchak is looking to get a player and a pick in exchange for power forward Pau Gasol.
Nothing has come to fruition as of now, but teams like the Memphis Grizzlies and Atlanta Hawks have been contacted by the Lakers with deals being discussed.  At 31 years old, Gasol is a scoring seven-footer who helped the Lakers win two titles. He has some decent value, despite being owed $38 million over the next two years.
Stay tuned here, as we'll be providing the latest trade rumors and buzz around the Spanish big man's future, be it with Los Angeles or another team.
Update: Thursday, August 9 -- Joel C. Cordes
Yahoo! Sports' Adrian Wojnarowski follows up on his previous report that the L.A. Lakers, Orlando Magic, Denver Nuggets and Philadelphia 76ers are in discussions of a massive four-way trade involving Dwight Howard and Andrew Bynum.
The names and destinations are still fluid at this point, but the teams are seriously discussing permutations of Howard and Denver forward Al Harrington landing in L.A., Bynum going to the Sixers, Philly swingman Andre Iguodala heading to Denver, and Pau Gasol, plus Nuggets guard Arron Afflalo, winding up in Orlando.
Any deal would surely have to include additional picks and assets heading to the Magic, but this is as significant a haul as they've been offered so far. Affalo has quietly turned into one of the league's half dozen best shooting guards, while Gasol's resume' speaks for itself.
As Woj notes, Bynum and Gasol's destinations could be swapped, though both the compensation and cost for Orlando and Philly would likely change as well.
Stay tuned...
- Content for this update provided by Bleacher Report's Offseason Trade Rumors tracker.
Update: Sunday, July 8 — Joel C. Cordes
It's been eerily quiet for Pau Gasol and trade rumors of late. In fact, logic and some indirect rumors seem to imply that perhaps he'll be part of the Los Angeles Lakers' plans going forward after all.
L.A. reporter Jackie Pepper cites sources who give me reason to believe that Gasol is safe in all this Dwight Howard talk:
The source says the Lakers have informed one player that he might be part of the package deal and that he could be traded at any moment. The Lakers are "very interested" in acquiring Howard, according to the source. 
Back at the 2012 trade deadline, the Orlando Magic supposedly wanted BOTH Pau Gasol and Andrew Bynum in exchange for Howard. Desperation, the passage of time and Howard's back injury means the Magic have backed off to only demanding Bynum.
It's logical then, that the "player" told of their involvement in a potential Howard deal is NOT Gasol. Not only would it make no sense for Bynum and Howard to be on the same team, but there's no way the Magic would accept Gasol as the centerpiece to any such trade.
Now that Steve Nash is aboard, Gasol's passing ability, mobility and shooting range will be maximized to their fullest. He'll be a major asset for this team regardless of whether he's playing alongside Bynum or Howard.
What's more, his value to the Lakers roster is unlikely to be met or exceeded in any straight up trade at this point. While he could be swapped for multiple depth parts, the rumors don't support such a move at the moment.
All quiet on the Gasol front. For now.
Update: Wednesday, July 4 — Ethan Norof
The Minnesota Timberwolves continue to sniff around Pau Gasol's situation in Los Angeles, and it sounds as if the team is still kicking the tires on the Spaniard.
According to Bill Ingram of Hoopsworld, Timberwolves head coach Rick Adelman is looking for a "more prominent veteran presence in the locker room." Ingram writes that both Adelman and general manager David Kahn are both interested in adding Gasol to the fold.
The problem? The Timberwolves offer isn't enough. Derrick Williams, Wes Johnson and another piece isn't a package that intrigues the Lakers, and Minnesota isn't trading either Ricky Rubio or Kevin Love in any deal.
Ingram believes that the T-Wolves will need a third team to facilitate any potential deal to land Gasol.
Update: Monday, July 2 -- Joel C. Cordes
While the Los Angeles Lakers remain committed to trading Pau Gasol, it appears they're willing to bide their time and let the offers come in:
Lakers are exploring options for a Pau Gasol trade, but nothing is imminent, according to a person familiar with the conversations.

— Ken Berger (@KBergCBS) July 1, 2012
As the Lakers wait, the Minnesota Timberwolves have upped their play for the skilled big man. Pairing Pau Gasol with Kevin Love would be an intriguingly versatile option, though one wonders how blossoming center Nikola Pekovic or free-agent target Nic Batum meshes with this plan.
Meanwhile, the Houston Rockets, Memphis Grizzlies and Atlanta Hawks remain in the mix, though no new offers have yet to surface.
Update: Thursday, June 28 -- Joel C. Cordes
Chris Broussard chimed in via Twitter, saying that the Pau Gasol to Houston Rockets trade rumors are cooling off.
Sources insist Houston no longer interested in trading for Pau Gasol.

— Chris Broussard (@Chris_Broussard) June 28, 2012
Is this because the Rockets now only have eyes for Dwight Howard?
Update: Thursday, June 28 
Kupchak's asking price could be putting a damper on Houston's hopes of acquiring Gasol.  In a report by ESPN's Marc Stein and Chad Ford, Kupchak wants to acquire both an effective player and a Top 10 pick in exchange for Gasol.
Thus, unless he's willing to slightly lower his demand and take just an upper tier first-round pick, it doesn't look like Houston will get the big man they so desire.  Love him or hate him, Gasol is still an effective scorer and if the Lakers are going to give him up, they at least want a player and/or pick that can fill that hole almost immediately.
Houston Rockets
Ultimate Rockets is reporting that GM Daryl Morey is still interested in acquiring Gasol, and he certainly has the right trade chips to use.  As of now, Houston has three first-round picks for tonight's draft: the 12th, 16th and 18th selections.  With so many teams needing help, it'd be hard to say no to a team offering both one or more picks in exchange for a player with a hefty contract.
The Rockets could definitely use the addition of a solid veteran, so this could be a rumor to watch over the next few hours.
Memphis Grizzlies
The Memphis Grizzlies have jumped into the pool of teams interested in Gasol, but their deal is a bit puzzling.  Rather than offer a better trade chip in Rudy Gay, Peter Vecsey of the New York Post is reporting that Memphis is offering a horse of a different color: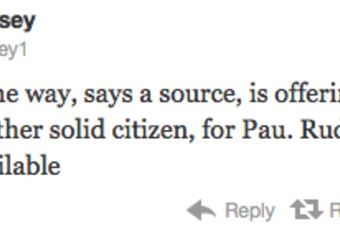 Though Randolph has his strengths, he also takes size away from the Lakers and leaves them without any athleticism whatsoever.  Sure, it'd be cool to see Gasol return to the team that made him a star, not to mention the fact that he'd be playing alongside brother Marc, but it just isn't worth it for the Lakers.  Memphis doesn't have a good draft pick to offer and unless they're offering Gay along with it, there's no way Kupchak should pull the trigger.
Atlanta Hawks
Mike Bresnahan of the Los Angeles Times is reporting that after discussing Gasol with the Lakers, the Atlanta Hawks are ready to offer Josh Smith, who has wanted a new team for a while now.  Smith is definitely a great player to have on any team, but Bresnahan was quick to point out how the Lakers would immediately be at a disadvantage if the trade did indeed go through.
If the Lakers struck a deal with Atlanta, they would lose the height advantage that made them one of the longest teams in the NBA — Smith is 6'9", three inches shorter than Gasol—but would instantly become more athletic.
Bresnahan is absolutely right, as Smith does take some size away from the Lakers.  But that's a hit worth taking.  The team needs a powerful presence at power forward, someone who will crash the boards frequently and be aggressive.
Seeing as how Smith is a streaky scorer whose greatest strength is his defensive intensity, this is a deal that could open lots of doors for the Lakers even if the draft pick involved is the 24th overall.