MLB's Three Most Injury-Plagued Teams
June 28, 2012

Drew Hallowell/Getty Images
It is unfortunate for many teams that begin the season with such high hopes and then things come crashing down.
In many cases, these injuries can make or break your season. 
With the economics of the game playing such a vital role and trying to find a perfect balance of stars and young cheap players, sometimes teams have a small window.
For that window to be shattered because of injuries, well that is blows.
Here are the five teams that have had it the worst this season.
Toronto Blue Jays
Main guys on the DL: Sergio Santos, Dustin McGowan, Kyle Drabek, Drew Hutchison, Brandon Morrow
The Breakdown
That is nearly a full rotation on  the DL plus a closer. The Jays' rotation, which hoped to rely on young upcoming arms, has been attacked by the injury bug to the point where it is almost comical.
Not only are all of these guys on the DL, but they are all injured for prolonged periods.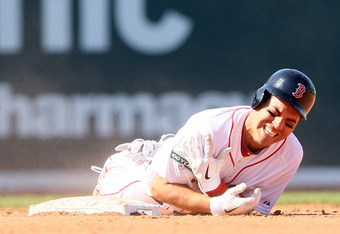 Elsa/Getty Images
Boston Red Sox
Main guys on the DL: Jacoby Ellsbury, Carl Crawford, Clay Bucholz, John Lackey, Josh Beckett, Andrew Bailey
The Breakdown
With two of their main outfielders and possible one-two in the lineup being out all year, it is hard for the BoSox to compete in the AL East.
Add to that list their proposed closer (although Aceves has done a remarkable job) and a couple starters on there, they must be happy with their current position.
They need to make a big run in the dog days of summer once these guys return.
Philadelphia Phillies
Main guys on the DL: Ryan Howard, Chase Utley, Roy Halladay
The Breakdown
These guys could all possibly be in the Hall someday. Enough said.
There are other teams that could have been added to the list (notable mentions: Dodgers, Cardinals) but in comparison the injury bug hasn't been as ravenous.
As a result I did not want to dilute the severity of these three teams by adding a couple more.
Thanks for the read.
Get at me on Twitter @the__ste (Double Underscore) for fantasy baseball advice, updates and more.