Will the Yankees Pursue Cole Hamels with Andy Pettitte Sidelined?
June 27, 2012

Drew Hallowell/Getty Images
How do you lose when you win?
When you are the New York Yankees and 40 percent of your starting rotation is sidelined by injury on the same day, that's how.
The Yankees may have continued their winning ways by beating the Cleveland Indians Wednesday but losing CC Sabathia for perhaps two weeks because of a strained muscle and Andy Pettitte for up to two months with a broken ankle can turn a hot streak cold overnight.
Not long ago, ESPN's Buster Onley highlighted the Philadelphia Phillies' struggles and speculated that they will seriously consider offers for top starter Cole Hamels.
In the wake of today's awful news, it's now time for general manager Brian Cashman to call his counterpart in Philadelphia and see what it would take to acquire the dynamic lefty.
We know that the Yankees have been preaching austerity—well, at least their version of it by wanting to get the payroll down to $184 million, which is a fortune for most teams but chump change in the Bronx. The Yankees also don't want to act out of desperation and give up too much for a quick fix.
That's why Cashman said the Yankees will attempt to fill the void from within. That means giving Freddy Garcia another crack at starting and promoting minor leaguers like Adam Warren and David Phelps. Manager Joe Girardi said that the Yankees were being cautious with Sabathia and that he would likely miss only two starts leading up to the All-Star break.
But Pettitte is another matter. His return has stabilized the starting rotation and helps propel the Yankees into first place in the American League East. It's no secret that Hiroki Kuroda, Phil Hughes and Ivan Nova have been more consistent and pitched deeper into games after Pettitte ended his one-year retirement.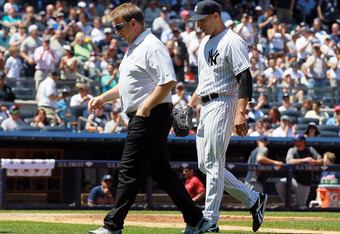 Jim McIsaac/Getty Images
And that is why losing him for two months is not just about wins and losses. He took the pressure off the other starters, which might become an issue again if Phelps or someone else in the organization takes his place for an extended period.
Because Pettitte is 40, does anyone know how long his recovery will take?
Hamels would not only give the Yankees a replacement for Pettitte, but a potential ace as well, especially if the muscle strain in Sabathia's leg becomes a chronic problem for the rest of the season.
This is not the time for the Yankees to be talking about austerity and luxury taxes. This is a franchise, as we have pointed out all season, that considers anything less than the World Series a failure.
Maybe the Phillies aren't ready to give up on their own division or wild card hopes as of yet. And who knows what they will demand in return? Would they want Manny Banuelos or Dellin Betances, both of whom have been battling injuries and ineffectiveness this season.
Would they want the Yankees to include Eduardo Nunez to eventually replace Jimmy Rollins at shortstop?
They can't have Mason Williams, however. That's the line the Yankee should draw in the sand. 
Remember this, though. Hamels will be a free agent so the price shouldn't be as high as it would if he had a year or two remaining on his contract.
While Hamels may choose to head west after this season and sign with the Los Angeles Dodgers, baseball's newly minted moneybags, it would be worth it to the Yankees to slot him behind Sabathia and give the rotation the dominant look it would have had with Michael Pineda.
We can understand if Cashman is a little gun shy after trading Jesus Montero, his best hitting prospect, to the Seattle Mariners for Pineda, a guy who couldn't make it out of spring training without undergoing major shoulder surgery.
It's not a time to panic because the Yankees have a lead in the division race. Their goal, however, is to finish with the best record in the AL and home field advantage throughout the playoffs.
The Yankees are also an old team and that is a factor for Cashman and the Steinbrenner boys to consider too. Pick up the phone Brian. The area code in Philadelphia is 215.