Wimbledon Results 2012: Roger Federer's Strong Start a Good Sign for 7th Title
June 28, 2012

Paul Gilham/Getty Images
Roger Federer wasn't exactly a heavy favorite to win Wimbledon 2012, with Rafael Nadal and Novak Djokovic as the front-runners. However, Federer's strong start to the tourney could be a sign of things to come for the six-time Wimbledon champ.
In his second-round match with Fabio Fognini of Italy, Federer won in straight sets, 6-1, 6-3 and 6-2. The result was never in doubt as Fed-Ex dominated from the beginning of the match to its very end.
This was the second of two matches in which the former Wimbledon champion has looked like the dominant player he once was. Federer's first match of Wimbledon was against Albert Ramos of Spain, and the result was as expected with the all-time great disposing of his inferior competition in straight sets as well, 6-1, in each.
The start to this major is a stark contrast to how Federer performed in the opening rounds of the French Open.
In that tourney, Federer predictably won his opening-round match, 6-2, 7-5, 6-3, losing seven more games in that first round match than he did in his Wimbledon 2012 debut. From there on out, Federer went on to drop at least one set in each match moving forward at Roland Garros before being crushed by Djokovic in straight sets.
More specifically, his second-round matchup in France wasn't as impressive as the one in England. While he would go on to drop a set in his second-round match in the French Open, this time around Federer was able to win without dropping a set during his second-round victory at Wimbledon.
So not only is Federer winning by far bigger, more dominating margins, he is winning more impressively than his stiffest competition on the road to the Wimbledon final, Djokovic.
Djokovic was victorious in his first two matches as well, but it was his second round match that left a little worry about the Serb's chances of repeating as Wimbledon champion.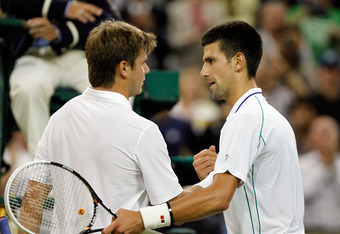 Paul Gilham/Getty Images
American Ryan Harrison might not have looked like such a threat to Djoker, but he gave the Serb all he could handle in their matchup. In what should have been a breeze, Djoker allowed Harrison a shot at winning in each set of the match.
Djokovic ended up winning 6-4 in each set en route to a straight sets win, but against such an inferior competitor like Harrison, that result is alarming. Especially as compared to how Federer has done against his first two rounds of competition. Clearly, Fed-Ex is playing better tennis than his elite counterpart.
Even Nadal wasn't as impressive and clean as Federer after being forced to a tiebreaker in his opening-round match.
At this early stage in the tourney, Federer looks much stronger than Djokovic and Nadal. As the competition gets tougher in the later rounds, Federer's game looks to be on the level of elite, and he should have no problem adjusting to tougher matchups.
Not to mention, if Djokovic continues to play poorly and succumbs to one of his opponents before he gets to a showdown with Fed-Ex, Federer's chances to win his seventh Wimbledon crown will be monumentally better than they are now.