Ben Gordon to Bobcats: Charlotte Makes Big First Step of Building Process
June 27, 2012

Elsa/Getty Images
After one of the worst seasons in NBA history, the Charlotte Bobcats are doing everything they can to rise from the league cellar. The first move of that process was a big one, when they traded for Detroit Pistons guard Ben Gordon. 
The Pistons sent Gordon and a 2012 lottery-protected first-round pick to Charlotte for swingman Corey Maggette, according to ESPN.
Gordon had high hopes upon entering the NBA after leading Connecticut to a national championship and being selected third overall by the Chicago Bulls. He quickly became very hyped and was bestowed with the responsibility of replacing Michael Jordan, which he obviously didn't nearly achieve, but still put up good numbers (averaging more than 20 points in two seasons). 
His three-point shot is one of the most lethal parts of his game and he's currently one of the streakiest shooters in the league. Last season, he tied his own NBA record by hitting nine straight 3-pointers without missing in a 45-point effort.
By adding Gordon, the Bobcats have adequately addressed a huge area of concern on their roster. They had absolutely no problem beating out the rest of the NBA for the league's worst three-point percentage at 29.5, while the next worst team finished at 31.6 percent. 
Did I say a huge area of concern? Sorry, I meant huuuuuuuuuuuge.
Gordon should feel some distinct commonality with his backcourt counterpart in Charlotte. Fellow UConn star Kemba Walker was Charlotte's ninth overall pick last year and was a bright spot on a spectacularly under-talented Bobcats team.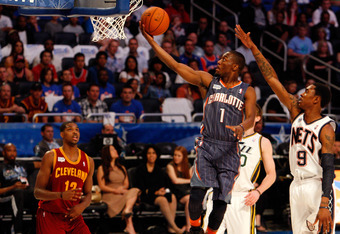 Ronald Martinez/Getty Images
Both Gordon and Walker were insanely impactful in their national championship seasons with the Huskies and won each of UConn's last two national titles. I think it's safe to say they'll be comfortable with each other after enduring longtime head coach Jim Calhoun's system, whether they've actually played together or not. 
The Bobcats also enjoyed great return for Maggette. The 12-year vet didn't give Charlotte much experience in return for the lack of youth he brought, and he shot 37.3 percent from the field, by far the worst percentage of his career. 
Charlotte now will turn their focus toward making something happen with their second overall pick in Thursday's draft. They've made it known that they aren't opposed to shopping the pick, but adding a formidable big man like Thomas Robinson or a swingman like Michael Kidd-Gilchrist could pay huge dividends.
One thing is for sure: They answered the gaping hole in their backcourt and did so in spectacular fashion.
Now, they're only a couple hundred moves away from becoming a contender.