NBA Draft 2012: Why Austin Rivers Is Ready to Dominate at the Next Level
June 28, 2012
Streeter Lecka/Getty Images
I think it's safe to assume that daddy, Doc Rivers, has given his son some words of wisdom on what it takes to succeed at the top level.
Duke's Austin Rivers, after only one year of college ball, is set to make a big splash in the NBA
There's a reason why people consider him to be one of the top prospects heading into this year's draft.
Success follows the guy wherever he goes.
Two state championships for Winter Park High School in Florida and a McDonald's All-American selection in 2011 is not bad.
With all the hype surrounding Rivers in his senior year of high school, many were skeptical of his ability to deliver the goods on the college stage.
He didn't disappoint.
In his freshman season with the Blue Devils, he knocked down an average of 15.5 points per game and racked up 1,129 minutes in court time.
This buzzer-beater, against rival University of North Carolina in February, solidified his spot in the draft, as well as Duke folklore.
At 6'5", 203 lbs, Rivers is a well-sized point guard and should have no problem adjusting to the physicality of the NBA.
He has it all.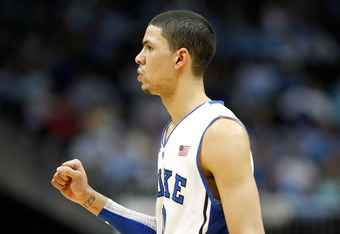 Streeter Lecka/Getty Images
If given too much space, he'll shoot from downtown.
If marked too tightly, he'll breeze past defenders seemingly with ease and create his own shots off the dribble.
Rivers' talent is unquestionable, but there are still a few key aspects of his game that need to improve if he's to dominate in the big leagues.
While being a consistent shooter and a solid individual player are admirable traits, his passing game leaves a bit to be desired.
He averaged only 2.1 assists for Duke—far short of a typical point guard's haul.
Being ball-dominant in college is one thing, but doing it against the best players in the world is a whole different story.
If he's to truly dominate at the next level, ironing out some of his selfish kinks is a must.
Also, while his big ego will likely serve him well in the NBA, he needs to come to the realization that he is no longer a one-man team.
Tracking back on defense and getting some steals (averaged only one per game for Duke) is an equally important part of his job.
All in all, Austin Rivers is one of the most exciting up-and-coming players whom we've seen for a long time.
His weakness seems more an issue of work ethic than of skill or talent.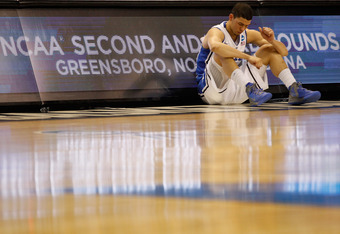 Streeter Lecka/Getty Images
At the age of 19, Rivers still has plenty of time to mature both mentally and physically.
In the coming years, we will likely see him change from an egotistical ball-hog (a fantastic egotistical ball-hog at that) into an all-around dominant NBA point guard.
I wish him only the best.