Boston Bruins: Should Peter Chiarelli, Bruins Be Doing More to 'Win Now'?
June 28, 2012

Bruce Bennett/Getty Images
In what has already been an exciting offseason for the NHL, the Boston Bruins find themselves with a new starting goalie, an assortment of tantalizing players on the market and several tough decisions to mull over.
Bruins general manager Peter Chiarelli has already signed Gregory Campbell and Chris Kelly (in due time) to multi-year extensions, and talks with goalie Tuukka Rask are underway.  With the exception of Tim Thomas, who has chosen to sit out his final year under contract, the Bruins roster remains largely unchanged from the previous season, which is fine with Chiarelli.  The GM's comments on the likelihood of a big acquisition proved he is more than happy taking his chances with the team as is.
However, following a first-round playoff exit at the hands of the Washington Capitals, this line of thinking may not be popular with fans of the Black and Gold.  As July 1 approaches, and all signs point to another quiet offseason, the question arises: Is Peter Chiarelli too content with this team?     
Last season, the Bruins came off a Stanley Cup championship with a young but experienced core and cap space to solidify the team as favorites to repeat.  Instead of making a big splash, Chiarelli signed Benoit Pouliot for some depth and opted to return to battle with the same guys, giving them a chance to protect their title.  Unfortunately, a largely inconsistent campaign came to an early end, as a battered, hung-over B's squad succumbed to Washington.
The disappointment with the way things ended for the 2012 Bruins seems a bit harsh at first glance.  After all, this is the team that won three seven-game series not even a full year prior, right?  However, the sour taste in the mouths of Bruins fans can also be attributed to the feeling that Chiarelli had a chance to make the Bruins better and chose not to.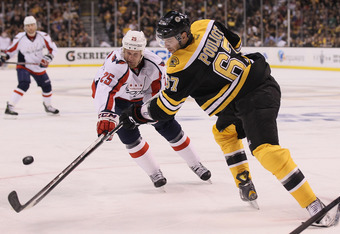 Elsa/Getty Images
Now the Bruins find themselves in a similar situation.  Should the Bruins deal Thomas to a team looking to reach the cap floor, the B's will have a substantial chunk of change to play with.  Chiarelli has expressed interest in adding a third-line winger and maybe a veteran bottom pairing defenseman, similar acquisitions to Pouliot and Joe Corvo the year prior.  Is that enough, though?  Should Chiarelli and the Bruins be trying harder to win right now?
With young franchise stars like Tyler Seguin, Milan Lucic, Dougie Hamilton and Tuukka Rask, the Bruins look to be a team for the future but are also very much a team for right now.  With the experience of one Stanley Cup run already under their belts, the B's core group already has a winning pedigree.  Not to mention, guys like Nathan Horton and Patrice Bergeron are deceptively young as well.  The Selke winner is only just entering the prime of his career.
And then there is Zdeno Chara.  The cornerstone of the B's franchise for the past six years, Chara is signed through the 2017-2018 season but is already 35 years old.  Even though the 6'9'' D-man's play has shown no signs of decay (Chara was nominated for the Norris Trophy again this season), the window for the Bruins to take advantage of his monster defensive skills has an expiration date.  Shouldn't the Bruins be trying to deliver as many Cups to those massive hands as they can while they have the chance?
This is not to say Chiarelli and the B's have not tried to make this happen.  Say what you will, but the Bruins find themselves in a great spot to be in largely because of decisions made directly by Peter Chiarelli.  His discipline and refusal to compromise his vision have not only crafted a strong, balanced team, but have also prevented the B's from being bogged down by foolish, overeager contracts.  And as exciting as it is to land that big fish, no one wants to see a deal made for the sake of making a deal.  It's all about improving the team.
Not to mention, signing a big name like Rick Nash or Zach Parise may seem like no-brainer, but with Rask yet to be signed, and many of the young forwards who make up the top six in need of new deals next season, Chiarelli's focus cannot rest solely on the 2012-2013 season.  Any general manager worth his salt must be able to look years down the road.
So should the B's be looking to tool up and charge into next year with guns blazing?  Or should the B's stand pat, add depth and continue to build for the future?
For now, Peter Chiarelli has earned the benefit of the doubt.  However, as that joyous championship season shrinks farther back into the rear-view mirror, how much rope will a rejuvenated and title-hungry sports town give the Bruins GM? 
The top teams in the East will not make life easier, as Washington has already acquired Mike Ribeiro, and Pittsburgh, Philadelphia and the Rangers are smack dab in the middle of trade talks and free-agent speculation.  And is it fair to assume a young goalie like Rask can deliver the same god-like performance Tim Thomas did to clinch that Stanley Cup championship one year ago?  Only time will tell.
One thing is for certain: Should things become stagnant for the Bruins again this season, many a pair of judgmental eyes will focus on Peter Chiarelli come deadline day.  For now, however, I will bask in the memories of Stanley Cup glory, look forward to this season and place my trust in "Chia" to ice the best team possible.