2012 Bleacher Report Fantasy Football Mock Draft
June 27, 2012

Chris Chambers/Getty Images
Some of the writers from Bleacher Report have got together for a 2012 fantasy football mock draft. I was awarded the second pick.
1. Alexander Onushco
2. Ryan Lester
3. Tim Keeney
4. Ralph Longo
5. Gary Davenport
6. James Reagan
7. Rob Tong
8. Daniel Stack
9. Matt Madsen
10. Marco Patitucci
.
Settings in this mock league are: :
 6 pts for all TDs (passing/rushing/receiving)
1 pt for every 10 rushing/receiving yards
1 pt for every 25 passing yards
-2 pts for every interception & fumble lost
Defense scoring is 10 pts for pitching shutout, 7 pts for 1-6 pts allowed, 4 pts for 7-13 pts, 1 pt for 14-20 pts, 0 pts for 21-27 pts, -1 pts for 28-34 pts, -4 for 35+ pts allowed, 2 pts for safety, interception & fumble recovered
1 PPR
Kicker scoring is 3 pts for 0-39 yard field goals, 4 pts for 40-49 yards, 5 pts for 50+ yards, 1 pt per PAT made
Return TDs are counted towards the individual player, not the defensive unit
15 total players (starters: 1 QB, 2 RB, 3 WR, 1 TE, 1 K, 1 DEF; 6 bench players)
No IR spots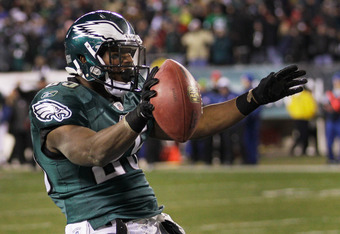 Rob Carr/Getty Images
Pick 1.2:  LeSean McCoy, RB, Philadelphia Eagles 
Given the fact that this is a PPR league and Shady McCoy dominated the league last year, I saw no other choice but to go that direction with Arian Foster off the board.
Pick 2.9:  Adrian Peterson, RB, Minnesota Vikings
Even if All Day misses a game, which doesn't seem likely given his recovery rate, he is too good to let slide past the 19th overall pick, even in PPR leagues.
Pick 3.2: Wes Welker, WR, New England Patriots
Welker has averaged 110.8 catches over the past five seasons for 1221 yards. He's not a touchdown machine, especially since Gronk is around. Still, he's a bona fide WR1 in PPR leagues.
Pick 4.9: Tony Romo, QB, Dallas Cowboys
Six quarterbacks have come off the board. While there are still strong options left (Eli Manning, Philip Rivers, Matt Ryan), I believe Romo, with all his weapons, could outproduce them. You get six points per passing touchdown, which is where Romo should shine. He was fifth in the league in passing TDs, seventh in passing yardage, and only threw ten picks.
Pick 5.2: Mike Wallace, WR, Pittsburgh Steelers
He's not happy with his contract situation, but the Steelers are one of the better teams at taking care of their players. Wallace has averaged 1225 yards and nine TDs over the past two years.
Pick 6.9: Brandon Lloyd, WR, New England Patriots
Played with a ridiculously bad cast of QBs in his time with Denver and St. Louis last year. Brady should help him improve on the 966 yards and five scores.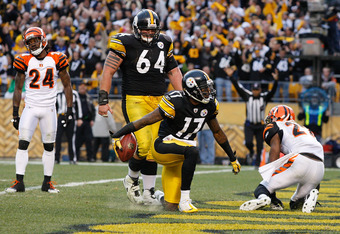 Jared Wickerham/Getty Images
Pick 7.2: C.J. Spiller, RB, Buffalo Bills
Spiller caught 39 passes last year, so he's a nice third back for PPR formats. He also proved he can carry the load, averaging 105.5 total yards over the past six weeks. He will be in a committee with Fred Jackson, but he should be heavily involved.
Pick 8.9: Reggie Wayne, WR, Indianapolis Colts
I am writing last year off for Reggie Wayne because of the fallout to the Manning injury. He still approached 1000 yards and finished strong. He should rebound with Andrew Luck under center.
Pick 9.2: Brandon Pettigrew, TE, Detroit Lions
Pettigrew improved on his 71-722-4 season to the tune of 83-777-5. He sees a ton of targets, which makes him a solid PPR tight end.
Pick 10.9: Toby Gerhart, RB, Minnesota Vikings
I have Adrian Peterson, so drafting Gerhart is a good insurance pick. There should be room for both to make plays this year regardless.
Pick 11.2: Randy Moss, WR, San Francisco 49ers
I know how things ended for Moss, but if he is even close to the receiver he once was, he'll be a steal this late in the draft.
Pick 12.9: Pittsburgh Steelers Defense
I am happy with my QB. Like my RBs and WRs. Can live with my TE. It's time to add D. Since the Niners are the only one off the board, I'll go with the Pittsburgh Steelers.
Pick 13.2: Baltimore Ravens Defense
If I can pair up two top notch defenses, I love doing that. Between Pittsburgh and Baltimore I should be set most weeks.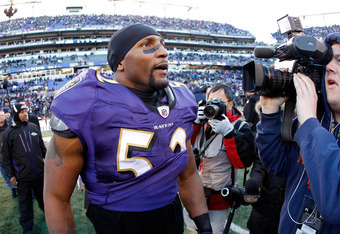 Rob Carr/Getty Images
Pick 14.9: Alex Smith, QB, San Francisco 49ers
I took a shot on Moss, I might as well take a look at his QB. The Niners gave him a bunch of new weapons this offseason and his confidence should be higher than ever.
Pick 15.2: Mason Crosby, K, Green Bay Packers
Waiting for the last round with the second pick paid off as I got a steady kicker for a high-powered offense.

Roster
QB1: Tony Romo
QB2:  Alex Smith
RB1: LeSean McCoy
RB2: Adrian Peterson
RB3: C.J. Spiller
RB4: Toby Gerhart
WR1: Wes Welker
WR2: Mike Wallace
WR3: Brandon Lloyd
WR4: Reggie Wayne
WR5: Randy Moss
TE1: Brandon Pettigrew
DEF1: Pittsburgh Steelers
DEF2: Baltimore Ravens
K1:  Mason Crosby
Also check out: