Should Nats Use Stephen Strasburg as Pinch-Hit Weapon After He's Shut Down?
June 27, 2012

Brad White/Getty Images
Those who frown upon National League baseball often point to the pitcher hitting as a reason why the game isn't as appealing as its American League counterpart.
The pitcher batting ninth tends to be an automatic out. With little ability (or interest, as it sometimes appears) to make any sort of contribution at the plate, pitchers are usually asked to bunt. If pitchers are going to make an out anyway, managers figure they may as well move along a baserunner. 
But some pitchers take the responsibility of hitting seriously and are quite good at it. Miami Marlins pitcher Carlos Zambrano has hit respectably in the past. In three of his 12 seasons, he's actually hit .300. Dontrelle Willis hit so well with the Marlins and Cincinnati Reds that whenever he struggled as a pitcher, many suggested that he should be moved to the outfield. 
Washington Nationals pitcher Stephen Strasburg has become a threat with the bat as well. This season, the Nats ace is hitting .348/.375/.652 with four doubles, one home run and two RBI in 25 plate appearances. Those four doubles are more than some players with eight times the number of at-bats, including Orlando Hudson, Justin Smoak and Marlon Byrd. 
With Strasburg pitching through his first full season since undergoing Tommy John surgery, it's been generally understood that the Nationals will impose an innings limit on their ace.
According to Kevin Kaduk of Yahoo! Sports, general manager Mike Rizzo disputes reports that Strasburg's season will be capped at 160 innings. But that number may have been considered without a division title run in mind. With the Nats leading the NL East, that innings limit may get an increase, depending on how Strasburg looks as his workload increases.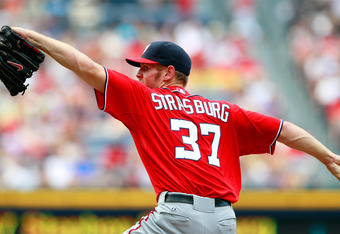 Kevin C. Cox/Getty Images
But considering how Strasburg has been hitting, should the Nationals still try to make use of him once he's reached his innings limit and is shut down for the season?
Not too many teams can bring a bat off the bench with a .348 batting average and .652 slugging percentage. Strasburg could be a valuable pinch-hitter at the end of the season, or maybe even during the postseason. 
Even better for manager Davey Johnson, Strasburg could be especially effective against left-handed pitching. Yes, we're talking about a sample size of only eight plate appearances, but Strasburg is hitting .571 (4-for-7) against lefties this season. He hit his home run off Baltimore Orioles left-hander Wei-Yin Chen. 
Would Johnson consider bringing in Strasburg to face, say, Aroldis Chapman in the late innings of a playoff game between the Nationals and Reds? Maybe the stakes are too high there, and Johnson would probably opt for a veteran like Mark DeRosa. Or perhaps someone with some pop like Tyler Moore if a pinch-hitter were needed in such a situation. That's the safer move. 
It's probably worth mentioning that Strasburg began his major league career batting 1-for-30 with 12 strikeouts. Did something just click for him at the plate or is Strasburg's true ability as a hitter somewhere in between that terrible beginning and his current success?
Regardless, if there are no better options than Strasburg, why not use him off the bench? If he keeps hitting the way he has, he might be the best option.
Follow @iancass on Twitter