Green Bay Packers: Johnny Jolly Deserves Training Camp Tryout If Reinstated
June 26, 2012

Joe Murphy/Getty Images
Coming on the heels of a report by Brad Biggs of the National Football Post that Johnny Jolly has applied for reinstatement from his suspension by the NFL, debate among fans has turned to what the Packers should do with Jolly.
Some are willing to welcome Jolly back as a reclamation project, acknowledging he's done his time and hoping he's on his road to recovery. Others want the Packers to move on and avoid the potential for a relapse and the negative affect that could have on the team.
What the Packers should do is bring Jolly back to training camp for what basically amounts to a tryout because there's really nothing to lose, at least in July and August.
Obviously, accepting Jolly back inside 1265 Lombardi Ave. is dependent upon being reinstated. Before anything else can happen, NFL commissioner Roger Goodell has to consent.
The background is that Jolly was arrested several times for possession of codeine and suspended indefinitely by the NFL in 2010.
After one season under suspension, Jolly was arrested again in the spring of 2011 and sentenced to six years in prison but was just released in May under what's known as "shock probation."
Given all the bad press the NFL has endured in the form of "Bountygate," Goodell might be willing to bank on Jolly's transformation and the feel-good story that ensues, not unlike that of Philadelphia Eagles quarterback Michael Vick.
Perhaps reinstating Jolly might give the impression Goodell is compassionate and not the tyrant that suspended the New Orleans Saints players and coaches.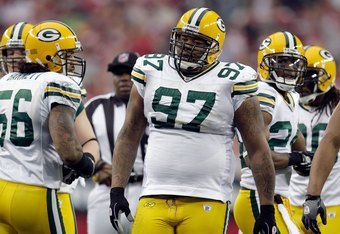 Jamie Squire/Getty Images
If and when Jolly is reinstated, the Packers have a choice to make. They can either cut him, trade him or let him compete for a job.
What's unrealistic, however, is to expect Jolly to take his time and come back to the Packers on his own accord once he's got his life straightened out.
It was only a tweet without context, but Packers president Mark Murphy seemed to suggest Jolly live on the straight and narrow before thinking about playing football again.
Following an interview with Murphy a week ago, Lance Allan of WTMJ-TV in Milwaukee wrote:
Clearly Murphy defers all personnel matters to Thompson, but Murphy indicates Jolly should get his life straight before any talk of playing

— Lance Allan (@lanceallan) June 20, 2012
In many circumstances that would be sound advice, but Jolly doesn't have the luxury of time to get all his ducks in a row.
For one, he only has a small window of time to make a career out of playing football, and he's already lost two years to suspension.
And for another, Jolly's best chance of turning his life around would be to return to a job that can assist in taking his mind off drugs and includes a support system of co-workers and bosses to help him cope.
There's also no way another team would be willing to assume the risk of trading for Jolly, which leaves the Packers with only two choices: release him or allow him to come back.
Certainly there's risk involved in bringing Jolly back into the fold. If he relapses, for example, the Packers will have wasted a roster spot on Jolly, perhaps at the expense of developing a younger player.
But there's also the chance that Jolly could help the team win now. At the time of his suspension, Jolly was coming off arguably his best season as a professional in 2009. He was also arguably the Packers best defensive lineman that season.
With suspensions (pending appeal) to fellow Green Bay defensive linemen Anthony Hargrove and Mike Neal, Jolly could add some stability to the position.
Above all, there's no risk to bringing Jolly back during training camp. He signed a one-year, approximately $2.5 million deal prior to being suspended, and the Packers retain his rights upon being reinstated.
Training camp can be used as a proving ground for Jolly both from a personal and professional standpoint.
The Packers can use the month-long camp to gauge if Jolly is physically ready to resume the grind of professional football and at the same time determine if he's committed to staying clean and is a changed person.
If they find out Jolly is too far out of shape or still the same immature person he was before the suspension, the Packers can still cut Jolly before the regular season and be no worse for the wear.
The regular season would be the deadline for a decision on Jolly's future. At that point, the Packers would be committed to honoring Jolly's contract and making room for him on the 53-man roster.
Jolly deserves the chance, however, to demonstrate his worth to the Packers.
Considering the performance of the defense last season, it's worth finding out if Jolly can improve the unit.