College World Series 2012 Finals: 3 Keys to Arizona's Dominant Performance
June 26, 2012
Harry How/Getty Images
For the Arizona Wildcats, the path to a College World Series title was like playing 10 pick-up games against kids who had never picked up a baseball before.
It was quick, painless and they barely had to break a sweat.
With Monday's 4-1 win against South Carolina, Arizona wrapped up a 10-game stretch where it outscored its opponents 88-28.
Painless.
While Arizona's elite pitching propelled the team throughout the tournament, it also got terrific contributions on offense and played some of its best ball against some of the nation's elite.
Historic Pitching
At first glance, Arizona's 3.70 team ERA isn't anything to write home about.
That sparkling number just happens to sit 71st behind teams like Delaware State, Wichita State and Southeastern Louisiana.
Despite a solid but unspectacular regular-season pitching performance, the team turned up the heat come tournament time.
Beginning with its Tuscon Regional matchup against Missouri, Arizona essentially pitched its way to a title, surrendering more than three runs just twice in 10 games.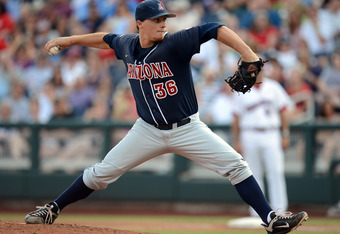 Harry How/Getty Images
By the end of its historic run, the team lowered its ERA from a rather unimpressive 4.01 to its tidy mark of 3.70.
The pitching staff was once again led by one of the nation's best in Kurt Heyer.
The 6'2" junior has been the team's No. 1 starter since his freshman season and led Arizona in nearly every major pitching category.
His ability to eat up innings and work deep into games (seven complete games) gave Arizona a true workhorse.
Beyond Heyer, the Wildcats got four quality wins in the tournament from Konner Wade.
The lanky sophomore finished just two wins behind Heyer for the season despite having an ERA (3.96) that ballooned the staff ace's (2.24).
Along with solid relief pitcher Matthew Troupe, the Wildcats' pitching staff was a force to be reckoned with in their championship run.
Explosive Offense
While the pitching staff saved its best for the biggest stage, the offense was a consistent force throughout the year.
The Wildcats were easily the top-hitting squad in the Pac-12 and finished fourth in the nation with a .329 team batting average.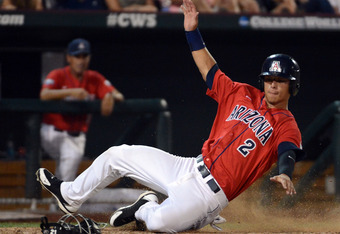 Harry How/Getty Images
What's more impressive about Arizona's offense is its paltry power production.
The more hyped Florida Gators led the nation with 75 home runs, but that couldn't even get them past the immortal Kent State.
Meanwhile, Arizona's 23 home runs, good for 158th, got them a championship.
What the Wildcats were able to do was manufacture runs through great contact hitting and tearing up the base paths.
With eight regular position players batting over .300, it was a matter of pick your poison.
If speedster Joey Rickard and his 18 steals couldn't get it done, leading run-producer Robert Refsnyder stepped up.
After scoring double-digit runs in just 13 of their 55 regular-season games, the Wildcats exploded for 47 in three games at the expense of Missouri and Louisville.
They also threw in a 10-3 routing of Florida State for good measure.
All in all, Arizona's offense was the model of consistency as it was shut out just once in 65 games.
Clutch Plays
What separates a good team from a great one is how it handles pressure situations.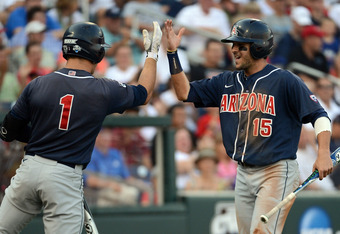 Harry How/Getty Images
Fortunately for Arizona, it never wavered.
In the finals, the Wildcats took some punches but got back up and hit South Carolina with the knockout shot time and time again.
In Game 1, Arizona's offense smashed 12 hits but did most of its damage with two outs.
Of its five runs scored, four of them came without an out to spare.
The trend continued in Monday's win as freshman second baseman Trent Gilbert came through with a two-out, two-run single to give Arizona a three-run edge in the final inning.
Thanks in part to Troupe's solid 1.1 innings of relief, Arizona came out on top in what proved to be South Carolina's season ender.
Sometimes statistics don't tell the whole story, and in this case, it couldn't be more true.
Despite lacking a big-time power threat, a top-10 team ERA or a strikeout king, Arizona won the 2012 College World Series with a potent combination of timely and consistent hitting bolstered by some big-time arms.