Toronto Maple Leafs: How Did They Do in the Schenn for Van Riemsdyk Trade?
June 26, 2012

Jim McIsaac/Getty Images
The Toronto Maple Leafs added some size up front a few hours after the last pick had been made Saturday.
The trade involved reuniting fan-favorite Luke Schenn with his brother in Philadelphia, Brayden.
While Schenn will be missed by fans and Leafs staff alike, the return addressed a hole Toronto had on its roster.
In return for Schenn, the Leafs acquired the dynamic power forward James Van Riemsdyk to add some size and grit up front.
This deal had been rumored since mid-season, but an injury to Van Riemsdyk caused the deal to be placed on hold.
Already there are some Leaf fans who feel this trade was not good for Toronto. Schenn was homegrown talent, while JVR has yet to live up to all his hype.
The deal also saw a $3.6 million cap hit in Schenn leaving; in return for a $4.25 million cap hit in Van Riemsdyk.
For the extra money that Toronto is spending on Van Riemsdyk, they gain a player for an extra two seasons, as JVR's contract has six years remaining while Schenn had only four.
Van Riemsdyk has played three seasons in the NHL—all with the Flyers—and has tallied a total of 99 points in 196 games.
JVR was drafted by Philadelphia second overall in 2007, behind Patrick Kane. Some feel that his numbers do not reflect that status.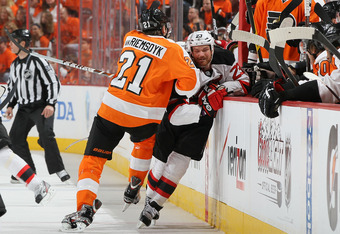 Jim McIsaac/Getty Images
That is not to say that Van Riemsdyk does not need some improvement, but the fact of the matter is that he is only 23 and has a long career ahead of him.
Van Riemsdyk can grow into one of the best power forwards in the league.
The fans that are hesitant about Van Riemsdyk need to understand that we traded a good player for another good player.
The loss of Schenn on the blueline does leave a hole in the size and physical play on the blueline, as only Komisarek has both now.
The fact of the matter is that Schenn was young and not quite where the Leafs needed him to be with his game.
Over the last season, he made many serious mistakes that resulted in turnovers and goals.
He, like JVR, needs to continue his development, which helps make this trade appear more even.
Losing Schenn is a bit of a blow to the Leafs and its fanbase. He was loved almost from the moment he set foot on the ice, but he continued to make serious mistakes.
As well liked as he may have been, the Leafs seem to be trying to fill the gaps and turn the team around. The fact that Schenn has potential and youth made him attractive to many teams.
There are also a number of young defenders on the Marlies who are ready to get their chance to make the NHL by next season.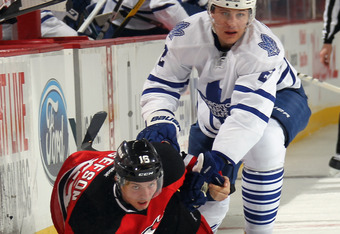 Bruce Bennett/Getty Images
With young defenders like Korbinian Holzer, Matt Lashoff and Simon Gysbers proving they are ready for a shot at the NHL, the loss of Schenn is not as bad.
The Leafs also have six defensemen on their roster as it is, and the young Marlies bring the ability to package one out for a trade over the summer to address yet another issue the Leafs have.
Lastly, the addition of James Van Riemsdyk to the Leafs means there will have to be some line shuffling up front.
While Carlyle may be hesitant to break up the duo of Lupul and Kessel (both had career high point totals this season playing together), it would not be too far-fetched to see Carlyle test out a JVR-Bozak-Kessel line in the preseason.
With Lupul able to play either wing, he may try a MacArthur-Grabovski-Lupul line, adding a second major scoring threat line to the Leafs.
If these two lines end up working out, it would leave Nikolai Kulemin to either play on the third line or be packaged off in a trade in return for a missing piece, such as in net.
All in all, this trade looks as though it could be a very beneficial for Toronto. They lost a young and talented player in return for a young and talented player.
With the defense looking well taken care of for the next few years through the existing Leafs and the Marlies talents, losing Schenn is not a huge hit to the team.
It also adds depth to the first two lines, with two serious scoring lines. It also can help move Kulemin either to play on the third line or be traded for a much-needed asset.
The Leafs did well here as they did not give up too much in this trade.
Toronto may have lost a fan favorite, but it did bring in a piece to help the team out of the cellar.