Jeremy Lin: New York Knicks Cannot Afford to Lose Linsanity
June 26, 2012
Chris Chambers/Getty Images
Jeremy Lin saved the New York Knicks' season last year. Both on and court and off, he inspired a winning streak and created enough press clippings to keep fans interested.
The Knicks can't let a player like Lin leave the organization, no matter the cost.
Lin was granted Bird rights earlier this week, along with teammate Steve Novak. Normally this would allow the Knicks to go over their cap to sign him, which would be a perfect scenario.
Enter David Stern.
I used to like David Stern. He was once a good commissioner in the eyes of most NBA fans, but in the last 12 months, he has become the most hated commissioner in sports today.
After extending the lockout, manipulating where Chris Paul went, and amid rampant speculation that the NBA lottery was fixed (leading to one of the most interesting interviews I've ever heard), his next move will be to try to steal Lin from New York.
Stern is appealing the Bird rights decision (per New York Post), which would leave the Knicks with little means to sign Linsanity, and keep him in the Big Apple.
The Knicks have a $5 million mid-level exception that they would clearly have to use, but that would mean that they cannot go after any other free agents apart from one who would accept the veteran's minimum.
Even with Stern apparently against them, no matter the cost, the Knicks absolutely must sign Lin during the offseason.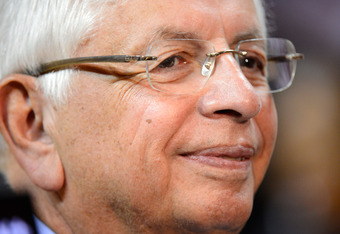 Ronald Martinez/Getty Images
Lin was a great player who carried the team in the absences of Carmelo Anthony and Amar'e Stoudemire. What separated him from those two and made him perhaps even more valuable was the fact that he wasn't a headcase.
Where Anthony has been called a "ball hog" at times, and Stoudemire can have off-the-court issues (especially with Twitter), Lin was a great role model as well as a player.
Lin certainly helped the Knicks on the court, lifting the team to an impressive winning streak when he first started playing. However, there has been speculation that his injury could hold him back next season, as could the fact that teams will begin to focus on him.
Even with the potential that he will not be a superstar next season, there is the financial aspect of signing him.
Linsanity was a sensation that had the media and fans everywhere captivated. The appeal of playing Lin with his late-game heroics will undoubtedly draw fans to games.
The NBA is a business as well, and bringing in fans and selling Lin jerseys is a benefit that few other players bring to their teams.
The upside of signing Lin far outweighs the potential costs, and the Knicks simply cannot afford to let him go.
The Knicks were the first team to give Lin a chance, and he has a great set of morals. I'd be surprised if he truly wanted to play elsewhere, which gives the Knicks a huge advantage.
The restricted free agent will look to ink a new deal with New York, and they need to make sure they sign him quickly, Bird rights or no.