Jonathan Sanchez: Kansas City Royals Lefty Wins AL Worst of the Night Award
June 25, 2012

Ed Zurga/Getty Images
The Kansas City Royals haven't made it to the playoffs since they won the World Series in 1985. Their fans have been learning how to suffer for close to 20 years at this point.
But heck, nothing could have prepared Royals fans for Jonathan Sanchez. Watching him pitch is one of modern baseball's most brutal forms of punishment.
Sanchez, whom the Royals acquired from the San Francisco Giants in an offseason trade, did his usual thing once again on Sunday against the St. Louis Cardinals. That is to say he threw roughly half of his pitches outside the strike zone and got knocked around when he did manage to throw the ball over the plate.
Sanchez lasted 5.2 innings on Sunday. In those innings, he gave up six earned runs on four hits and six walks while striking out only three. He allowed two home runs, one of which was a three-run homer by former Royal Carlos Beltran in the first inning.
Sanchez threw just 61 of his 111 pitchers for strikes, and he also allowed a run to score on a wild pitch.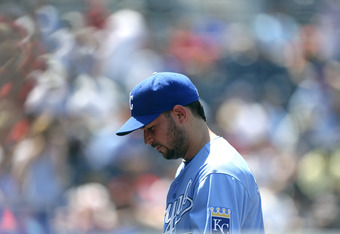 Ed Zurga/Getty Images
Like I said, more or less a typical Jonathan Sanchez outing. 
Amazingly, Sanchez managed to avoid losing the game. The Royals were trailing 6-5 when he was removed from the game in the sixth inning, but they were able to tie it up in the bottom of the inning.
Tim Collins was the guy who walked away with the loss, as he followed Sanchez's not-so-fine example by allowing five runs (four earned) on three hits and three walks in just 1.2 innings of work. The Cardinals went on to win 11-8.
Even still, our focus here shall remain on Sanchez because, well, that's where it belongs. For good or ill.
Believe it or not, Sanchez's six walks on Sunday were not a season high. He walked seven batters in a start against the Cleveland Indians back in late April. 
Therefore, you may not be surprised to hear that Sanchez currently boasts a BB/9 of 7.29, highest among all pitchers with at least 40 innings pitched this season, according to FanGraphs. His strikeout-to-walk ratio is a major league-low 0.82.
I think the fake Jeff Withey (yes, they really do have parody Twitter accounts for everyone these days) summed it up best:
On the bright side, Jonathan Sanchez is the best in the world at being incredibly bad at pitching #Royals #GlassHalfFull

— Fake Jeff Withey (@FakeJeffWithey) June 24, 2012
That's one way to put it. He's certainly better than Allan Travers, anyway.
Unfortunately, the Royals don't have much choice but to keep throwing Sanchez out there. They don't have a whole lot of pitching depth, and they know that Sanchez will at least bring plenty of experience with him whenever he takes the mound. We are, after all, talking about a guy who has pitched a no-hitter and won a World Series.
He can now add a new trophy to his mantelpiece. For his efforts on Sunday against the Cardinals, I am presenting Sanchez with today's American League "Worst of the Night" award.
Like Sean Connery's Academy Award in 1988, Sanchez's "Worst of the Night" award was a long time coming.
Meanwhile, Melky Cabrera is hitting .351 and leading the majors leagues in hits with 102.
Dayton Moore is a good general manager, but he would probably like to have that trade back.
If you ever want to nominate somebody for American League "Worst of the Night" honors, hit me up on Twitter.