Spotlighting the Cincinnati Bengals' Safety Position Heading into 2012 Season
June 25, 2012

Joe Robbins/Getty Images
The Cincinnati Bengals have one guaranteed starter at the safety position this year: Reggie Nelson, who signed a four-year, $18 million contract in March after being courted by the New York Jets in free agency.
But the remaining safety job is up in the air, and with the team looking to implement a lot of "big nickel" packages this year, more than one of the remaining five safeties should see fairly significant playing time in 2012.
Here, I take a look at each Bengals safety and try to determine what role each will play this season.
Reggie Nelson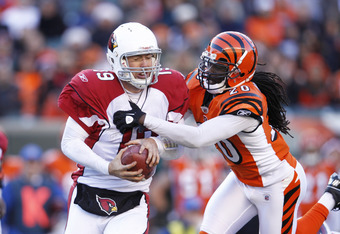 Joe Robbins/Getty Images
Reggie Nelson is the Bengals' best safety and, in 2011, certainly emerged as their best overall defensive back—so much so that the team paid him well in order to keep him around for the long-term. Last season, Nelson was the third-best tackler for the Bengals, with 85, had two sacks, four interceptions—including one returned for a score—and forced two fumbles.
Thanks to the team releasing fellow safety Chris Crocker during the offseason, Nelson is the only safety with more than four years of on-field experience. His leadership will be necessary, as the other members at the position are so young. Nelson is the measuring stick against which they'll be judged, and that's not a bad thing.
Again, expect Nelson to be one of the Bengals' top defenders.
Taylor Mays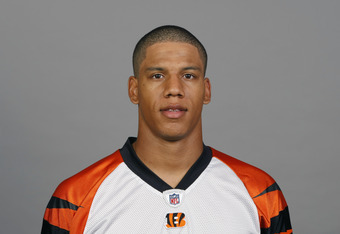 Handout/Getty Images
Taylor Mays is the front-runner for the Bengals' starting strong safety job, despite not making much of an impact in 2011, with just 60 defensive snaps producing 10 tackles and one pass defended while sitting behind Crocker.
Mays worked with the first-team defense during OTAs, which clearly gives him the leg up at the moment. But there are four other safeties vying for that position. Considering the ways the Bengals use their safeties (often with little distinction between the free and strong positions), Mays might not prove as versatile as his roster-mates and could thus lose grasp on the job once training camp gets underway.
Robert Sands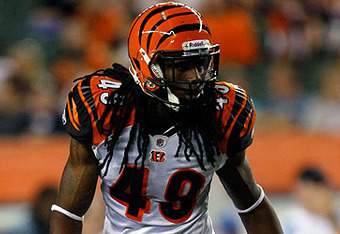 Second-year player Robert Sands was active for just one game last season. Though he has the ideal size for a Bengals strong safety (6'4", 209 pounds), the trouble with him is that he struggles at tackling in space despite having pretty respectable speed.
Sands still may have a place in the Bengals' big-nickel packages—after a year in the league, he's likely to see more playing time in accordance with how much he's improved in the past 12 months. But he's a minor player in the competition for the starting strong safety job at the moment.
Jeromy Miles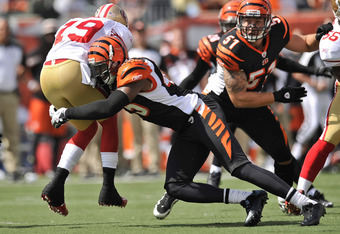 Jamie Sabau/Getty Images
This is Jeromy Miles' third season in Cincinnati. He has spent the majority of the previous two contributing on special teams, which produced 14 of his 16 tackles last season. The Bengals re-signed the free agent in March, and though he's likely to be a key component to their kick and punt coverage teams again this year, he's very much in the strong safety competition.
George Iloka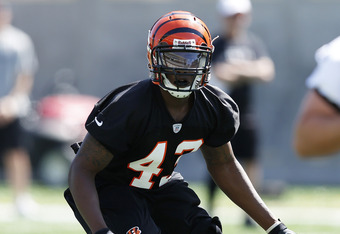 Joe Robbins/Getty Images
Rookie George Iloka might be a future starter for the Bengals, but he's a marginal player in the strong safety competition this year. At 6'4" and 225 pounds, Iloka is massive—even bigger than Sands, but shares his troubles with tackling in space.
Iloka could be a practice squad player this year unless he shows some special teams prowess. 
Tony Dye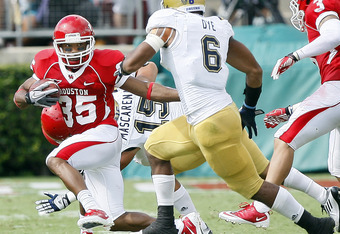 Bob Levey/Getty Images
Former UCLA safety Tony Dye came to the Bengals as an undrafted free agent this year and may not find himself with a spot on the active roster unless they'd like to use him on special teams.
Special teams assistance is the main reason why Cincy had six safeties on their active roster last year; this season, they likely won't go that route and will split the 10 defensive back spots in half between cornerbacks and safeties.
That means one of these safeties will be the odd man out on the roster. In the best case, Dye will be moved to the practice squad, and at worst, he'll be cut.