Projecting Starters for the 2012 Dallas Cowboys Roster
June 25, 2012

Ronald Martinez/Getty Images
With Dallas Cowboys training camp beginning only five weeks from today in Oxnard, Calif., let's begin to look ahead to potential positional battles by forecasting the Week 1 starters, along with key backups (in brackets).
Quarterback: Tony Romo (Kyle Orton)
Controversial, I know. Not only is Romo cemented as the starter for the sixth year in a row, but the 32-year-old should be on track to have his best season as a pro.
Orton is also a major upgrade behind him, just in case Romo is forced to miss time.
Running Back: DeMarco Murray (Felix Jones)
A bananas run in October and November of 2011 guarantees Murray the starting job to start 2012, as long as he's healthy. But Jones doesn't get enough credit for what he's been able to do. If Murray slips up early, the 25-year-old will gain more reps.
Fullback: Lawrence Vickers 
The 29-year-old replaces Tony Fiammetta, who was good when healthy but lost much of his 2011 season due to a mysterious injury.
Vickers has missed just six games in six seasons, which is important for a fullback.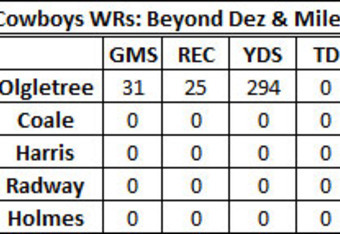 Wide Receiver: Dez Bryant, Miles Austin (Kevin Ogletree, Andre Holmes, Danny Coale)
Bryant and Austin are the obvious top two receivers. The only question there is who'll be targeted more often when they're both healthy and in the starting lineup. Oh, and I suppose a second question is how often they'll both be healthy and in the starting lineup.
Beyond those two, it's an impossible-to-call race involving the veteran Ogletree, virtual rookies Holmes, Dwayne Harris and Raymond Radway, and actual rookie Coale. I'm giving the early edge to the only guy with NFL experience.
Tight End: Jason Witten (John Phillips, James Hanna)
There's almost no way the tight end position looks any different than this in September, barring injury of course.
Witten is a 30-year-old five-time All-Pro who's gone for more than 900 yards five straight years. Phillips is a veteran backup who knows the system perfectly. Hanna is a rookie flier who is on the roster bubble. 
Offensive Tackle: Tyron Smith, Doug Free
Smith—a No. 9 overall pick in 2011—moves over to the left side after a superb rookie campaign at right tackle, while the veteran Free moves back to the right side.
The transition shouldn't be difficult, and Free could actually be a lot better in that spot. Assuming that's the case and that Smith continues to emerge, this could be one of the best tackle duos in football in 2012 and for many years beyond that.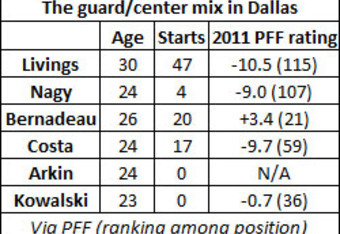 Guard: Nate Livings, Bill Nagy (Mackenzy Bernadeau)
The Cowboys might prefer to see Bernadeau earn a starting role alongside Livings, since they invested in both of those players in free agency in an attempt to rid themselves of the Montrae Holland/Kyle Kosier era.
But right now, Bernadeau has yet to take a snap in practice due to a hip injury. Nagy really struggled in limited action as a rookie, so look for those two to compete for reps all year.
Center: Phil Costa (David Arkin, Kevin Kowalski)
When you consider that Bernadeau and Nagy are also possibilities at center and that Costa struggled mightily in his first season as a starter, it's easy to see why this is the prime position to watch during training camp. Don't be surprised to see quite a few guard-center combinations throughout the summer and fall.
Defensive End: Sean Lissemore, Jason Hatcher (Marcus Spears)
Considering that they also have rookie Tyrone Crawford, it wouldn't surprise me if Kenyon Coleman failed to make the final 53. Lissemore has been talked up as a sensation all offseason, so you'd have to think he has an edge over every end on the roster right now. Hatcher and Spears are reliable vets—you know pretty much exactly what you're getting.
Nose Tackle: Jay Ratliff (Josh Brent)
The rather large Brent will get a lot of early-down reps this year, and Lissemore could even draw some snaps inside.
Ratliff is still an All-Pro-caliber player, but if they want to keep him fresh, the Cowboys have little reason to use him outside of crucial downs and obvious passing situations.
Outside Linebacker: DeMarcus Ware, Anthony Spencer (Victor Butler)
The Cowboys could definitely use a little more depth behind their two top-tier edge-rushing outside linebackers.
Butler has shown flashes, but the former fourth-round pick has just eight sacks and one start three years into his career. Still, and he's only 24, so look for the Cowboys to give him more playing time than ever as they attempt to decide what to do with Spencer beyond this season.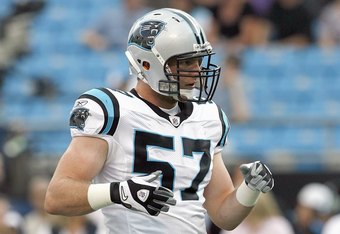 Kevin C. Cox/Getty Images
Inside Linebackers: Sean Lee, Dan Connor (Bruce Carter)
After a nightmare rookie year, Carter has had a nice offseason, but I don't think that'll be enough for him to wrestle the starting job opposite Lee from the veteran Connor.
That said, even if Connor does stay healthy (far from guaranteed), Dallas will give Carter plenty of opportunities to prove that he was worth taking in the second round of the 2011 draft. 
Cornerback: Brandon Carr, Morris Claiborne (Mike Jenkins, Orlando Scandrick)
I expect Jenkins and Claiborne to be on the field less often than Scandrick, who should be entrenched as the nickel corner. That's because I can see Claiborne adjusting more slowly than some are hoping as he recovers from wrist surgery.
The team has already said that Claiborne will start over Jenkins, but that doesn't mean things won't be fluid over the course of each game. Jenkins is too talented to be on the bench if Claiborne isn't playing well.
Safety: Gerald Sensabaugh, Brodney Pool (Barry Church, Matt Johnson)
Pool struggled at times last year, but he's still probably an upgrade over Abram Elam and is probably better in coverage than any safety on the roster. That's why he'll make the team and earn the starting job opposite Sensabaugh, who is a reliable and consistent vet. Church is a quality backup, and Johnson is probably a year away.
Kicker: Dan Bailey
Only two kickers made more field goals last year than the 24-year-old Bailey, who hit 87 percent of his attempts in total. He's as entrenched as a starting kicker can be.
Punter: Chris Jones
Jones punted in two games in relief of Mat McBriar last year and did a fantastic job. The 22-year-old knocked four of his 10 punts inside the 20 and had a net average of 41.4, ranking fourth in football.
McBriar continues to recover from surgery to remove a cyst below his left knee. So long as he's an injury question mark and Jones is performing well, it'll be Jones who remains on the roster.