MLB Trade Scenarios: Are the Chicago Cubs Auditioning Carlos Marmol for Suitors?
June 25, 2012

David Banks/Getty Images
When Chicago Cubs manager Dale Sveum recently announced that Carlos Marmol had reclaimed the closer role, it didn't seem to make much sense from an on-the-field standpoint, given how inept Marmol has looked for much of 2012.
But the move actually appears quite logical for two primary reasons. First, the Cubs don't have many viable options for the role. But more importantly, as the MLB trade deadline approaches, it allows Marmol an opportunity to improve his stock, which was at an all-time low before the move back to the ninth inning.
After a 2011 season in which he led the National League in blown saves, posted his highest ERA (4.01) since his rookie season and an ugly 1.38 WHIP, Marmol began 2012 pitching terribly.
He lost his role as closer on May 4th after he blew three saves in five opportunities while sporting a 6.23 ERA and walking 12 batters in 8.2 innings. Sveum said at the time that he hoped the demotion would help "get him going."
Despite being in less pressure-filled situations, Marmol didn't experience much success at all, only dropping his ERA to 6.11 by June 15th's game (the game he first returned to the closer role). This was a tremendous blow to any semblance of trade value that Marmol possessed after originally being demoted. 
For all intents and purposes, Marmol hadn't earned another shot at the closer role, but there is absolutely no risk and plenty of reward for the Cubs in placing him there. The Cubs have the worst record in baseball at 24-48; heck, even if the team's closer pitches like Mariano Rivera, this team isn't contending.
Point being, although either James Russell (2.45 ERA and 1.36 WHIP) or Shawn Camp (3.29 ERA and 1.23 WHP) might be better options right now, they wouldn't alter the course of the Cubs' season.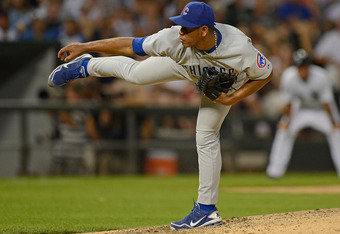 Jonathan Daniel/Getty Images
The Cubs are a total rebuilding project at this point.
Marmol likely wasn't in the team's long-term plans to begin with, and he has a hefty salary, so it would be very wise for the Cubs to trade him and acquire an asset for the future. And the possibility of such a trade was unlikely if Marmol remained ineffective and out of the closer role. 
Marmol has now made three appearances since the promotion, two of which were save chances that he successfully converted. And in his past five appearances, he's only given up one run.
Granted, that's a small sample size, but it's important that he's pitching better than he was in the beginning of the season. Also, he's stated that he's feeling confident now, so although he might never be the top reliever he once was, it's certainly possible that, to a degree, Marmol turns his season around leading up to the deadline.
If not, it would have still been worth the shot for the Cubs. But if he does, the Cubs just might be able to deal Marmol come the trade deadline.